Seagate FreeAgent Go Drives Get Colorful Meaning
Seagate is about to add some new colorful flavors to its FreeAgent Go portable drives lineup. This move should attract those who look for a chic storage box to seat next to their laptop and shed some vivid look on their working vicinity. The new series includes light blue, pink, gold, orange, light green and dark green hues (in addition to the regular blue, black, red and silver colors) with the same 250GB ($120), 320GB ($150), and 500GB ($200) capacities. Also, there's a nice freebie inside – if you register your new purchase between November 28th and New Year's day, you will fix yourself a nice multimedia pack, granting 50 free songs to download from eMusic.
[via slashgear]
---
Augmented Reality Becoming a Focus in Maintenance Technology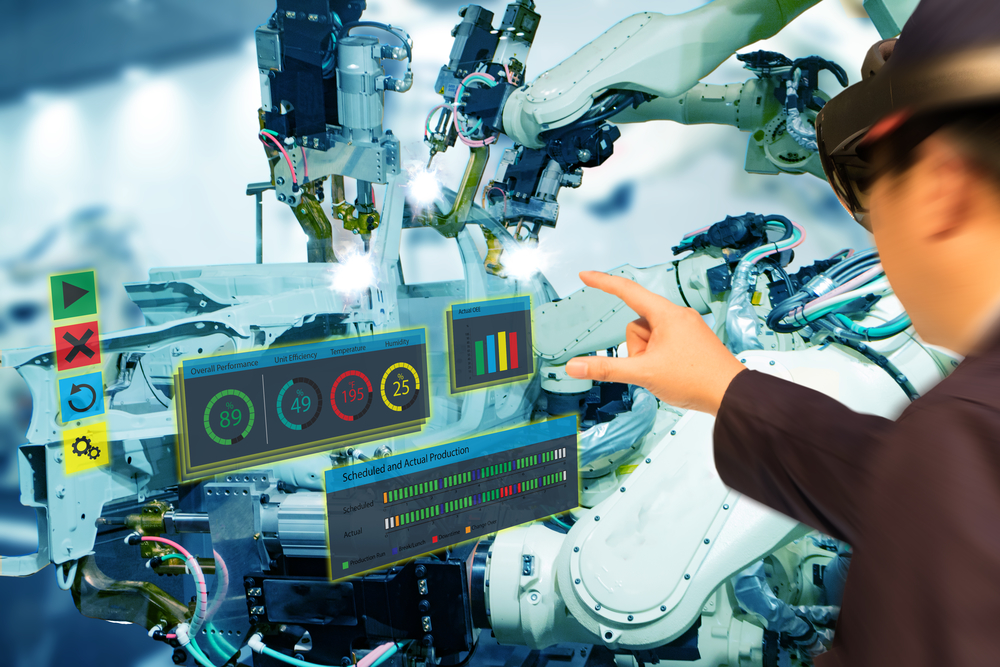 Augmented Reality, "an enhanced version of reality where live direct or indirect views of physical real-world environments are augmented with superimposed computer-generated images over a user's view of the real world."
The fourth industrial revolution is upon us and industries like manufacturing are taking advantage of AR technology to enhance employee experience, keep employees safer, and also close the knowledge gap.
Maintenance plays a vital role in industries like manufacturing. It has a direct influence on performance, productivity, and product quality; maintenance is a craft that is always being improved upon and now with the innovation of augmented reality, it can take maintenance to a whole other level.
Augmented Reality in Maintenance
Augmented Reality allows users to enhance their field of view with real-time super imposed digital information. This allows users to gain any/all information on an asset or step by step instructions on how to repair an asset, for example.
But before we dig into practical applications, let's discuss the proven advantages of augmented reality maintenance.
Benefits
Reduced human errors
Reduced execution time
Reduced breakdowns
Reduced downtime
Reduced cost
Increased productivity
Increased operation speed
Increased fix rates
Increased compliance
Increased profit
These benefits prove true for the companies below that have already implemented augmented reality technology in their facility.
GE Aviation – Experiences an average of 8-12% in efficiency
GE Renewable Energy – Wiring technicians are yielding a 34% increase in productivity
These are just two examples of how AR is impacting the industry, but much has changed since the origins of the industrial revolution. From physical documentation, moving to the desktop, to the progression of mobile, to now wearable devices/technology.
AR powered solutions for maintenance and repair operations include:
Preventive Maintenance
Operator assembly instructions
Service inspection instructions
Detailed instructions for unfamiliar procedures
Compliance checklist
Corrective Maintenance
Service manual instructions
Remote assistance
Predictive Maintenance
Performance Panels
Real-time access to data: monitoring, control actions, disruptions, analytics
All the above have their own unique value, but let's take a deeper look into the workforce and how AR is impacting engineers.
Technology in the Workforce
Facility managers are constantly looking at ways to increase productivity, decrease costs, and keep engineers safe on the job. These technologies below integrated with an EAM CMMS system can help achieve all those goals.
Infrared thermography allows engineers and mechanics to see electrical systems, mechanical equipment, building applications, and fluid systems through the use of thermovision. Engineers can spot faulty connections, abnormal motors, pipe temperatures and tank levels through this equipment showing different colors without having to touch the equipment. This reduces the risk of engineers getting hurt on the job.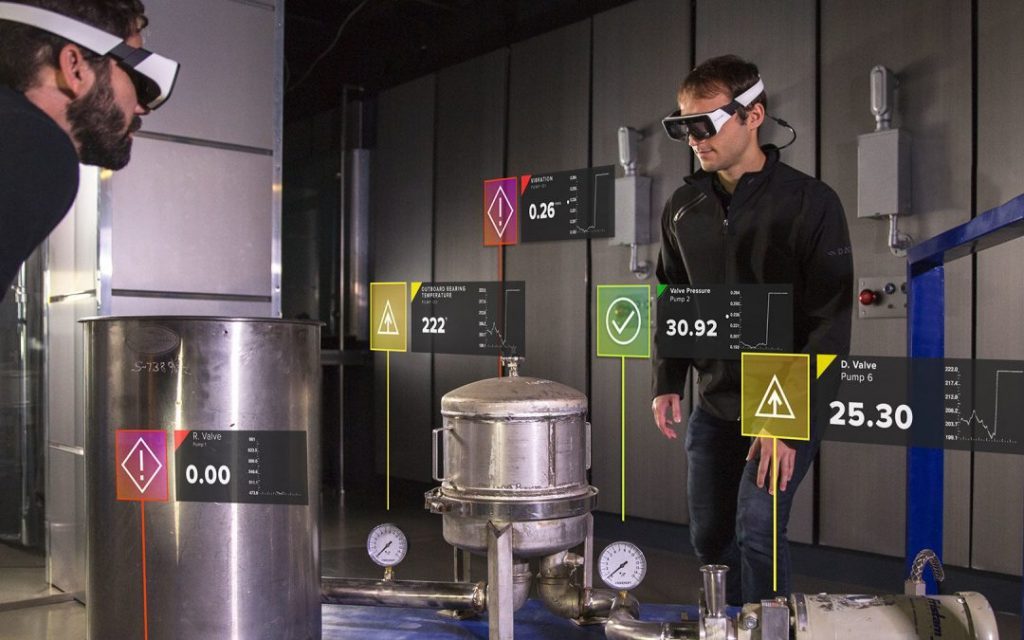 A company called DAQRI is focused on AR technology and developed a wearable AR tech smart helmet for industrial use. Engineers can see 4D images above assets in their facilities that prompt them with instructions and also give them a mapping of all asset functionality. This wearable technology allows engineers to discover asset information faster and closes the knowledge gap for new hires.
Another company called UpSkill connects the workforce through augmented reality in its wearable technology guiding technicians in real-time to complete tasks, checklists, work orders, and send media to managers.
Finally, a company called Worklink has made it possible for the user to create their own smart instructions for assets to allow for less human error, increase safety, and also walk engineers step-by-step on repair processes. This can increase the time it takes to complete work by also complying with facility procedures.
This equipment is becoming more prevalent and as more machines becomes connected to the internet, approximately 50 billion machines will be connected on the internet by 2020 it becomes imperative facilities and industries adopt these devices and make them apart of their facility operations.
A CMMS has the capability to provide maintenance management and staff with an automated tool capable of scheduling inspections, preventive maintenance, managing inventory, work orders, and retrieval of recorded asset history.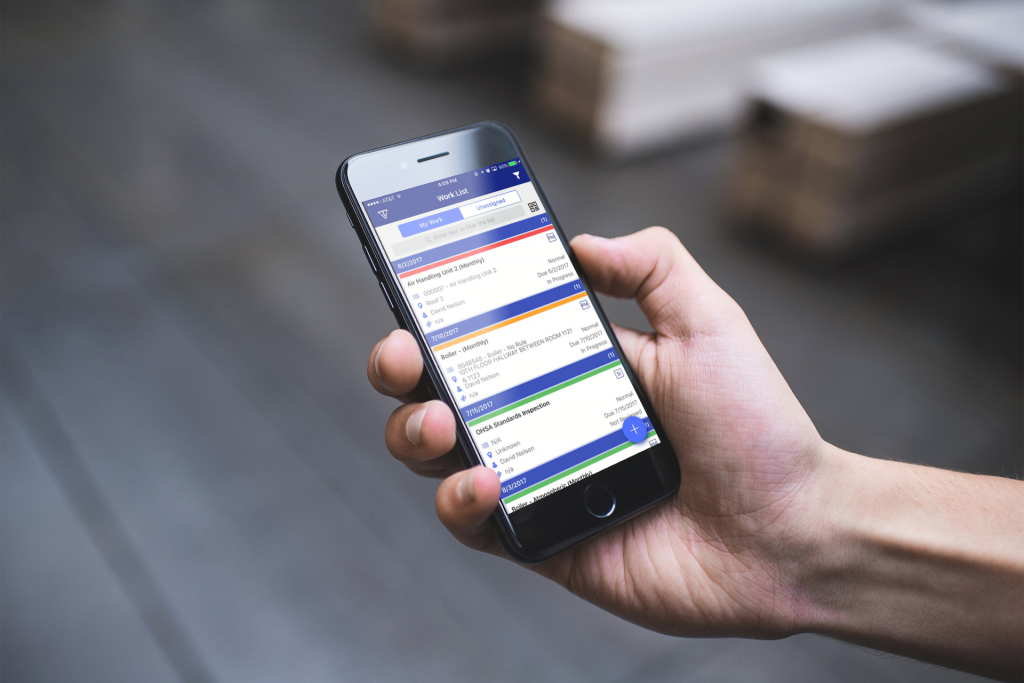 Technicians can perform actual work with instructions on handhelds, enter how long it takes to complete work orders, filter through past work orders, and close out of the system. All the information is recorded in real-time, so managers can access the information instantaneously.
The ability to track your work, document it, and send it to managers could be paired with wearable technology, like the companies above, to get engineers an elevated view of assets through thermal technology or the ability to see instructions on assets and use that data to train new hires and not have to worry about on-boarding.
A CMMS could also benefit from machine learning using algorithms to monitor assets like meter readings and the ability to calculate readings by the second which would be humanly impossible to do; this will cut down on extraneous labor costs and allow facilities to allocate dollars elsewhere.
The possibilities are becoming endless when it comes to how IoT, AR, VR, and Machine learning can help facilities with energy savings, labor savings, employee safety, and more. The future is a scary and exciting thing but ultimately inevitable for change.
---
Five Major Differences Between Cobots and Robots
Birthed in 1995, the concept of collaborative robots was part of a research project led by the General Motors Foundation. The foundation's main aim was to create robots that were so safe they could work in collaboration with human beings. Now, about twenty three years later, cobots have not only found a place on the floors of numerous factories but are also a major trend in the world of robotics and technological developments of today. They are changing methods of operation especially in our automation, manufacturing and processing industries.
Out with the heavy and imposing traditional robots that stay locked in cages for our safety. It is time to pave way for collaborative robots. Cobots, unlike traditional robots are designed to work alongside humans, with them and not for them. However, even with their recent popularity, most people still don't fully understand the difference between cobots and robots. Here are some of them.
Cobots have a partnership with human beings
Unlike traditional robots, cobots are designed to work collaboratively with humans just as the name suggests. With this new generation of robots you can say goodbye to cages or fences and hello to proper interaction.
Collaborative robots acts as assistants to human operators and are involved in targeted tasks that are sensitive and complex in nature and can't be automated. In addition, cobots are well capable of learning. These robots have the ability to pick up objects and hand them over to humans in a more cooperative environment that is different from that of other industrial robots.
Cobots are teachable and flexible
Collaborative robots are quite easy to program. Some models of cobots are able to learn independently unlike traditional robot which need programming skills that are specialized. For instance, a technician can perform a movement with the arm of the robot thereafter, the robot can imitate and begin to reproduce automatically.
There are also other systems that can be given work instruction without the use of coding since they can simply take work instructions by the use of a graphic user interface. Therefore, employees can now flexibly program and reprogram collaborative robots and use them for a plethora of different tasks.
Cobots allow humans to concentrate on the core task of their business
Collaborative robots are tasked with the responsibility of safe handling tough, awkward or hot workpieces as well as low-added jobs in the workplace. For this reason, the human staff have all the time they need to focus on creating more added value to the business. This enables human intelligence to be refocused on other crucial aspect of the business and the chain of production.
Cobots are safe and they offer relief from risky tasks
Since collaborative robots can safely transfer dangerous bolting works, hot work pieces sharp or pointed objects, they get to fulfill tasks that would be naturally dangerous for humans. For this reason, there are far less accidents involved as compared to when the traditional industrial robots are involved.
Cobots are equipped with features that allow seamless collaboration between them and the human staff. Some models are equipped with detection sensor. This enable them to know where a human operator is at any given time. Some are also programmed to immediately stop working if the tasks they are performing poses any potential danger to a person near them. This eliminates the need for fences and cages.
Cobots can be used anywhere
Unlike traditional robots, collaborative robots can not only easy to program but they can also be moved and utilized at different points of the production chain. Most of them can be mounted on any surface either vertical, horizontal or on the ceiling. They are also light in terms of weight and can be moved from one place to another by just one person. This is not usually the case with traditional robots.
When deciding whether an industrial or collaborative robot is best suited for your business, there are many questions you need to ask yourself.
---
What is the future of augmented reality (infographic)
Augmented reality might be fun for now, but the technology has a serious future.
Virtual and augmented reality are growing technologies, and not just in the video game industry, where they are projected to make an annual revenue of $11.6 billion. From healthcare and real estate to live events and education, AR and VR are changing the way we live, work, and learn.
As Forbes journalist Charles Fink says "We're still 5 to 10 years from everyone walking around with AR/VR devices, but the technology is accelerating at a huge pace."
VR allows potential home buyers to tour properties through a headset before the property is even finished being built, while AR allows those building homes to look at what a certain type of cabinets would look like in their new homes before they are ever installed. The "Street Peak" realtor app lets users point their smartphone at a home and access all MLS information, a breakthrough in property data accessibility.
AR and VR are entering the retail space, giving brick-and-mortar shopping a run for its money with open-air pop-up stores where users can view products. Clothes shopping is less of a headache with the FX Mirror and Memory Mirror, AR mirrors that simulate what you would look like in an outfit. There are even nail polish manufacturers using AR to allow people to try on a shade before buying.
Healthcare is also being revolutionized by AR. With the help of products like Accuvein, doctors and nurses will be able to find veins and insert IVs on the first try, a task that medical professionals only get right 60% of the time.
Travel and leisure are also seeing surges of innovation with the rise of augmented reality technology. Google Expeditions bridges the gap between education and travel with virtual field trips to anywhere in the world without leaving the classroom. Travel apps like Wikitude are the future of vacation optimization, recommending the best spots to eat and stay.
Learn more about how augmented reality is reshaping industries with the infographic below, provided by Lumus.
---