Archos 7 Home Tablet Introduced, Running Android Platform and ARM 9 CPU Onboard
We've already seen a glimpse from Archos' 7-inch Android-powered tablet one month ago, but now things turn to be official at CeBIT 2010, with the French debuting their 600MHz ARM 9 Home Tablet machine, aiming the low cost market with attractive and very affordable prices – €149 in Europe and only $179 Stateside. And despite that unconvincing HD friendly resistive touchscreen, we can find a lot of reason for you to buy it. First and foremost, it's cheap, second, it comes with WiFi so you can easily surf the net without the need for other device, third, it looks great at 12mm thin and weighs only 350g and fourth, it has 2GB of storage capacity inside and a microSD card extension slot. No, it doesn't include an integrated accelerometer inside so you won;t be able to see your photos in landscape mode or read your favorite eBook vertically, but still, for that pricing level it sure worth a try, especially when it comes to the battery that delivers seven hours of video or 44 hours of audio playback. Checkout the hands-on video right after the break.
Update1: And just when things are getting busy within the tablet realm, the Android-powered Archos 7 8GB tablet device appears online in couple of places, available for a pre-order (and as an iPad alternative) for merely €200 ($270) on the German Amazon or at €180 ($240) on Redcoon's website.
Update2: Looks like the Archos 7 Home Tablet is now finally available to order on Amazon for $199.99, with an official release date – yet to be determined (probably towards the end of April).
Update3: Unfortunately, the Archos 7 won't be available in the market until early June of this year. That said, according to the French corp, those who pre-ordered the 7-inch, Android 1.6 tablet may get their piece of craft somewhere towards the end of May. Full PR after the break.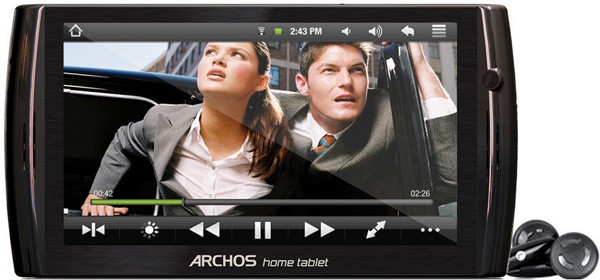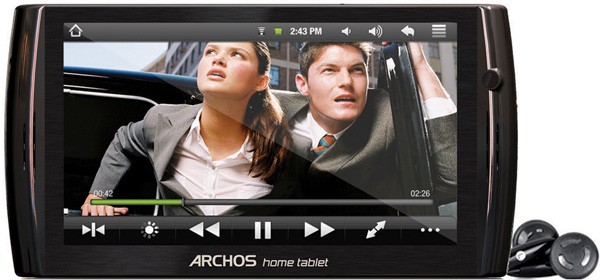 [via UMPC Portal]
ARVE Error: id and provider shortcodes attributes are mandatory for old shortcodes. It is recommended to switch to new shortcodes that need only url
ARCHOS BRINGS THE FIRST LARGE SCREEN ANDROID-BASED TABLET UNDER $200

ARCHOS Introduces the first Android Home Tablet with a 7 inch touch screen, Web browser,
High Definition Video and Android Applications, taking home portability to a whole new
level.

Denver, May 6th, 2010 – ARCHOS, a top innovator in the portable media market announced today the new ARCHOS 7 home tablet that combines the best of web browsing, multimedia, live information, social networking and Apps, and testifies to ARCHOS' strategy of offering innovative electronic products with extremely competitive pricing.

The ARCHOS 7 home tablet sees the debut of the first large-screen Android-based tablet. Bridging the gap between the Smartphone and the desktop PC, the ARCHOS 7 provides always-on access to the web, email, photo, video and a dedicated library of Android Apps enabling users to customise the device to their lifestyle.

The stylish ARCHOS 7 home tablet, sports a high resolution 7 inch touch screen (800×480) and a super slim form factor at just .47 of an inch thick. Weighing in at 0.8lb, it is extremely portable and can be used in any room of the home. With built-in Wi-Fi, users can connect to a home network while on the move throughout the house. The USB connection makes transferring files from a PC, digital camera or other digital devices very simple. The ARCHOS 7 is also a low-power consumption device providing seven hours of video playback or 44 hours of music on a single charge.

"The ARCHOS 7 is great for the whole family. Anyone can use the ARCHOS 7 to stay up to date on email, news and weather, catch up on TV shows, get the recipe of the day or update a social media profile," said Henri Crohas, ARCHOS Chief Executive Officer. "This tablet is just perfect for times when a Smartphone is not enough and a computer just too much."

Multimedia showcase
With a large 7″ high resolution touch screen (800×480), the ARCHOS 7 home tablet has been specifically developed with multimedia in mind. The home tablet provides the best HD movie viewing experience (at 720p) in the kitchen, bedroom, living room or garden. Its brilliant screen makes it a high-quality photo display. The ARCHOS 7 can easily replace your radio with its on-board MP3 player and access to the free music streaming service, Deezer.

Apps to meet all lifestyles
The ARCHOS 7 home tablet comes with a selection of pre-installed Apps ready for use including the popular eBuddy instant messaging app, Aldiko for downloading and reading thousands of books, DailyPaper for viewing your favorite newspaper and much more. Users also have the option to customize their home tablet by downloading their favorite App.

AppsLib offers unlimited access to free and paid Apps developed specifically for the large 7- inch touch screen display of the ARCHOS 7. With a range of apps available to fit any lifestyle, the ARCHOS 7 can easily become an ebook reader, give access to cooking recipes, news, weather and games, and provide recommendations on theatres or restaurants.

Communication and connectivity
With Wi-Fi on board, the ARCHOS 7 home tablet easily connects to a home network and gives you constant access to the Internet. Its high-resolution, 7-inch touch screen, allows consumers to surf the Web in full width, send email, tweets or update Facebook pages as if they were surfing on their home PC. Download your personal applications from Appslib and the ARCHOS 7 home tablet will become the perfect tablet for the entire family.

Pricing and Availability
The ARCHOS 7 home tablet will be available in June at $199.99 SRP through selected retailers. Exclusive pre-orders are available at Amazon.com, with product shipping mid May. Order information and customer support details are available from our website: www.archos.com.

# # #
About ARCHOS
ARCHOS introduced the hard-drive-based MP3 player with the Jukebox 6000 in 2000, and since that time has revolutionized consumer electronics devices. The company introduced the portable video player in 2003 and was the first to bring TV recording, wireless and touch screens to the portable media player. The ARCHOS Internet Media Tablet and PCtablet offer consumers uncompromised access to the Internet, movies, photos, video, music and television anytime, anywhere. Established in 1988, ARCHOS has offices in the United States, Europe and Asia, and is quoted on Compartment C of Euronext Paris, ISIN Code FR0000182479. More information is available online at www.archos.com.
---
4 Great Gaming Sound Systems To Buy
In this generation where games are a common thing in our homes, it is very important that you get a high-quality sound system which will ensure that your gaming experience is just awesome. Some players operate with the best of the range gaming gadgets which is an affordable and accessible alternative to the high-class home speakers. The best gaming sound systems have the capacity to take one's living room and make it an audio-visual space of virtual delights.
If you have been looking for gaming sound systems that will fully satisfy your needs, then look no further. Below are the best gaming sound systems in the market:
1. AVerMedia GS331 SonicBlast Gaming Soundbar
This powerful product comes with 2.0 Channel. It has a very superior configuration of sound for gaming. It delivers a 40 watt rich and lifelike surround sound which makes your room sound filled up. Also, it has three EQ Modes which optimize ones listening experience in music, movie and game.
Additionally, it has a wireless audio which enables you to stream music wireless from mobile gadgets via Bluetooth
2. Logitech Z906 5.1 Surround Sound Speaker System
This system has 5.1 digital surround sound therefore very good for a gamer. This makes you able to hear every detail in your DTS soundtracks and Dolby Digital soundtracks. It has a 165 Watt powered sub-woofer. It has THX-certified home theatre speakers which assures one of real cinema quality sounds. It does deliver a continuous 500 power watts, with the capability to deliver a maximum of 1000 Watts of power under specific circumstances. This produces a room-shaking and thunderous audio with a deep base. Also, it has a very flexible setup in that one can connect a maximum of 6 devices including game console, TV, music player, computer and more. Additionally, it has a wireless remote and a compact control console which enables you to personalise your surround sound instantly. This system operates with any gadget with either a digital coaxial input, six-channel direct, RCA, headphone jack (3.5mm) or optical inputs.
3. Yamaha YHT-4930UBL 5.1-Channel Home Theater
Yamaha YHT-4930UBL 5.1-Channel Home Theater comes with the 5.1-Channel compact Black-gloss speaker package. It has 6-1/2 100 watts powered subwoofer Also, it possesses the YPAO sound optimization which facilitates automatic speakers set up. This product comes with a 4K Ultra HD pass-through having HDCP 2.2 support. It is also Bluetooth enabled for music streaming wireless with compresses music-enhancer.
4. JBL Cinema 610 Advanced Home Theater Speaker System
This home theater speaker system is among the best gaming sound systems. It is very easy to install and comes with Voice-matched two-way satellite speakers. This system comes with 5.1 Channels. It has a good delivery package including brackets for wall-mounting. It also has sixty-watts, 8″ powered sub-woofer.
Conclusion
Gaming is a very important element in our lives. It is something that is enjoyed by many people including both adults and children. This is because it helps in refreshing our minds, especially after a tiresome work. A good gaming sound system is therefore key in making sure that you enjoy your play to the fullest. Now you know which system to buy.
---
Here's How to Choose a Vinyl Turntable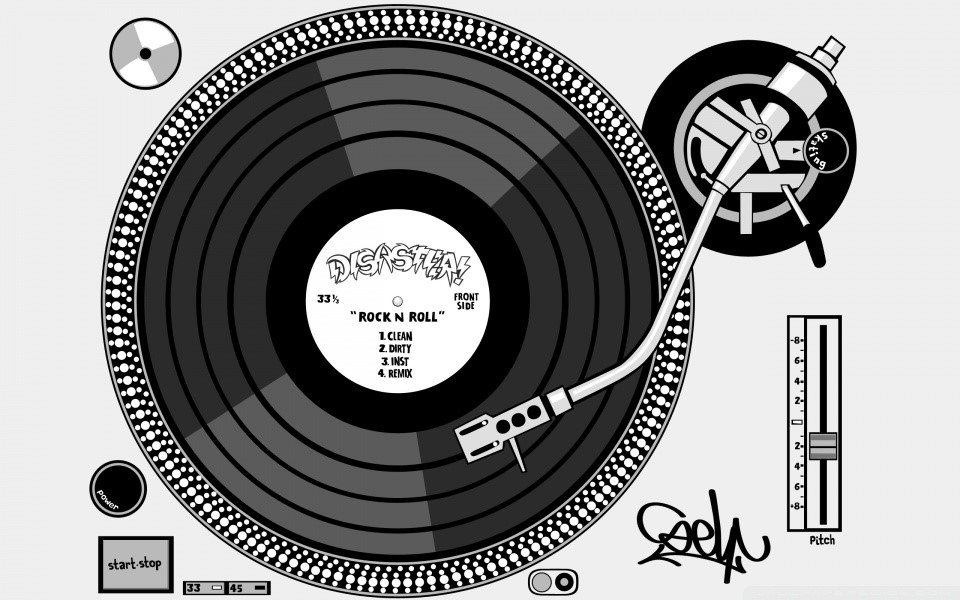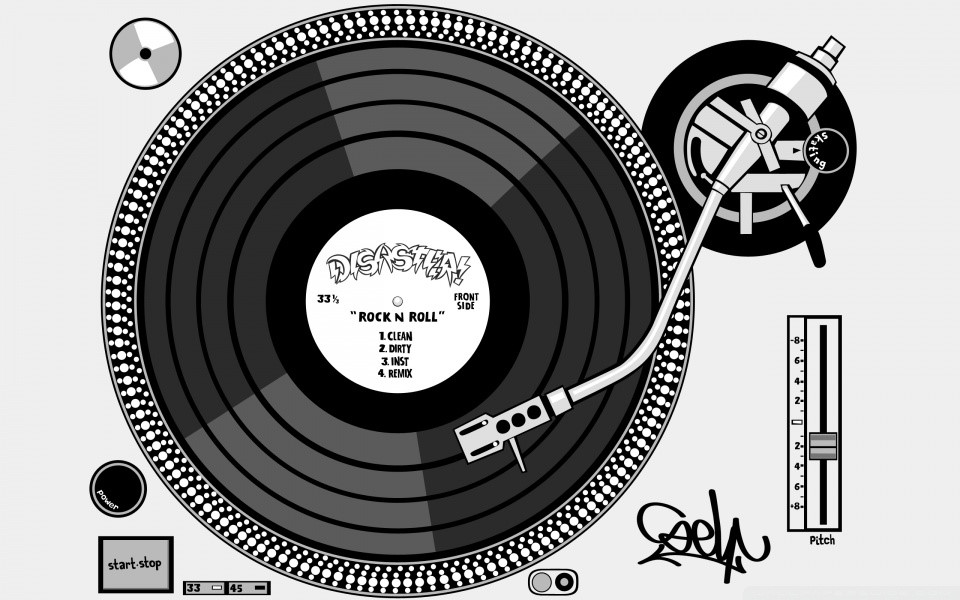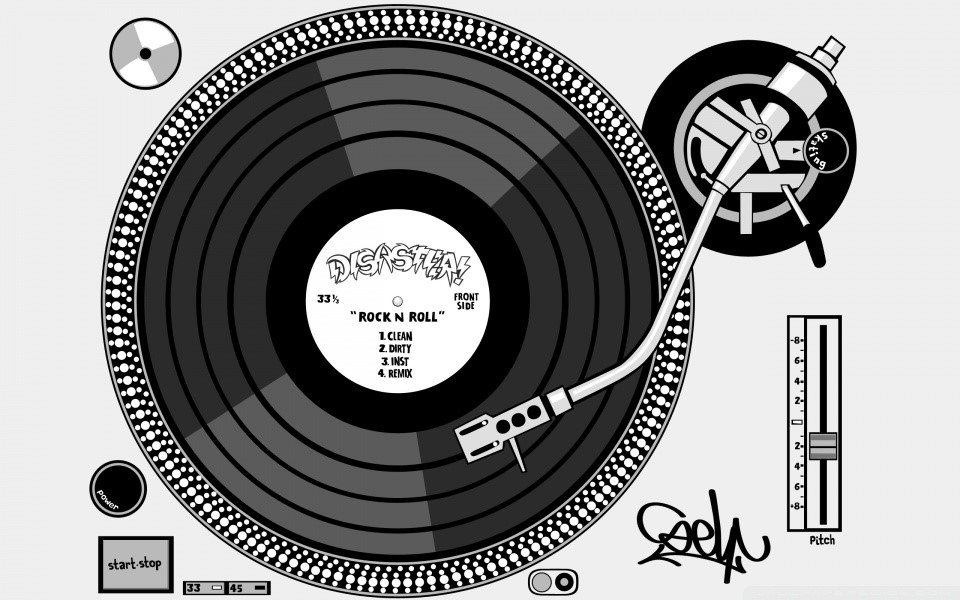 Meta: Need a music-playing device to amuse crowds of people and yourself? Get a turntable and start turning heads!
Representing a blend between the good old vinyl-dominated times and a new kind of modern music-playing contraption, a turntable is a must-have for a music aficionado, as it incorporates pretty much all the things one might need to start playing hit after hit, in whatever format it may come.
In this article, we'll try to point out a couple of important things to take into consideration if you're about to purchase yourself a brand new DJ-worthy apparatus! More precisely, we'll talk about what are the parts of a turntable, what kinds of it are available to buy and how can you keep it up to date once you've gotten yourself one.
What's a turntable made of?
Platter – To put it simply, a platter is that thing upon which you place the record you'd like to play. Typically, it's better if the platter on a turntable is a bit on the heavier side, as this will mean more stability for the rotating record and fewer distortions and other smaller imperfections down the road. The platter is usually powered by a small motor enabling the record to spin at a designated speed, which often can be adjusted. Modern-day turntables offer up to 3 different speeds, so you can switch them for different tracks as you like it. However, older models have only one or two speeds, and that isn't necessarily optimal if you're a DJ.
Cartridge – The cartridge of a turntable is usually a small part, but it's nevertheless quite important as its job is to be in contact with the record, and produce sounds. Since it plays such an important role in the overall turntable experience, it's advisable to upgrade it regularly lest it becomes worn out and ruin your otherwise great configuration.
Tonearm – as its very name suggests, a tonearm is a part of a turntable responsible for getting the needle to the record itself. Although it appears to be largely peripheral, a tonearm can be as crucial as a cartridge or any other part for that matter, as a wrongly designed model can make your record sound distorted and, more typically, make it play at slightly different speeds throughout its run!
Should I go manual or automatic?
To many people, it may seem rather obvious that if you're buying a turntable, it's going to be manual because arguably the most important part of owning one, is that you get to lower its arm on your favorite record every time you'd like to hear it again. However, automatic turntables have their own vibe going for them as they feature builds that have the majority of the button-pushing' and arm-lowering' work already done for you, so what you're left with amounts to arranging the sounds in new peculiar ways and coming up with your own wacky tracks. Perfect for DJ's!
So, the choice really isn't a difficult one. If you're into tweed jackets, top hats, and geography, chances are- you're going to go for a manual one. As for the automatic versions of it, the typical audience includes lots of young and hip kids who'd like to confuse and excite everyone with some of their own creations. Of course, geography teachers aren't necessarily exempt from these new interesting toys, and the same goes for the younger people interested in buying a turntable.
Keeping up with the Joneses – the question of turntable upgradeability
Once you've received your brand new turntable and are ready to knock yourself out listening to some of the blasts from the past you've been storing in your attic for years, it's safe to say you'll be pretty much the luckiest person about. For a while. The question of upgradeability especially concerns the people who go for a manual version of this exquisite piece of music-playing machinery, as the new features and editors typically installed on them get outdated pretty soon, leaving your almost DJ-worthy self in dire straits!
To avoid this unfortunate turn of events, make sure to get yourself a turntable you can upgrade later on. In this way, you won't have to buy a brand new device, but merely a small part that became overshadowed by an enhanced version of itself.
Conclusion
All in all, buying a turntable is one of the most rewarding investments you can make. It plays music, it looks good- what's not to love? Well, the price probably, but still, if you manage to find an agreeable model within your budget, you're sure to have a blast with it! Actually, one of our other reviews describes the ideal of a top record player under $300, so if you chance upon it, you may get an even clearer picture of what you may want. Hopefully, this guide helped you understand the nature of these magnificent devices more closely, and gave you a better idea of what your top portable turntable might be!
—————————————–
Author Bio: Alex Frank has worked in the sound technology industry for 10 years. Today, he is an affiliate blogger who likes to educate his international audience about sound and technology. Visit Music Instruments Center to find more about the music that you need.
---
Vomercy Over Ear Headphones iPhone 7 Review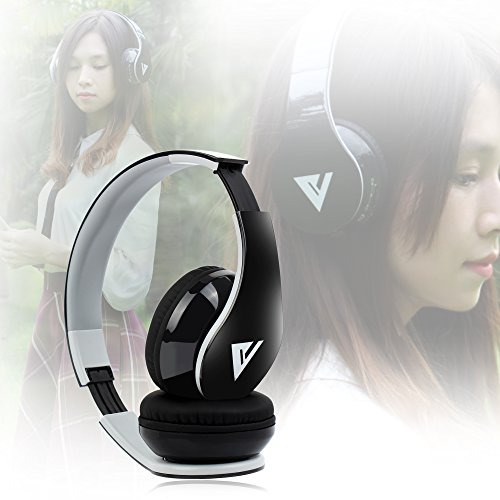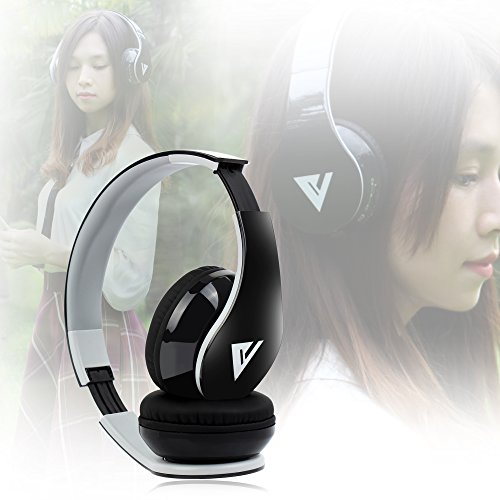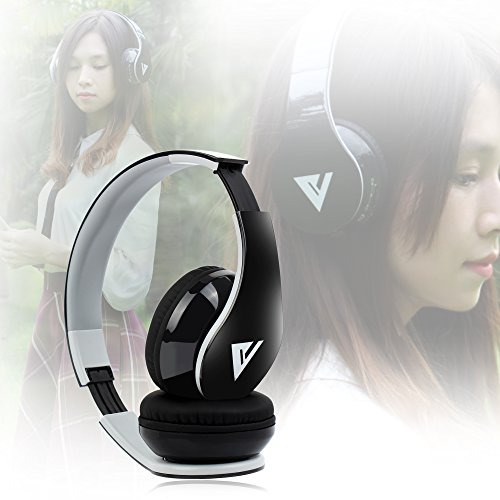 Are you looking for a pair of durable and highly convenient earphones? While the brand may not be as known as compared to other bigger models, Vomercy is a perfect choice. As an over ear headphones, it comes with a rather simple design, but with multi-functionality which can allow you to enjoy great music, while making hand-free phone calls, great for your everyday life. It is also equipped by special ear buds which are designed for small ears. They are also fit for your individual ear canals, extremely light in weight, and magnetic in form, which is great for outdoors use.
Most importantly, it is also highly compatible for use with the iPhone 7 model, allowing you to enjoy the best there is in the sound department. However, as there are a lot of choices that are currently available in the market these days, making a good decision is often a difficult task. In order to make a well-informed decision, it is best to look closer into the features of this headphones and see whether or not it is the model that you are looking for. 
Technical Details and Features 
Here are some of the technical details and features of the Vomercy Over Ear Headphones:
Magnetic Attraction – This capability of magnetic attraction is the one that is responsible for hanging around your neck easily, and for portable gathering as well. This model is ergonomically designed and equipped with soft-gel, offering comfort while wearing.
Passive Noise Cancelling Features – What makes other cheaper headphones low in quality is that they are not able to reduce, if not remove completely,  noise from the outside. This is different with Vomercy Over Ear Headphones. This model comes with soft gel ear buds that takes charge in isolating most noise coming from the outside surroundings. As a result, you can expect nothing but pure music indulgence. Its high end quality also delivers crystal clear, dynamic, and pure sound.
In-Line Control – This headphones' slidable volume button for control makes it a whole lot easier to adjust the volume using perfect fingers feeling. It also has a multi-function button that can be used for answer/hang-up incoming callsand pause/play of music. All you have to do is to click two or three times in order to control the tracks. While the playback control is compatible only with iOS devices, as well as some Android devices, it can still work as a normal headphone that can be used to listen to MP3 player music from smart phones, as well as other media devices.
Enhanced Built-In Microphone – This enhanced microphone quality collects the sound of voice in an effective way, clearly transmitting between the caller and the receiver.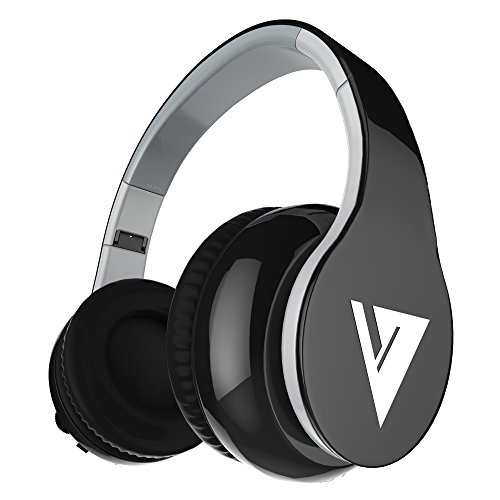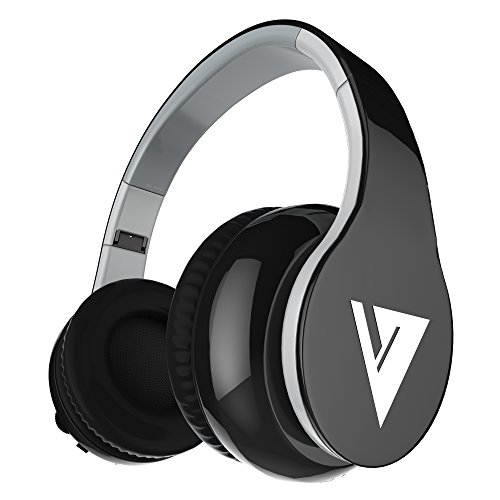 Positive Highlights of Vomercy Over Ear Headphones
This wireless Bluetooth headphones comes with an active noise cancelling technology which is prefect for enjoying stereo sound and music, leaving you feeling amazed with the entire experience.

Its advanced Bluetooth and NFC technologies are great for smooth and quick connection to your devices, such as iPhone 7, and other Android devices.

No need to worry when the battery dies out. The unit also comes equipped with an audio cable that can be used for wired connection in case of need. This makes it more exciting and convenient.

This over ear headphones comes with super large size, as well as softer sides, making it possible for a more comfortable wearing experience. You can expect that there is no pain while wearing this on, even after a long time of use.

Its stereo headphones are also equipped with an adjustable headband which can be adjusted easily to conveniently fit any head size.
Some Drawbacks 
As with other headphone models, the Vomercy Over Ear Headphones also comes with some drawbacks. For instance, some users reported that while the noise cancellation feature works on this unit, it may not work perfectly when the aux cord is plugged to the headphones. However, this may only be due to a defective unit received. Also, while it has the capacity to block out outside noise, the sound from inside may bleed out immensely, allowing other people around you to hear everything.
Bottom Line
All in all, the Vomercy Over Ear Headphones is a very promising unit that you can buy. With fast Bluetooth connection, you can easily pair with your Bluetooth enabled device, and start listening to your favorite music. Everything else is also accessible using its button, including volume control, and track control. With its adjustable headband, you can also customize the fit depending on the size of your head. It also has amazing portability which means that you can easily place this headphones inside your laptop bag or backpack. A lot of positive reviews have been received about this product, which speaks a lot about its overall quality.
________________
Author Bio: Anh Vu has worked in the IT field and sound technology industry for 5 years now. Today, he is a blogger who likes to educate his audience more about sound technology. Visit to http://www.headphonesunder100center.com to find the headphone that you need.
---