MSI WindPad 100 And 110 Spoted Live n Kickin' at Computex 2010
It's been a long time since we've last seen a real MSI tablet in action, but that (as a fact) doesn't necessarily mean the Chinese corp has stopped manufacturing. On the contrary, it has just introduced two of its brand new 10-inch tablets at the Computex show in Taipei. The first model, WindPad 110, is powered by an Android 2.1 OS, and seems to be capable of handling high-def content pretty well, thanks to NVIDIA's Tegra 2 processor on board. The touchscreen is capacitive and very responsive if you wondered, and the chassis itself includes a USB port and video output as well. The tablet will sell for $399 by the end of this year.
Heading to the second version, the WindPad 100 (which we've already seen a while ago), this one runs a Windows 7 Premium platform, while specs wise, it packs a 1.66GHz Intel Atom Z530 processor, paired with 2GB of RAM, 32GB SSD, two USB ports, an HDMI output, built-in webcam and finally, a special Wind Touch UI which MSI has literally stuffed on top of Microsoft's coat. The WinPad 100 is set for release later this year for about $499 – hundred dollars more.
Update: Now official. Prices are at $399 for the U110 and $499 for the U100. Availability is yet to be determined.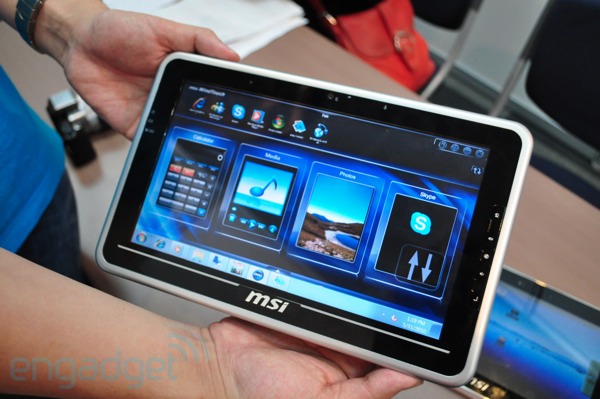 [via engadget]