Toshiba's 10.1-Inch AC100 Smartbook is All About The Android
Toshiba is coming on strong lately with all sorts of awesomely great netbook devices. And while most models still run a Microsoft Windows OS inside, the latest, AC100 Smartbook, is said to include an Android 2.1 for a change. The Japanese are probably the first to enjoy this bad boy, somewhere around August, as prices start at ¥40,000 and climb up to ¥50,000 or $440 to $550, respectively. In exchange for the money, Toshiba has stuffed a very interesting lineup inside, which apparently includes a 10.1-inch 1,024 x 600 pixels LED backlight displayed, paired with a 32GB SSD, 512MB of DDR2 memory, a 1.3mp webcam, 802.11n WiFi, Bluetooth, an HDMI output to pump vids on your tele, and last but not least, a fairly strong 1GHz NVIDIA Tegra 250 processor, to make your 1080p content run stutter free. Software wise, you get a built in Opera Mobile browser to surf the web, a dedicated Toshiba media player, and Documents to Go, that lets you edit any MS Office docs, via Google's android OS. PR and video, just after the break.
Update: Battery is claimed to deliver up to 7 hours of continuous work and and 7 days of standby. Pretty impressive, isn't it?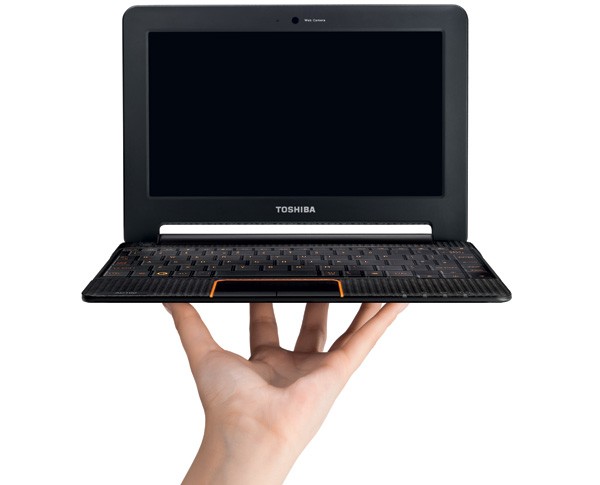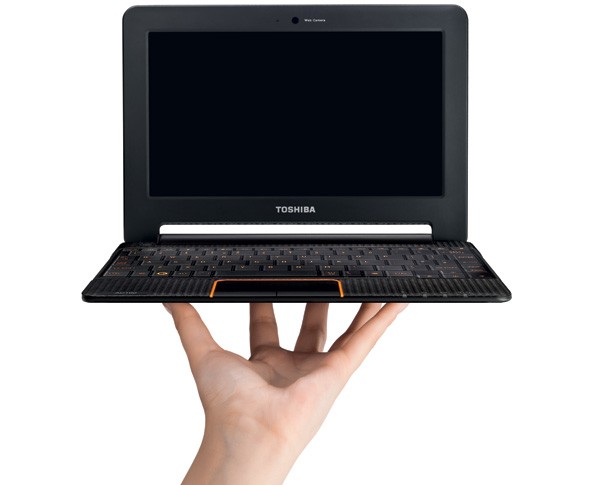 [via netbooked]
ARVE Error: id and provider shortcodes attributes are mandatory for old shortcodes. It is recommended to switch to new shortcodes that need only url
Toshiba unveils its ultraslim smart companion AC100
Highly portable smart companion with always-on capability needs less than a second to wake up from standby mode
06.20.2010 – Neuss, Germany – Toshiba Europe GmbH today entered the mobile internet device market by introducing the Toshiba AC100, which is designed with a clamshell form factor. Its slimness and light weight coupled with its always-on capability makes it the ideal device to consume media, browse the Internet and view and edit documents, emails and other messages while out and about. The AC100 can remain in standby mode for up to seven days. The highly personalisable 25.7cm (10.1") AC100 will be available during the third quarter of 2010 throughout Europe, Middle East and Africa.
The best of two worlds
"Our smart companion, the AC100, is a member of the mobile internet device segment that combines the best of two product categories: like a smartphone, it is always on, whilst offering the convenience of a clamshell netbook with a bigger screen and a full size keyboard," says Thomas Teckentrup, General Manager, Product, Strategy and Development Division, Computer Systems Group EMEA. It is targeted at users who utilise several devices but still desire an easy-to use, slim and light smart companion that can be taken almost everywhere and that offers superior usability to that of smartphones.
No need to recharge every day
The AndroidTM[1] based system takes less than a second to switch the AC100 from standby to full activity mode whilst supporting a smartphone-like 'always-on' capability. The Toshiba AC100 can go for up to seven days without having to be recharged. When being used intensively, it can provide at least eight hours of mixed browsing and video playback on one charge.
Simple-to-use and easy-to-personalise
The black and orange coloured AC100 is intuitively usable and offers the possibility to personalise the device by downloading applications and widgets. The AC100 ships with a number of applications pre-installed, amongst them Documents To Go®, for viewing and editing Microsoft Office files, an E-mail Client with POP3, IMAP and Exchange support, a messaging client, Opera Mobile for browsing the web as well as Toshiba Media Player for playing and viewing video, music and pictures.
Users can also deploy up to five home screens on their Toshiba AC100, which can be configured to change automatically depending on their location as indicated by the SSID[2]. For example, an owner could set short-cuts to work-related applications, widgets and 'live-files' to appear on the home screen when they are in their office, personal applications and widgets when they are at home and entertainment-orientated applications and widgets everywhere else.
Facts & Figures* The AC100
· NVIDIA® Tegra™ 250 Mobile Processor (1GH, ARM)
· AndroidTM2.1
· RAM: 512 MB DDR2 (333 MHz)
· up to 32GB SSD
· 25.7cm (10.1") TruBrite® display with LED backlight, 1,024 x 600 pixels
· Bluetooth 2.1 +EDR*, WLAN (802.11 b/g/n), Mobile Broadband*
· 1 x USB 2.0, 1x Mini USB, Card Reader (SD, MMC), Audio out/Mic in combo socket, HDMI®
· 1.3 MPixel Webcam with integrated microphone
· Location based switchable desktop
· Toshiba Home Menu, a personalisable desktop with widgets and shortcuts
· Size: 262.1mm x 189.8mm x 14 / 21mm
· weight: starting at 870g
* depending on configuration and local availability