Velocity Micro's 7-Inch Android Powered Cruz Tablet Announced
Velocity Micro has just announced a new tablets lineup, powered by Google's all-mighty android OS platform. Coming this August, the first device planned to go live is called the Cruz Reader. Now, whether it's just an eReader or a whole new tablet machine – it's up to you guys to decide – the mother company (as you can watch in the video after the break)  is apparently taking the reader side, flavored by tablet features . This way or another, for prices range between $149 to $299, you should all expect getting yourself a real nice reader-tablet hybrid combination, packing a 16:9 7-inch capacitive touchscreen on top, and USB port, paired with SD card slot, 4GB of internal storage and 802.11b/g wifi support (with full browser capabilities) under the lid. Make a room for more PR details after the break.
Update: And looks like the Velocity's Cruz tablet is finally up for your pre-orders at Borders, priced at $299. Shipping, on the other hand, should start taking place somewhere towards the end of October – Holidays baby, holidays.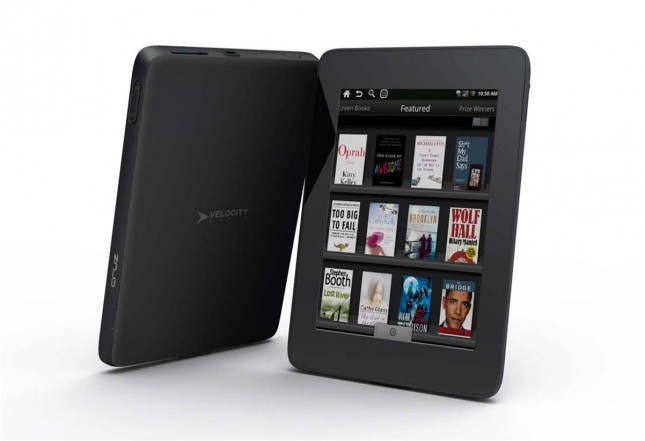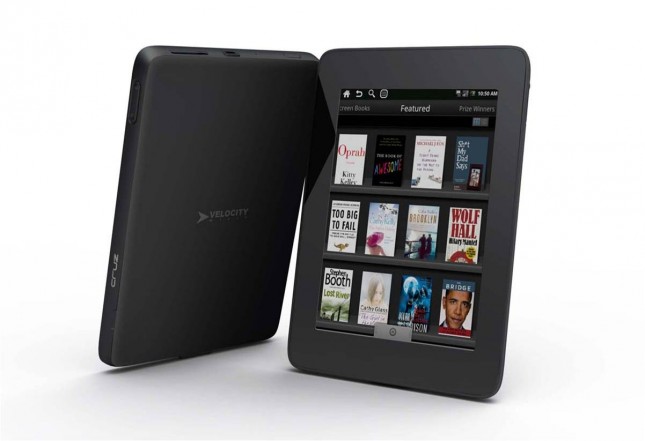 [Cruzreader]
ARVE Error: id and provider shortcodes attributes are mandatory for old shortcodes. It is recommended to switch to new shortcodes that need only url
Velocity Micro® Announces a Family of Android™ based color E-readers and Tablets
Cruz line launches with 7″ color Cruz Reader™, 16:9 Cruz Tablet™ and kid-friendly Cruz StoryPad™

Richmond, VA – July 13, 2010 – Velocity Micro, the premier builder of premium, high performance desktop computers, notebooks, and peripherals, announces the debut products from a captivating and affordable line-up of Android powered mobile devices. Taking e-readers light-years past e-ink, the Cruz Reader features a sleek design, touch screen display, and tons of multimedia features. The Cruz Tablet offers the same multimedia capabilities as the Cruz Reader with more storage and a multi-touch screen. Perfect for kids, the Cruz StoryPad offers a touch screen, interactive content, and intuitive interface. Best of all, the Cruz line starts at just $149.
"Since 1992, Velocity Micro has been dedicated to building remarkable consumer electronics," said Randy Copeland, President and CEO of Velocity Micro. "With the development of the Cruz line, we were able to take those enthusiast sensibilities and package them for the mainstream consumer to create a product that's not only amazing, but affordable as well."
At under one pound and about a half inch thick, the $199, 7″ Cruz Reader goes everywhere you do, making it perfect for students, avid readers, frequent flyers, and techies. Additional features such as video playback and web browsing provide a much richer experience than traditional e-ink readers at a more reasonable price than a tablet.
Key specs and features include:
· Crystal clear 4:3 ratio, 800×600 full color touch screen display – ideal for viewing ebooks and magazines, plus web pages and movies
· Google Android Operating System
· 802.11b/g wifi and full Web browser support
· High res video and high quality audio playback with no proprietary content restrictions
· Built-in Dictionary, Notepad, Calendar, Alarm Clock, Contacts, Games, and other useful apps
· Built in accelerometer, tilt activated
· Enough built in storage for hundreds of books
· USB and SD card slot for upgradable storage, including a 2GB SD card
· Up to 10 hours of use and over 24 hours of standby time, with a replaceable battery
· Access to over 2 Million ebooks via included Borders E-book library portal application
· Access to the Cruz Market™, an open content portal for downloading apps, magazines, and videos from a broad array of content providers.
At $299, the Cruz Tablet offers a truly mobile experience at an affordable price, finally giving consumers an Android-based tablet alternative.
Spec and feature upgrades include:
· 7″ 16:9 ratio, 800×480 capacitive display – great for viewing widescreen video
· 802.11n wifi for faster wireless connectivity
· Integrated microphone for voice recording
· 4GB of built in storage with an 8GB SD card in the box for additional storage of high res photos, video, and music
Rounding out the Cruz line, the $149 Cruz StoryPad packs tons of multimedia features into a kid friendly, drop resistant package, letting children read, learn, and interact using a simple and intuitive touch interface. Features include:
· 7″ 4:3 800×600 full color touch screen display
· Simplistic and intuitive navigation
· High res video and high quality audio playback
· Preinstalled audio book content – reads classic stories as the child follows along
· SD card for additional storage
· Available in pink, blue, and green
The Cruz Reader and Cruz StoryPad will be available from most major retailers and direct from Velocity Micro in August with the Cruz Tablet following on September 1st. For more information or to sign up for e-newsletter updates, visit www.CruzReader.com.