Toshiba's Dual-Screen Libretto W100 Officially Available Stateside
Back in June the possible existence of Toshiba's revolutionary Libretto W100 smartbook was still wobbling between a viable prototype and a pleasureful dream. But today, couple months later, this 7-inch dual-screen wonder officially goes live in US market and turns available for pre-order either in silver or black hues with two to three weeks shipping date on Amazon.com. It's not cheap, as you may already know, in fact it would actually cost you $1,099.99 buckaroos. In exchange for this staggering price you will get yourself a Pentium U5400 processor, running Windows 7 Home Premium platform inside, along 2GB of DDR3 memory, a 62GB SSD, 802.11b/g/n WiFi, Bluetooth 2.1+EDR, integrated Intel HD card for the graphics and a very impressive 8-cell battery pack that would probably last for a long long time. Checkout the PR video after the break or hit the links to get your very own device.
Update1: And looks like Toshiba's dual-screen Libretto W100 is officially out of stock on Amazon, 48 hours after getting listed online, priced at $1,100 – very impressive, isn't it? Conics.com might have some few pieces available, so hurry up before they're gone.
Update2: We've added yet another video that will walk you through Liberto W100 beautiful UI platform (via Pocketables).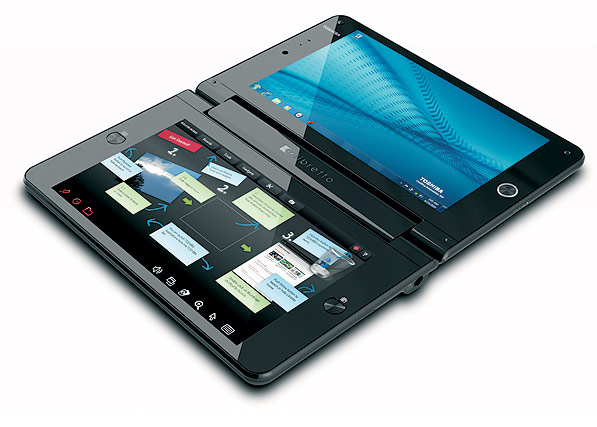 [Toshiba]
ARVE Error: id and provider shortcodes attributes are mandatory for old shortcodes. It is recommended to switch to new shortcodes that need only url
---