We have known for quite some time now that Japanese electronics giant Toshiba is working towards a brand new tablet device – And now, it seems like the good guys at Notebook Italia have apparently managed somehow to get some detailed footage of the company's alleged technology wonder. Basically, there's nothing much to report at this point besides the fact it packs both USB and HDMI ports, paired with a memory card reader slot to their right, and a 3.5mm headphone jack to their left. In addition, there are four touch buttons up front the black slick display, implying the whole thing will probably run a Google Android platform inside. More about that at this year's IFA event which takes place a week and a half from now.
Update1: Rumor has it that Toshiba's brand new Smart Pad tablet is going to officially be called Folio 100. Other than that, the 10.1-inch (1024 x 600) Android2.2 device is said to include 16GB of internal memory along SD and MMC card readers, 3G WWAN, Bluetooth, and 802.11b/g/n WiFi connections, a 1.3 megapixel camera, a 7 hours battery pack, HDMI / USB 2.0 connectors and last but not least, NVIDIA Tegra 2 to smoothly handle  your 1080p graphics. Look under the hood and you are likely to find an Opera mobile browser, paired with variant office apps, e-book reader capabilities and Flash 10.1 support. Stay tuned for more updates next week, when IFA kicks off.
Update2: Rumors has been officially confirmed, Toshiba's new tablet device is now called Folio 100. The 10.1-incher does run an Android 2.1 OS and comes with 16GB of storage along with a front-facing a 1.3 megapixel camera, capacitive multitouch display and a bunch of etched touch buttons placed on the right side of the bezel on top.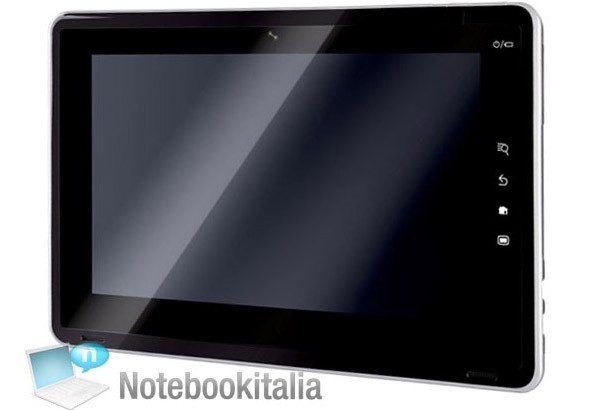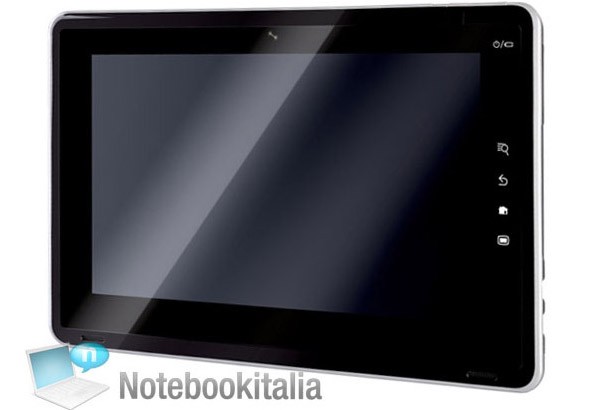 ---