Archos To Officially Release a New Android 2.2 Tablets Lineup
We've already seen a bunch of Archos Internet tablets based on Android 1.6 landscape, in the past. Thankfully, the next wave, which will happen this year, will focus on Google's upcoming Android 2.2 platform (Froyo), as the upper level models will also include multitouch capacitive touchscreens inside. We'll see a mix of 5 different Android versions getting unleashed – some are more of media player devices and some will likely go live as tablet machines.
Archos 28 ($99.99) – A budget version. Comes with a 2.8-inch, 320 x 240 resistive touchscreen which packs underneath 4GB of storage along with a pretty impressive 800MHz ARM Cortex A8 processor and a wide range of audio / video codecs support. It also boasts an Android Froyo operating system and a new Archos music app that will display your album art in the most convenient way. Regretfully it won't have Market Apps access nor Google apps preloaded, but fret not, you won't be left with nothing inside. Get yours, starting this September.
Archos 32 ($149.99) – Another basic PMP version. This one, however, comes equipped with a 3.2-inch touchscreen display, boasting 8GB of storage and a rear 720p camera to catch your very precious moments. In addition, if you want this one you can get it somewhere around mid-September with a slew of touch buttons down the lane and a composite port for TV connection.
Archos 43 ($199) – Up next in this new lineup is the Archos 43 which looks like a new Archos 5 version with a much slimmer design and a more powerful 1GHz ARM Cortex A8 processor. In addition to the 4.3-inch touchscreen you'll also get (somewhere around mid-October) that rear 720p camera, along the Android Froyo platform and an integrated screen accelerometer.
Archos 70 ($274.99) – A 7-inch Android Froyo tablet that is supposed to go live somewhere around mid October and replace the previous Archos 7 flavor, yet again with an Android 2.2 OS running inside and a slick capacitive multitouch display placed on the top. This one has a mid-October availability dates as well.
Archos 101 ($300) – The most interesting member in that gang, probably because of the 9.7-inch Apple iPad analogy. Comes fully equipped with a 10.1-inch 1024 x 600 capacitive touchscreen, along a slim .5-inch thick chassis and only .93-pound of weight. It houses that same strong 1GHz ARM Cortex A8 processor and runs Google's latest Android 2.2 platform onboard. In addition you get a front facing VGA camera for video conference chats and in term of ports it is said to include an HDMI output, a microSD reader and one single USB host. It's going live somewhere around mid-October as well, but at the meantime you can checkout the full PR, specs chart,and  Engadget's Johanna Stern quick hands-on video right after the break.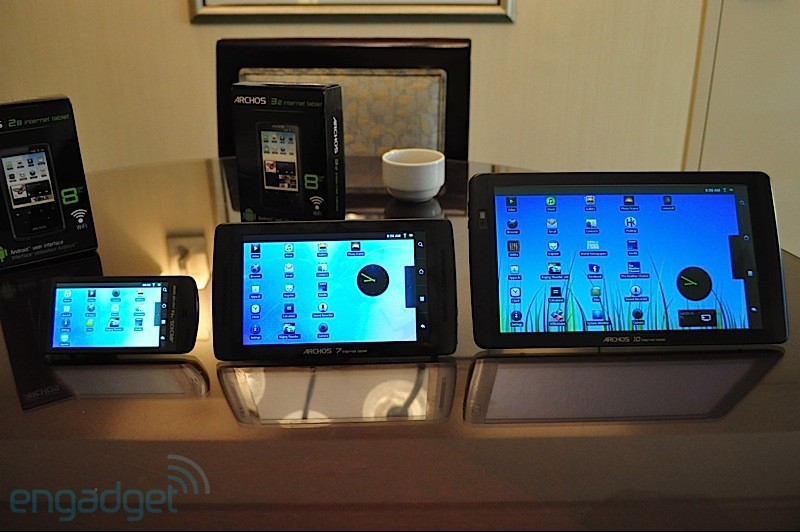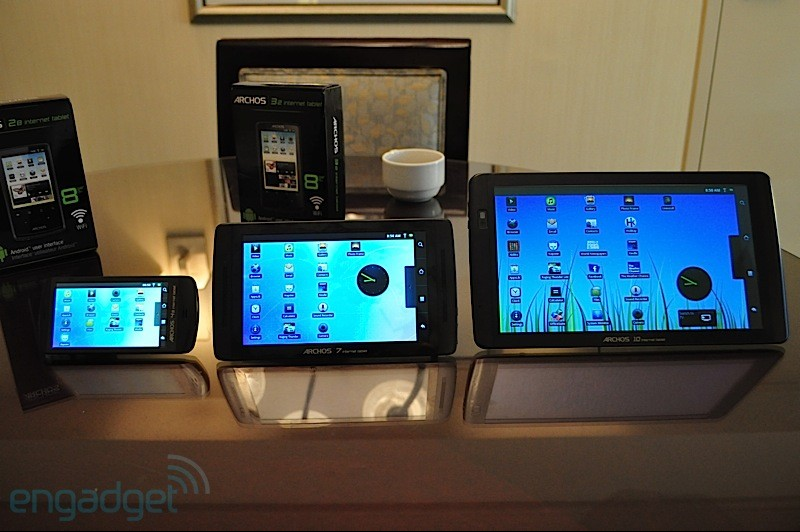 [via Engadget]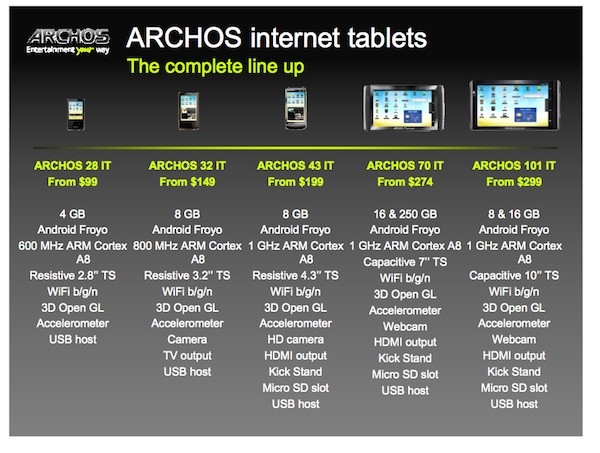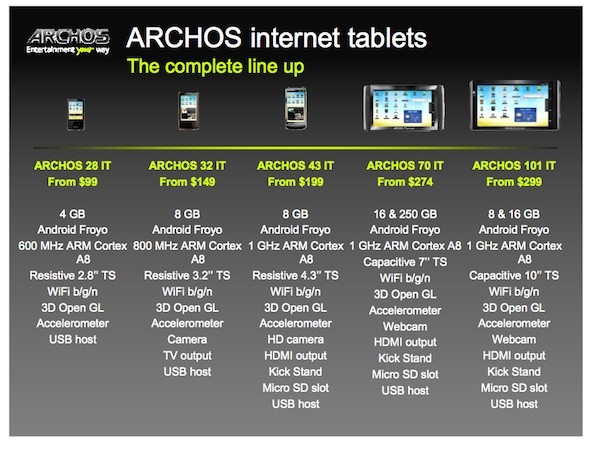 ARCHOS Introduces Five New Android Tablets Starting Below $100

Launching Five New Android Tablets With Two Revolutionary Products, the ARCHOS 28 Internet Tablet, First Android MP3/MP4 Player Promoted Below $100 and the ARCHOS 101 Offering the Largest Screen on the Android Market, ARCHOS Now Offers New Ways to Tablet Your Way
DENVER, CO–(Marketwire – August 31, 2010) – ARCHOS, an award-winning technology innovator and leader in the portable media player market, today announces five new Android-based tablets.
From the ultra affordable and ultra portable ARCHOS 28 and 32 Internet tablets, to the multi-media marvel ARCHOS 43 Internet tablet, and the wide screen ARCHOS 70 and 101 internet tablets, ARCHOS' new range offers a combination of super-fast web-browsing, games, eBooks, social networking and other apps alongside HD video and music in a very slim-line design.
The ARCHOS 28 Internet tablet and the ARCHOS 101 Internet tablet, the flagship products of the range, are bringing innovation to the Android world.
The ARCHOS 101 Internet tablet offers a unique design including the latest technology. This tablet has the advantage of a connected Android device that adds very fast web browsing and HD multimedia experience. The 10.1" high-resolution screen is nestled in a very slim and light form factor tablet, enabled through a patented construction process.
The ARCHOS 28 Internet tablet is the first Android player below $100. By introducing a connected device at such a low price, ARCHOS revolutionizes the portable music player segment.
ARCHOS has developed four unique Android applications for video, photo and music with the support of 3D cover animations to allow users to keep a digital experience as simple as it should be.
Three Android tablets from 4.3" to 10.1" screen size
A unique design
A patented construction process, which uses an over-moulded PVD stainless steel structure, has enabled ARCHOS to redefine the tablet form, with devices that are smaller, thinner and lighter, making the tablet even more portable. The ARCHOS 101 Internet tablet is just 0.47″ thick and weighs only 15.87 ounces, yet offers a crisp, high-definition 10.1″ capacitive multi-touch screen.
With the adjustable kickstand, users will always have the best position to tap out emails, view a movie or enjoy the photo frame application. Using the device is designed to be both easy and intuitive.
A PC-like super-fast web browsing experience
Featuring a powerful 1 GHz processor, high-speed WiFi-n technology and sleek high-resolution screen, the new Android-based tablets offer a fast and enjoyable PC-like web browsing experience. Users can access the entire internet thanks to Android's support for Adobe Flash™ 10.1 player.
A built-in webcam on the ARCHOS 70 and 101 Internet tablet means users can make video calls to family and friends.
In addition, a new feature in the Android settings menu means that the devices can also be tethered to a 3G phone via Bluetooth or USB for Internet connectivity when on the move.
Hi-definition multimedia at your fingertips
With ARCHOS' heritage in high-quality portable multimedia players, the Internet tablets offer consumers a full multimedia experience, with 720p HD video playback as standard, whether from a user's movie collection or streamed from YouTube. Unique Android multimedia applications designed by ARCHOS will allow the end user to enjoy all his multimedia content.
The HDMI TV output offers the best Android, multimedia and games experience on your TV. The tablet can be used as a game pad for your TV thanks to the built-in accelerometer and 3D open GL technology so users can enjoy a unique gaming experience.
The ARCHOS 43 internet tablet also sports a 2 megapixel HD camcorder to capture video and photos than end user can share on the web or on the HD TV screen.
The first connected MP3/MP4 players below $100
The smaller ARCHOS 28 and 32 internet tablets bring the Android revolution to MP3 and MP4 players, adding a new dimension to this market. Alongside music and video playback, the low-cost, pocket-sized devices starting from $99.99 now offer email, web browsing, music and video streaming, 3D gaming, eBooks, social networking and other entertainment, productivity and information-based apps.
The Best HD multimedia experience
The ARCHOS 28 and 32 internet tablets feature music, video and photo applications, developed by ARCHOS, enriching the user experience with smooth browsing through the album covers and with widgets added to the home screen to give instant access and control to media. These unique Android applications allow users to amplify their digital experience.
The devices are also compatible across the major music and video formats, so there's no need for conversion or the inconvenience of dedicated software support. A simple drag and drop from your computer is all that's required.
The A32 internet tablet also includes a camcorder for video and photos to capture the greatest memories. Users can upload videos and pictures to the web or share via social networks.
Pocket Computer
With WiFi connection, users can surf the Web at the speed of a computer thanks to the speedy processor. The Internet browsing is also faster than ever; users can adjust the page size of an article with a simple double-tapping or rotating the ARCHOS and the screen will flip into place to display the entire page's width. There's also an email application so you can stay in touch with all of your friends.
Applications to make a player what users want it to be
The AppsLib store, with free and paid apps, will make sure you access and directly download custom sized Apps to fit your lifestyle. Games, books, music, social media, recipes, news and sports are now a click away.
ARCHOS tablets can become an eBook reader, with literature classics, the latest magazines or favorite comics available to download and read wherever you go.
A wide range of games, using 3D graphic acceleration, are also available. From the classic Sudoku to the fast-paced racing games, user will immerse themselves in fun games enjoying the comfort of sharp and large screens or using the device as a steering wheel.
Price and availability
ARCHOS 28 internet tablet
Available in September at 4GB, with a recommended retail price of $99.99.
ARCHOS 32 internet tablet
Available in September at 8GB, with a recommended retail price of $149.99.
ARCHOS 43 internet tablet
Available this fall at 8GB with a recommended retail price of $199.99.
ARCHOS 70 internet tablet
Available this fall with a recommended retail price of $274.99 (8GB) and $349.99 (250GB).
ARCHOS 101 internet tablet
Available this fall with a recommended retail price of $299.99 (8GB) and $349.99 (16GB).
About ARCHOS
ARCHOS released the first pocket-sized HD-based MP3 player with the Jukebox 6000 in 2000 and since that time has revolutionised consumer electronics devices. The company invented the portable media player in 2003 and was the first to bring television recording, wireless and touch screens to Portable Media Players. ARCHOS have also introduced the Internet Media Tablet range — the 5, 5g and 7 — offering users instant, uncompromising access to the internet, media content and TV. Established in 1988, ARCHOS has offices in the United States, Europe and Asia. ARCHOS is listed on Euronext Paris, Compartment B, ISIN Code FR0000182479. www.archos.com.
---
Apple Updates The iPod Touch With New Colors and Lower Prices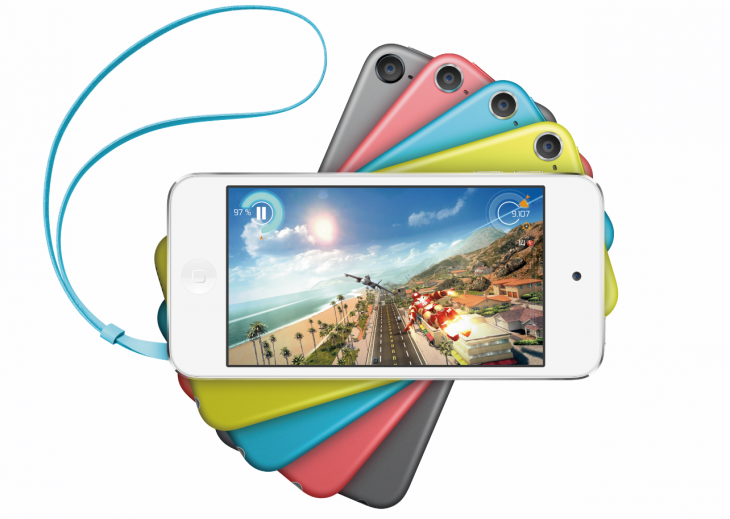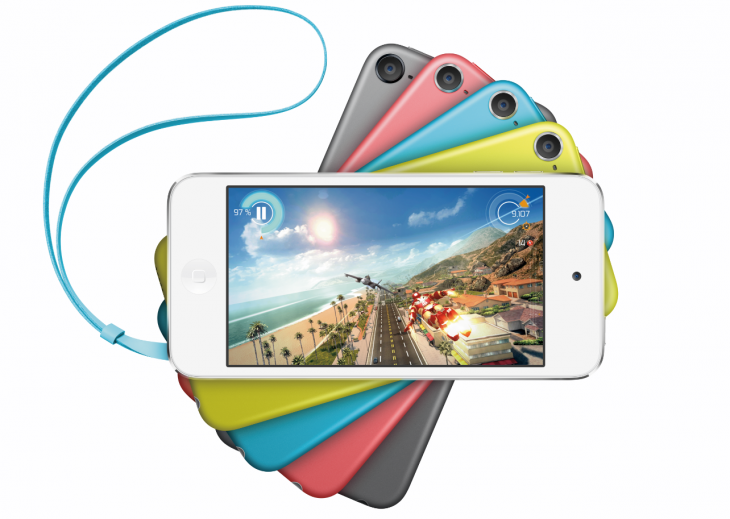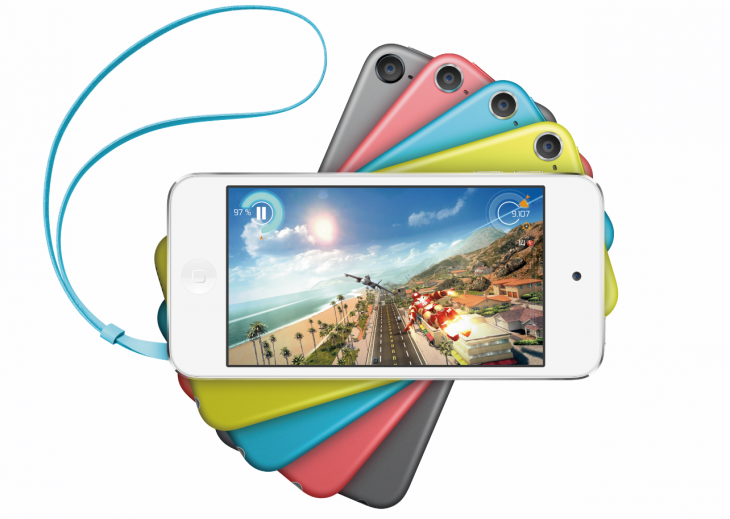 Apple today updated the iPod Touch lineup with the introduction of new vibrant colors and lower prices, making the perfect everyday music player an even better value. Now, starting at $199 for the 16GB model (instead of $229), the iPod Touch features a 5-megapixel iSight camera on the back, as well as several other colors including yellow, blue, silver, pink, space gray and red, plus the standard already-known specs which notably include a 4-inch Retina display, along with a front-facing camera, iOS 7 and Apple's A5 processor inside. Finally, the other models (the 32GB and 64GB iPod touch), which were previously priced at $299 and $399, are now respectively priced at $249 and $299. The new models/prices are officially available in the U.S Apple store today and worldwide in the coming days.
[Apple]
---
Cowon Announces D20 MP3 Player With 90 Hour Battery Life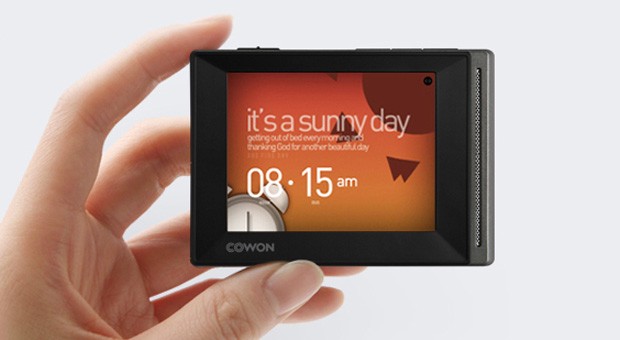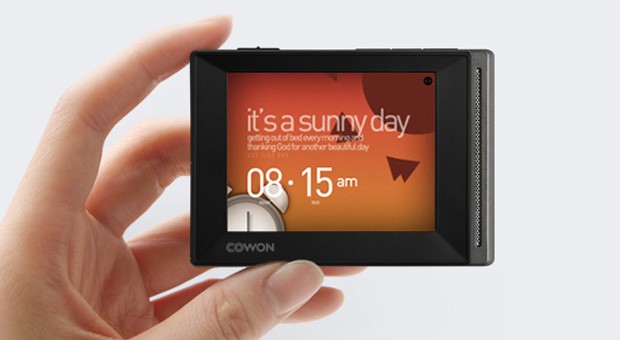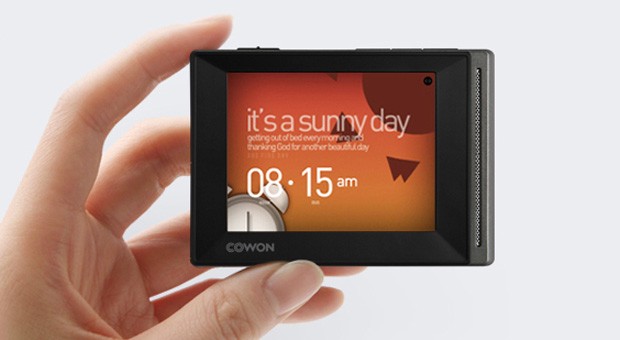 Alright, let's start this off with a little confession: I own a Cowon mp3 player and I think it is simply the best. Far better than anything else I have ever had before (and I do have quite a lot of audio gear, you know). Better amp, better structure, better music handling features. Thing is, that most people I talk to today don't even use mp3 players anymore – over time mobile phones have slowly taken their place. But for audiophiles, the mp3 player is a must have. Ultimately, that is why the South Korean corp is starting to market the D20, a 2.5-inch (320 x 240) digital audio device with either 8GB, 16GB or 32GB of internal storage at your choice, an integrated SD card slot, FM radio, voice recorder, TV output, and resistive touchscreen on top. But what is so special about it, you may ask? Put it simple, the battery part is very well planned, with 13 hours of video playback, and up to 90 hours(!) of music at your fingertips. 90 hours, sheesh. As for pricing? The Cowon D20 will sell for ¥11,800 ($125) and ¥16,800 ($178), respectively. 
[via Akihabara News]
---
Apple Introduces New iPod Touch, iPod Nano, and iPod Shuffle Media Players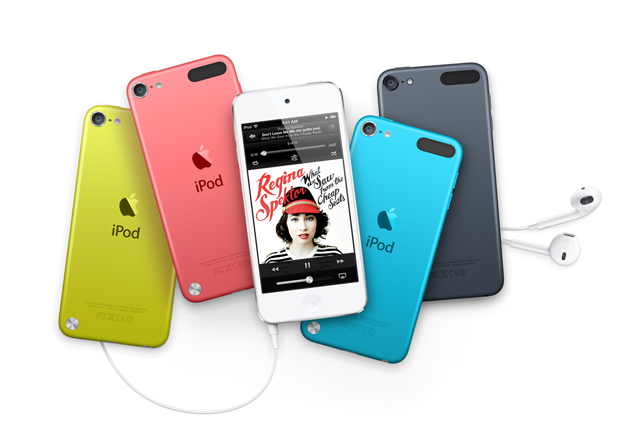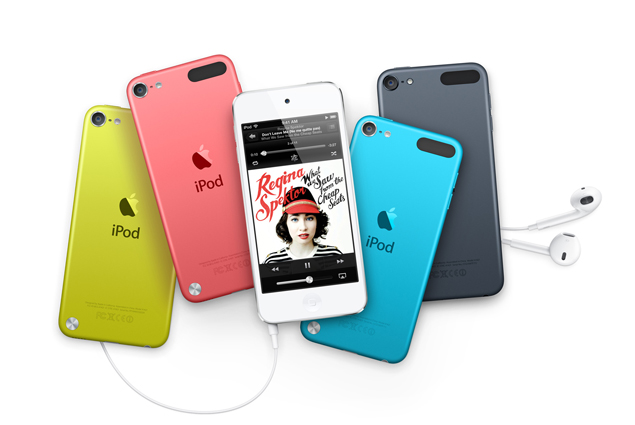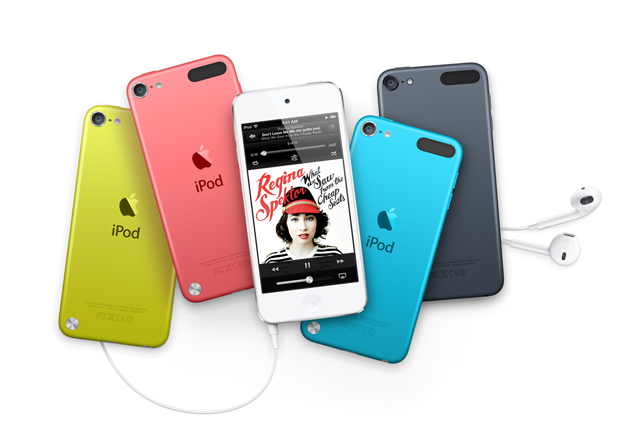 At San Francisco California, Apple has just introduced a new line of iPod devices, including a powerful iPod Touch, a redesigned iPod Nano and a new version of the tiny iPod Shuffle.
iPod Touch:
The fifth-gen iPod touch player appears to be one of the most impressive products that has ever hit the market.
This new iteration boasts that same gorgeous4-inch display (326 ppi panel) the new iphone 5 packs, while the structure itself is nothing but amazing. Only 88 grams (3.1 ounces) of heft behind it and it just 6.1mm thin. As far as architecture goes, the new Touch will sport an A5 chip inside, that is guaranteed to give you roughly seven times the graphics performance (compared to Apple's previous model).
The built-in battery was also upgraded. When fully charged, it seems to last at least 8 hours of video broadcast or 40 hours of music playback.
The rear camera has been bumped up to 5 megapixels, alongside a backside-illuminated sensor and an f/2.4 lens aperture. There's also support for 1080p video playback / recording, in addition to the new and highly efficient image stabilization factor. The front facing camera of the Touch holds the 720p resolution.
We've also learned that the one strange silver button on the back of the Touch was added in order to hook up a safety lanyard onto the body. OK, whatever. Fortunately, there are some positive news for us software aficionados, as the new player said to support Siri personal assistant, out of the box, and claimed to be shipped along with Apple's latest and greatest iOS 6 platform.
Finally, the iPod Touch will be offered in a variety of colors, including raw aluminum, black, blue, yellow,and red. We're also told that the rest of the system's configuration is pretty respectable, with the new ipod Touch models to run you $299 and $399, housing either 32GB and 64GB, respectively.
More about the new lineup after the break.
Update: Looks like Apple's new iPod touch, shuffle and nano players just went up on Amazon, so you can place your orders right away, with shipping to start in about 2 – 5 weeks.
iPod Shuffle:
A new version of the iPod shuffle was also recently announced. And while most of the the changes to this new iPod flavor are basically minor, we still thought they're worth a mention. Well, as a matter of fact there is only one major change, and if you haven't guessed by now, we're talking about the colors. The new iPod shuffle will come in eight different colors. That three additional hues from the latest line of shuffles.
iPod Nano:
Apple says it wanted to "reinvent" the nano lineup for quite some time now, and that's exactly what they've done. The new iPod nano (seventh-gen if you're counting), like the Shuffle, will come in seven different colors. But if the colors weren't enough, Apple was looking to give it a large display, some nice controls, a thin design and that same small 8-pin lightning connector. The results are pretty impressive, to say the least. The new and entirely revamped nano device holds a few physical controls along the chassis, while the 2.5-inch screen, on top of the DAP, is the biggest display the company ever put in a nano, and it's covered with a multitouch interface. Oh, and there's a home button, can you believe it? And it's widescreen too. That's nice and all, but at the end it's the inner parts of the product that make it so special, and in this case, there is a bluetooth connection for pairing wireless headsets or cellphones, along with an FM radio tuner and a fitness pedometer. The average battery life is rated at about 30 hours for audio, with the standard capacity to sell for $149 and 16GB of storage.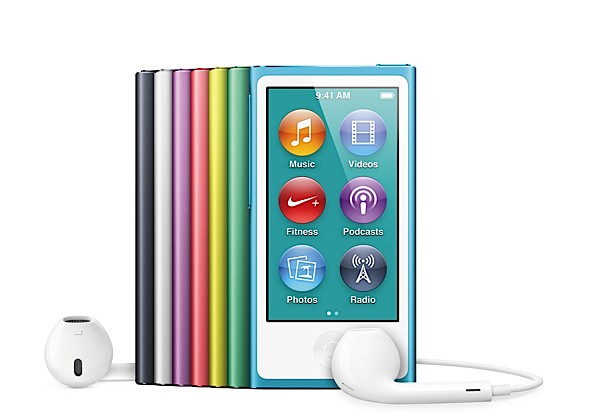 [Apple]
---