Hot on the heels of the tablet sphere, Toshiba's 10.1-inch Folio 100 slate just got official, only few hours after Samsung's most anticipated Galaxy Tab has made it out worldwide. And while Toshiba's elegant Android 2.2 tablet seems a bit unready for the market at the moment, for €399 it still worth the wait. Generally speaking, the new Folio 100 boasts a Tegra 2 chipset  inside but the custom skin which Tosh has thrown on top of Google's Android platform, feels a bit sluggish to handle UI properly. As mentioned, the display itself is a 10.1 inch 1024 x 600 capacitive touchscreen and there are 16GB of internal memory hidden under the hood. The chassis is only 0.55-inch thick, which makes this Japanese tablet thin and very light to hold in your hands (1.7 pounds of weight) – still you'll find an SD card expansion and HDMI output built into the frame. Up front, there's a 1.3 megapixel camera and the battery is said to deliver up to 7 hours of basic work. Naturally, this slick tablet machine supports a 802.11n WiFi connectivity and software wise will apparently pack an Opera browser along with Toshiba's costume made Media Player, Documents To Go app, Fring, Evernote and a nice eBook application, called FBReader. European and Middle East launching date will take place soon, but the full PR is here (along with a quick hands-on video, courtesy of newsgeek) right after the break.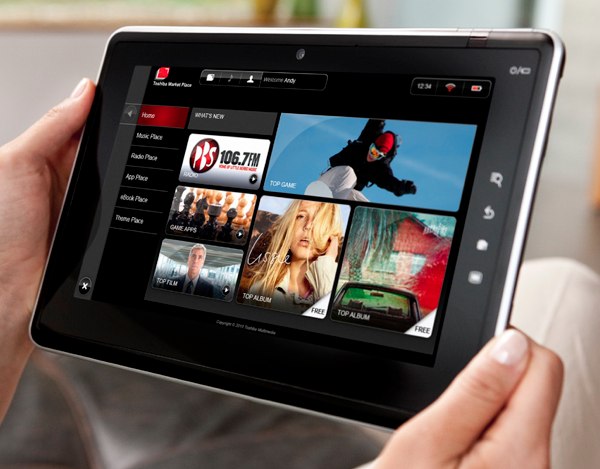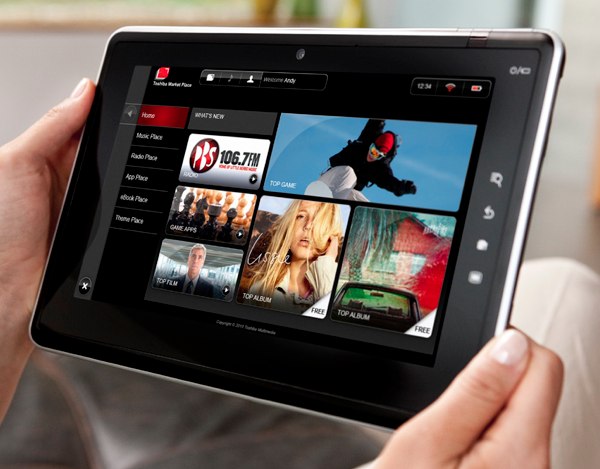 ARVE Error: id and provider shortcodes attributes are mandatory for old shortcodes. It is recommended to switch to new shortcodes that need only url
Toshiba introduces its first Android based tablet computer
FOLIO 100 media tablet offers rich multimedia experience including Flash 10.1 support and features WLAN and Bluetooth
Neuss, Germany, 2nd September 2010 – Toshiba Europe GmbH today introduced its new media tablet FOLIO 100. The 25.7cm / 10.1" personal media tablet is targeted at people looking for a 100% portable and versatile device that is always at hand for making the most of their digital life. The FOLIO 100 comes with a wide selection of apps and services dedicated to media consumption, web browsing and social networking, and offers a rich multimedia experience. Easy and enjoyable to use, the FOLIO 100 has a highly intuitive graphical interface developed by Toshiba to run on top of Android 2.2 (Froyo). The FOLIO 100 will be available during the fourth quarter of 2010 throughout Europe, Middle East and Africa.
Enjoy your digital life with your personal media tablet
"Our FOLIO 100 media tablet offers a seamless, easy-to-use experience across entertainment, social networking and mobile internet – anytime and anywhere", said Marco Perino, General Manager Digital Life Products and Services. Offering a wide range of connectivity options, the FOLIO 100 is equipped with an SD card slot, an HDMI® connector, USB 2.0, Wi-Fi® and Bluetooth®, while a Mobile Broadband (3G) ready version will follow soon.
Versatile multi-talent with a selection of useful applications
The FOLIO 100 ships with a wide selection of applications pre- installed: amongst them Opera Mobile (web browser), FBReader (e- book reader), Document To Go® (office suite), Evernote® (notes), Adobe® Flash 10.1 and Fring®, an app that in combination with the embedded webcam allows video calls with friends and family.
Let the music play… – downloads from Toshiba Market Place
The media tablet also features Toshiba Market Place, a service that offers easy access to various download choices for multimedia content, services and apps. Music Place, powered by 7Digital offers easy access to one of the widest catalogues of music and allows easy syncing to a choice of devices. Radio Place gives access to a wide selection of IP radio services. Through the App Place, users are able to download applications compatible to the Folio 100.
A powerful personal device with endurance
Although it is only 14mm slim and weighs only 760g, the FOLIO 100 still packs a powerful Nvidia® TegraTM 2 processor that offers a perfect balance between high performance and low battery consumption. A battery life of up to seven hours1 lets the tablet work for almost a full working day without the need of a power outlet. The instant-on functionality lets the tablet be operational within less than 30 seconds. A 16GB on-board storage hosts music, videos, photos, e- mails and other data and is even expandable via SD card.
Developer portal provides support for app optimisation
"We encourage users and developers to join our Folio 100 eco system to create and offer apps, games and other content for FOLIO 100", said Marco Perino. Toshiba already established a one-stop destination (www.toshibatouch.eu) for developers where they can get support to optimise their apps for the FOLIO100. "We also invite users to participate in the FOLIO community by suggesting ideas to developers to pursue," said Marco Perino.
Facts & Figures*
CPU: Nvidia Tegra 2
25.7cm (10.1") capacitive multitouch display with 1,024 x 600 pixels
Based on Android 2.2  On-board storage capacity: 16 GB
Bluetooth 2.1 +EDR, WLAN (802.11 b/g/n), Mobile Broadband (soon available in certain models and countries)
DLNA® compatible
1xminiHDMI®,1xUSB 2.0 (client and hub), SD/MMC Card Reader
Supports Adobe® Flash 10.1
Rotation of displayed content on the screen by accelerometer
Webcam with 1.3 MPixel
Battery life: 7 hours (65% web browsing, 10% video playback, 25% standby)
Weight: 760g
Size: 281mm x 181mm x 14mm
Software (excerpt): Opera Mobile, Toshiba Media Player, FBReader, Fring, Document to Go, Evernote
* depending on configuration and local availability
---