Augen's tablet division has been very active lately. First, it was the company's 7-inch Android 2.1 tablet…and now here they are again, ready to trailblaze the next major tablets evolution with six(!) different Android 2.2 "Espresso" / "Latte" contenders. And while some models are aiming for the low-mid markets, others are featuring some top-notch technologies on board. A primary part of the upper-class department includes two very interesting models: the Espresso Doppio and the Espresso Firma. The 10.2-inch Doppio, which runs for $599.99, appears to be this sort of netbook-tablet hybrid device hosting a 1024 x 768-capacitive touchscreen paired with a built-in accelerometer, and a 3mp camera on front. Digging inside, there's a powerful 1GHz ARM Cortex A9 CPU, tucked with a 6000mAh battery, claimed to deliver up to 15 hours of work. The other thing that deserves mention is the bundled "hybrid" solution which comes in the form of a cool docking cradle that can instantly transform the Doppio into a portable seashell netbook while adding a backlit keyboard along with multitouch trackpad capabilities and 160GB of storage that enables bigger space for uploads. The Firma tablet, on the other hand, is substantially cheaper than previous version (only $349.99) and mainly based on a 7-inch platform with handwriting technology support. This result can be achieved thanks to this special ink pen stick that Augen is giving you as part of the box.
Nothing to really get excited about, but there are four additional tablets in Augen's upcoming collection: The Latte, which runs for $199 and sports a 7-inch resistive touchscreen with 2GB of storage capacity to store. The $249.99 Latte Grande which strikes with a 7-inch capacitive touchscreen, accelerometer and an 800MHz processor, and the final two in this group, that apparently go under the Espresso lineup – one that will cost you $349.99 and is said to arrive with a 7-inch capacitive touchscreen along an 8GB of internal memory, 3mp front-facing camera, and Cortex A9 processor, while the other, the $429.99 Espresso Dolce, that offers Cortex A8 CPU inside, with a 10.2-inch display, and a 1024×768 screen resolution. Full PR after the break.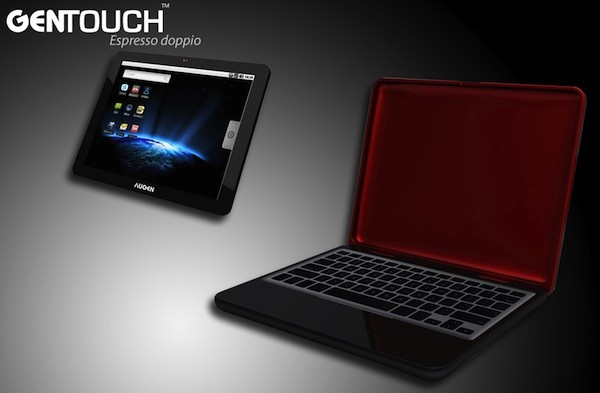 FOR IMMEDIATE RELEASE
Hollywood, Florida – October 7th 2010 – WAKE UP AND SMELL AUGEN'S NEW COFFEE BLENDS!
Augen introduces six innovative blends of Android tablets
This fall Augen will release six ground-breaking Android 7-10″ tablets retailing from $199.99 to $599.99.
As the first manufacturer to introduce Android platform tablets, Augen has energized the US mass market with the GENTOUCH78.
The Blends
Augen brings two new exciting blends of Android tablet PC's featuring the Latte and Espresso Series. Our new preloaded proprietary technology has incorporated a human factor which will significantly enhance the user experience. All models include a 16 pin connector that will be used in conjunction with our docking stations. All devices include optimized for Augen devices SlideME Applications Store.
The Latte Series
Capitalizing on Augen's success of the GENTOUCH78, the Latte Series features Androids 2.2 Operating System with Adobe DRM SDK9 licensing for purchasing and downloading eBooks.
GENTOUCH Latte
Weighing in at only 13.05 ounces, the new improved ultra sleek design provides a remarkable experience with touch sensitive front access controls; featuring a G-Sensor function and HDMI output which provides a brilliant multimedia experience. This 7″ Resistive Touch Screen with 800×480 resolution (soft tipped stylus included) incorporates 2GB of built-in flash memory with the latest WiFi-802.11(a/b/g/n) technology. Expandable storage through its SD Card slot supports up to 16GB.
MSRP $199.99
GENTOUCH Latte Grande
As a step up to the GENTOUCH LATTE, "The Grande" features a 7″ Multi-Touch Capacitive Screen with resolution 800×600. This flagship model offers a powerful 800MHz CPU processor with Android 2.2 Operating System. Downloading books is a snap with Adobe DRM SDK9. With 2GB built-in flash, WiFi, Micro SD Card slot this tablet has a lot to offer. But we are not finished yet… "The Grande" offers additional features with 3 axis accelerometer, 3 axis compass, and Ambient Light Sensor to conserve battery power. The HDMI output offers the finest multimedia and gaming experience on the users TV.
MSRP $249.99
The Espresso Series
The Espresso Series is the premiere line of Augen's Android tablets designed and built to satisfy customer's expectations for emailing, social networking, business applications, and a 3 axis accelerometer for gaming and more. This Series features Androids 2.2 Operating System (Every model in the Espresso series is upgradable to 3.0) with Cortex A8 & A9 1GHz Processors which exceeds today's consumers demand for a faster user experience.
GENTOUCH Espresso
The Espresso features a 7″ Multi-Touch Capacitive Screen with resolution 800×600. This model offers an industry leading powerful Cortex A9 1GHz CPU processor with Android 2.2 Operating System. With a forward facing 3 megapixel camera, video conferencing is one click away. The latest Bluetooth 2.1 +EDR Technology sync's the users top shelf entertainment systems along with creating an unparalleled wireless atmosphere. The Espresso is equipped with the latest WiFi-802.11(a/b/g/n), 8GB built-in flash, Micro SD Slot, and a 3 axis accelerometer/compass. This device includes an On Screen Vibration Keyboard and an Ambient Light Sensor to conserve battery power.
MSRP $349.99
GENTOUCH Espresso Dolce
This impressive 10.2″ Multi-Touch Capacitive Screen features a 1024×768 high-resolution display with a 4:3 aspect ratio which delivers the user an unsurpassed viewing experience. Featuring a Cortex A8 1GHz CPU processor with Android 2.2 Operating System, this device includes fingerprint-resistant oleophobic coating that reduces onscreen fingerprints. The Espresso Dolce is also equipped with the latest WiFi-802.11(a/b/g/n), 8GB built-in flash, forward facing 3 megapixel video conferencing capable camera, Bluetooth 2.1 +EDR Technology, 3 axis accelerometer/compass, Standard SD MMC Slot, HDMI output, Ambient Light Sensor, and an On Screen QWERTY Vibration Virtual Keyboard that combines cutting edge touch screen functionality with the satisfying feel of a keyboard.
MSRP $429.99
GENTOUCH Espresso Doppio
This is a flavor the user will never forget. We blended the revolutionary Espresso Doppio with the best features of the traditional laptop and newly developed tablet making this the first hybrid device with Dual Boot Android/Ubuntu OS. The Doppio OS (Dual OS) combination allows users to select either Android 2.2 or Ubuntu Operating System when turning on the device. Espresso Doppio's Android/Ubuntu OS utilizes full functionality of a laptop; including a variety of emailing, social networking, business applications, and printing options.
The combination of imagination and vision reflects this product's unique mix of having a detachable 10.2″ tablet (with an enhanced brightness and high resolution 1024×768 Multi-Touch Capacitive Screen) with a high-tech designed base including a QWERTY chocolate style LED backlit keyboard. Both components contain an independent lithium 6000 mAh battery which is equivalent to 10 hours of usage. When the devices are docked together, the combined battery life extends up to 15 hours (Industry first).
The Espresso Doppio is powered by a 1GHz processor for accelerated processing, 512mb Mobile SD RAM, 4:3 aspect ratio for a sharper multimedia viewing, 3 megapixel DSC front facing camera for video conferencing, 3 axis accelerometer/compass, multi-touch track pad which replaces the traditional mouse, WiFi-802.11(a/b/g/n), 2 USB OTG/Ports, and a 2.5″ SATA IDE HDD 160GB hard drive which redefines the laptop computing and tablet world.
MSRP $599.99
GENTOUCH Espresso Firma (The Human Hand Recognition Factor)
The Espresso Firma tablet with a magical wand pen (included), allows the user to create a digital note taking experience simultaneously transmitting the hand written notes digitally to the 7″ tablet. The regular sized ink pen writes on standard paper and does not require any digitizing surface. The Espresso Firma allows the user to conveniently email files, sign documents, and help utilize the powerful capabilities like personal note taking and hand written email compositions.
The Espresso Firma hand recognition device incorporates a Dual Core CPU Processor with the main CPU frequency operating at 600MHz and auxiliary CPU frequency (digital command control) at 550MHz. The 7″ Resistive Touch Screen with 800×480 resolution is powered by Android 2.2 OS and incorporates 2GB of built-in flash memory with latest WiFi-802.11(a/b/g/n) technology.
MSRP $349.99
About Augen
Augen, headquartered in Hollywood, FL is a rapidly expanding, consumer Electronics Company dedicated to bringing the latest in high-tech, affordable digital technology to the mainstream consumer market. Building on success since 2004, Augen successfully launched its own consumer electronics brand. Under its own brand name, Augen has been providing outstanding customer value through high quality, stylish design and added features coupled with best-in-class manufacturing.
The current product line-up includes: eReaders, Netbooks, and Internet Tablet PC's. Strategic alliances with key design houses allow Augen to be first to market with exclusive rights to represent and act on behalf of its strategic partners. When combined with its cost effective manufacturing partners and precision supply chain management, the company is able to bring the latest innovations in digital technology to the consumer at competitive prices. Although we have our own brand of Augen, our alliance with leading manufacturers makes Augen the exclusive representative for new innovative technology brought to the mainstream market. This alliance allows Augen to provide ODM and OEM products to our business partners and superior satisfaction to the end consumers of our products globally.
Due to the company's rapidly expanding sales, in the recent year Augen expanded its management team to create a powerhouse of sales, marketing and operations veterans. The company has also expanded its customer service and technical support teams in Florida to provide world-class service and support functions.
Augen utilizes a tiered distribution plan according to channels of trade for both product development and programming… Our thirst for advanced technology with additional products due in 2011.
www.augenus.com
---