The more we're getting closer to CES 2011, the more we're going to hear about new products that join the world's biggest tech celebration. AOC's 8-inch Breeze is just the latest in that series. The new tablet, which was recently unveiled by one of the largest LED / LCD monitor manufacturers, runs an obsolete Android 2.1 platform within, along with an 800 x 600 screen resolution, and a slew of physical keys, up right, on top of the screen bezel. In addition, there's a Rockchip chipset inside, paired with 4GB of internal storage, a microSD card slot, a battery pack that is claimed to deliver up to 12 hours of audio or 6 hours of video, WiFi connectivity, an internal speaker, and a single USB 2.0 port. More information should be forthcoming in the next few days, while shipping is due later this month and price is only few cents sub $200. Full PR after the break.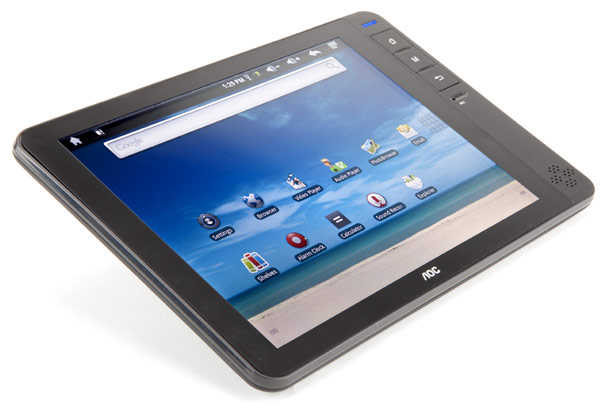 AOC Unleashes the Breeze Tablet with 8-Inch Screen
World's largest manufacturer of LCD/LED monitors and HDTVs makes a bigger entrance into the tablet market

Fremont, Calif. – January 3, 2011 – AOC, the world's largest manufacturer of LCD/LED monitors and HDTVs, announces the launch of the Breeze, an ultraportable tablet with an industry-leading 8-inch, 800-by-600-pixel touch screen and a full USB 2.0 port. The Breeze Tablet runs on the Google Android 2.1 operating system and is powered by a Rockchip processor. Weighing in at only 1.1 pounds, it is a truly portable device that puts the Internet, e-mail, games, movies and music at your fingertips. The Breeze Tablet offers a seamless user experience and will be available for purchase at a sub-$200 price point at national retailers.
"In developing the Breeze Tablet, we were able to capitalize on our expertise in video displays and our strength in the computer industry to create a device that matches our 60-year reputation of providing quality and user-friendly products at a great value," said Robert Velez, Marketing Manager of AOC.
Ideal for work and play, the Breeze Tablet lets you stream media from an attached USB device or the Internet via Wi-Fi onto its 8-inch, 800-by-600-pixel touch screen. The device will play several hours of audio and video when fully charged, and includes a built-in speaker, standard headphone jack and microphone. The Breeze comes preloaded with essential applications like Web browser, video and audio players, photo browser, e-mail, calendar and e-book shelves, and provides access to additional apps like office suite through the Android marketplace. The Breeze offers 4GB of on-board storage space, as well as a micro SD card slot for further expansion. The full USB 2.0 also allows for additional storage.

Key Standard Features
• Google Android 2.1 OS
• 8-inch touch screen with auto-rotation
• Wi-Fi 802.11b/g
• 4GB internal memory
• Full USB 2.0 port
• Additional ports: USB OTG, 3.5MM stereo headphone jack, DC in jack
• Micro SD card reader
• 12 hrs audio playing time/up to 6 hrs video time
A full line of accessories is available for the Breeze Tablet, and AOC offers a two-year accident coverage program for loss or damage of the device.
Launch Event
AOC will showcase the Breeze Tablet during CES 2011 in Las Vegas from January 6-9. Journalists interested in previewing the Breeze and additional AOC products at the Bellagio Tower Ballroom 5, may schedule an appointment by contacting Tiffany Iwankiw.

About AOC
AOC is the world's largest manufacturer of LCD/LED monitors and HDTVs. With more than 60 years of design and manufacturing experience, AOC has earned a reputation for selling user-friendly, technologically advanced monitors, TVs and multi-functional displays. Every aspect of AOC's global business focuses on the development of products that fit seamlessly into consumers' digital lifestyle. For more information, please visit www.aoc.com or us.aoc.com.

______

AOC: Breeze Tablet
Android-based tablet with an industry-leading 8-inch touch screen and USB 2.0, available at a sub-$200 price point

• 1.11-pound, ultraportable tablet with an 8-inch, 800-by-600-pixel touch screen
• Runs on the Google Android 2.1 OS
• Ideal for work and play, the easy-to-use Breeze Tablet PC lets you surf the Internet, access e-mail and social networking sites and much more
• Stream your favorite music, movies and TV shows from the Internet or attached USB devices and listen via the built-in speaker or headphone jack
• Comes with 4GB internal memory and a Micro SD card for additional memory.
• Lets you access the Internet over Wi-Fi.
Available at: Major retail chains in late January
Price: Below $200
Website: us.aoc.com