Enspert Identity Tab E301 Android Tablet Officially Out In South Korea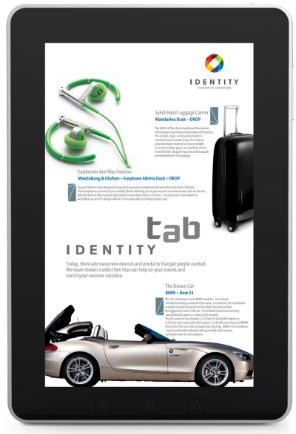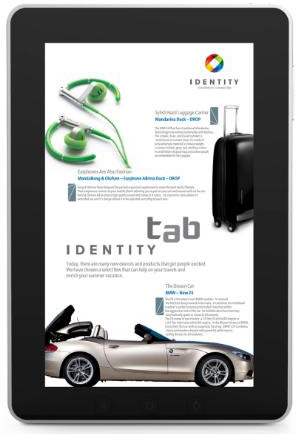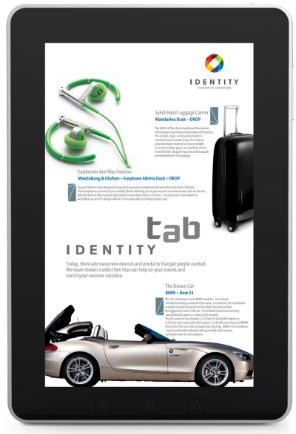 In the inevitable storm of Android tablets set to rain down on us this coming year, one thing's for sure: it won't be easy for smaller manufacturers to distinguish themselves apart. Not to mention creating a buzz. But that doesn't mean we won't see them, right? Right. Korean Enspert, for instance, is a good way to illustrate our thoughts, because most people have probably never heard of them before, and yet thankfully, it didn't stop them from launching an Android tablet of their own. And if you're still reading, here's what the company's 7-inch Identity Tab E301 slate (yep, that's the full name) is going to boast: Generally speaking, we're looking at a $350 tablet with 1024 x 600 capacitive touchscreen resolution, alongside a 1GHz ARM Cortex A8 CPU, 512MB of RAM, 8GB of internal flash storage, 802.11 b/g/n WiFi, Bluetooth 2.1, a mini USB hub, and HDMI port. In addition to that, there's a 4100mAH battery pack preloaded inside, a microSD, optional 3G-enabled version, and last but not least, dual webcams – a 5 megapixel unit on the back, and another at 1.3 megapixel, up front. In a first move, the Asian corp says it has already started selling its latest and greatest merchandise locally, while US invasion is expected to take place in cooperation with a major wireless carrier during a back-to-school launch, in the coming months or so. And while you're waiting, make sure you check out the quick hands-on preview along with the full PR announcement, half past the break.
Update: There seems to be one or more than one Identity Tab models out there, as it would appear on a recent pre-order page that has recently emerged at  Dynamism's online store. The other version, Identity Tab E201U, which will run on Google's Android Froyo platform (with both Gmail and Android Market preloaded inside), boasts that same 7-inch 800 x 480 touchscreen display on top, along with a 1GHz Hummingbird processor, 512MB of RAM, 8GB of storage, 802.11 b/g/n WiFi, Bluetooth 2.1, PowerVR SGX540 for the graphics and one single SD card slot. Ship date pushed back to February 1st while pre-order price tag is standing at $349. Full specs after the break.
[via liliputing]
ARVE Error: id and provider shortcodes attributes are mandatory for old shortcodes. It is recommended to switch to new shortcodes that need only url
Full specifications:
Enspert Identity Tab E201
Samsung S5PC110, ARM Cortex-A8 1GHz "Hummingbird" CPU
512MB RAM
8GB ROM
800 x 480
7″ Capacitive Multitouch LCD
802.11 b/g/n WiFi
Bluetooth v.2.1 + EDR
3MP Camera
User-facing Webcam
1x Headphone Jack
1x SD Card Slot (SDHC Compatible up to 32GB)
1x Mini USB 2.0 (Client)
1x Mini HDMI Out
3,000 mAh Li-Polymer battery
Android Froyo v2.2
425g / 0.93lbs
191.2 x 130.5 x 14.6 mm
7.52 x 5.14 x 0.57 in
Other
Accelerometer, Digital Compass, GPS, Light Sensor, Digital Magnetic Sensor
ENSPERT UNVEILS LINE OF NEXT-GENERATION MULTIMEDIA ANDROID TABLETS AS PART OF 2011 IDENTITY PRODUCT ARSENAL
New Mobile Devices and ConvergenceOne Platform Let Consumers Enjoy Seamless Multimedia Sharing Across Devices
LAS VEGAS – January 5, 2011 – Enspert (http://enspert.com), a leading media convergence solution and device provider, is introducing its 2011 IDENTITY product line featuring a series of affordable Android-based multimedia tablets today at International CES. The IDENTITY tab is an innovative media and productivity device for education and entertainment, delivering color LCD e-book reader capabilities along with HD-quality video playback and Web browsing. Highlights include:
The IDENTITY tab E201 is Wi-Fi enabled and scheduled to be available at a leading consumer electronics retailer in the U.S. in early 2011. The E301 with Wi-Fi and 3G will likely be available shortly after.
Varying IDENTITY E300 series models, including the IDENTITY E301 with Wi-Fi and 3G connectivity, will be available through a leading U.S. wireless carrier in time for the 2011 back-to-school season.
The IDENTITY E302 model is Wimax enabled and slated for distribution in select in European and Asian markets.
The E300 series of tablets are based on the Android Gingerbread platform.
"Communication, productivity and multimedia sharing should be a seamless experience across devices. We empower consumers to enhance their digital lifestyle with our platform of imaginative media convergence technologies," said Chang-Suk Lee, CEO of Enspert. "The human experience is at the heart of how we design our technology offerings, with a goal of providing an expansive and intuitive environment for consuming diverse media formats."
Enspert marries the latest in portable mobile technology with elegant and fashionable devices that express the way we live and work today. In addition to the IDENTITY tab collection, the 2011 IDENTITY line features an ecosystem of smart connected devices that leverage the open-source Android operating system including smartphones, multi-device media convergence hubs, VoIP and SoIP systems, mobile hotspots and more. The new lineup of IDENTITY devices is available for demo at 2011 International CES in the South Hall Upper Level & Connector, booth number 36218, from January 6-9.
"In addition, Enspert will be offering a sneak peek at future tablet devices and presenting our vision of the tablet market at CES," continued Lee.
Enspert products, including the IDENTITY tablets, support maximum connectivity between neighboring multimedia devices using the ConvergenceOne platform, the optimal solution for 3-screen media convergence in IP-based fixed/wireless integrated network environments. Connectivity between tablets, smartphones, IPTV and PCs via DLNA protocol facilitates the sharing of digital multimedia content and allows various applications to be downloaded from the App Store.
"We're looking forward to demonstrating the latest Enspert technology at CES and expanding our presence into the U.S. and beyond," said Sang-su Lee, president of Enspert. "The IDENTITY tab E201 has already been released in Korea with KT, Korea's leading wireless carrier, and is one of few tablets commercially available through a wireless carrier. Global market demand for Enspert devices will expand rapidly starting with entry into the North American market in January and distribution announcements with some of the continent's most prominent distributors will follow shortly after."
For more information, stop by the Enspert booth at CES – South Hall Upper Level & Connector, booth number 36218.