LG G-Slate With Dual Back Cameras (3D) Gets Detailed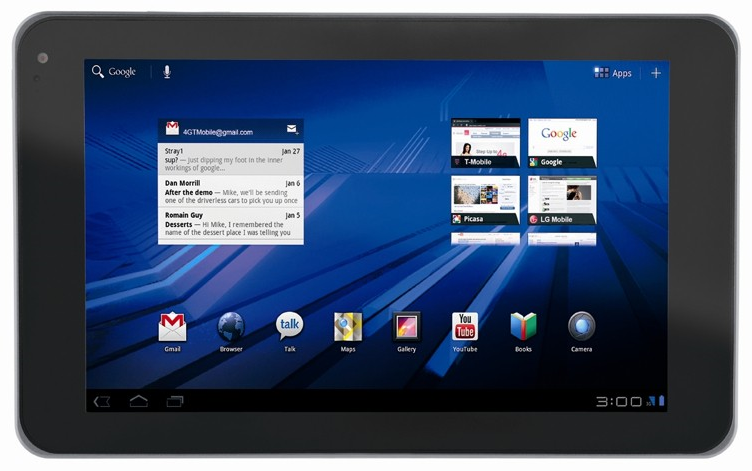 LG is finally entering the Android tablet market in the US with the upcoming release of its latest and greatest 8.9-inch Android 3.0 G-Slate, which is based off of Google's most anticipated Honeycomb platform, and consists of many high-end components including a 1GHz dual-core Tegra 2 processor, 32GB of internal flash storage, built-in gyroscope and accelerometer elements, WiFi, 3G HSPA+ network (over T-Mobile's 4G infrastructure), adaptive lighting integration and HDMI out for 1080p video support. Definitely sounds good, but wait 'till you hear this – The front and rear cameras is essentially what distinguishes LG's future tablet from other similar devices available in the market today and is a big bonus for someone shooting quite a lot of video conference chats or high quality images, instead. In short, The LG tablet will be one of the first to market with a stereoscopic rear-facing video cameras, capable of 3D 1080p capture, while there's one on the back (overall there are two rear cameras) featuring a 5 megapixel camera plus LED flash capabilities, and another at 2 megapixel, which the Korean corp has placed up front. A US release is set for March of this year with solid price and date details to be announced very shortly. Hit the jump for the full PR read along with another image reflecting the back.
Update: We've just added a quick LG the Optimus Pad video, featuring the 8.9-incher running with Google's Android Honeycomb platform on board.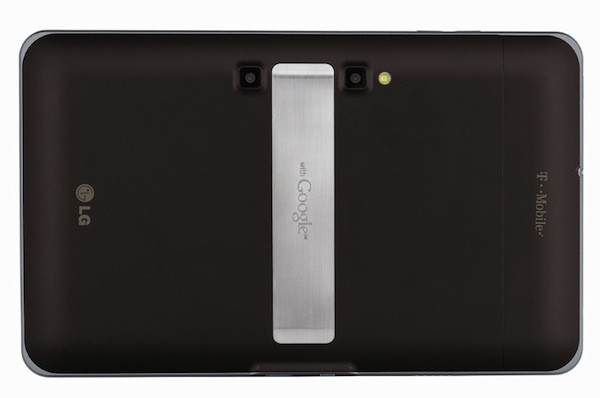 ARVE Error: id and provider shortcodes attributes are mandatory for old shortcodes. It is recommended to switch to new shortcodes that need only url
T-Mobile and LG Unveil the T-Mobile G-Slate with Google, Delivering a Premium Mobile HD Entertainment Experience on a Tablet
· T-Mobile USA, Inc. and LG Mobile Phones today unveiled their Android™ 3.0 (Honeycomb)-powered tablet, the T-Mobile® G-Slate™ with Google™ by LG. With a brilliant, HD 8.9-inch 3D-capable multi-touch display, the T-Mobile G-Slate delivers a groundbreaking mobile entertainment experience, including the ability to record 3D and full HD video.
· Expected to be available this spring, the G-Slate is built for speed on America's Largest 4G Network™ and is the first tablet in T-Mobile's pioneering G-series of devices, which began with the world's first Android-powered smartphone just over two years ago. The first 4G tablet from T-Mobile and LG, the G-Slate is powered by Android 3.0 (Honeycomb), the latest version of Google's Android platform, which is optimized for tablets.
· In addition, the G-Slate will be among the first tablets to feature 3D capabilities including built-in support for 3D graphics, enabling consumers to capture and share their own 3D videos and experience 3D HD content right on the device with the aid of 3D glasses.
· The sleek, lightweight G-Slate can easily be held upright in one hand for reading an ebook or magazine, watching streaming TV or browsing the web while on the go. Featuring a rear-facing stereoscopic video recorder with 1080p for HD video capture and a five megapixel camera with LED flash, plus a front-facing two megapixel camera. Customers can video chat with friends and family over T-Mobile's network or Wi-Fi.
· The G-Slate asupports 720p HD on-device video playback and HDMI output to show 1080p content on 3D and HD displays. With a dual core 1 GHz NVIDIA Tegra 2 processor and Adobe® Flash® support, the G-Slate enables quick and seamless browsing of rich web content, multitasking and gaming. The G-Slate will also provide a superior entertainment experience when streaming live TV or downloading music and videos with lightning-fast speed over T-Mobile's 4G network.
· Additionally, the G-Slate includes 32GB of internal memory and features a built-in gyroscope, accelerometer and adaptive lighting for the latest applications and the ultimate gaming experience.