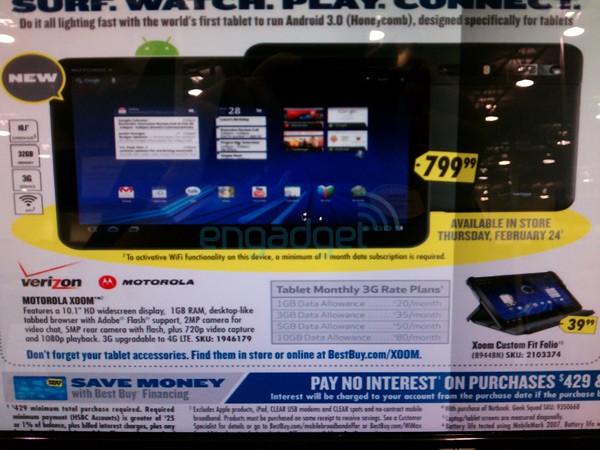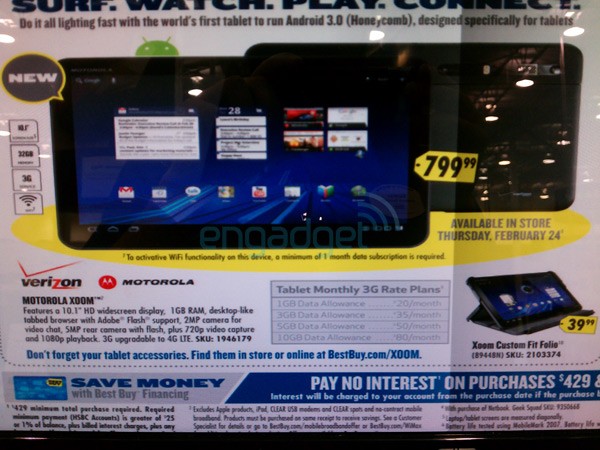 Oh! What's this? Looks like Best Buy is done trying to hide the one secret (actually two) that Motorola's been keeping from us for quite a while. And when we say 'secret' we're actually referring to price and availability, the two missing parts in the Motorola Xoom Android Honeycomb tablet, which were recently detailed in Best Buy's new ad – black on yellow. So, $799 for a 10-inch android 3.0 tablet, that's pretty expensive, isn't it? Not to mention there's a WiFi "lock-down" which binds to a 1 month of 3G mobile broadband data at Verizon ($20 per month for a 1GB package or $80 for the 10GB flavor). That's one major flaw! and someone from the big M needs to intervene. As a matter of fact, there's plenty of time to fix that crap – We are now less than two weeks, away from the official roll out, which takes place on Thursday, February 24th. C'mon guys, let's have a little tablets competition around, shall we?
Update1: Motorola just launched the Xoom portal. Let the game begin!
Update2: Reuters is citing Motorola's CEO, Sanjay Jha, who has just confirmed a $799 price tag  for the 32GB Honeycomb tablet, also known as the Xoom (WiFi+3G). While a WiFi-only version will run for merely $600, which is roughly equal to 32GB iPad. Is anyone surprised?
Update3: The Motorola Xoom is finally up for pre order at Best Buy, titled as "the world's first tablet to run Android 3.0" platform on board. And the Feb. 24th release date and integrated front-facing camera for video calling makes this a perfect Valentine's gift, don't you think? Well, depends if you're willing to spend $800 on your partners in exchange for a 3G-enabled 10.1-inch Honeycomb tablet and some LOVE.
Update4: According to Verizon's web page, the Motorola Xoom that we' are all expecting to see out on Feb 24th, won;t have flash support on launch. What? Yes, that's exactly what the small caption down left says: "Adobe Flash expected Spring 2011." BUMMER!!!
Update5: Motorola has just confirmed the release of its 10.1-inch Xoom sans Adobe Flash support:
"Motorola XOOM will include full support for Adobe® Flash® Player® for accessing the rich video and animations of the web, to be available after launch."
[via Engadget]