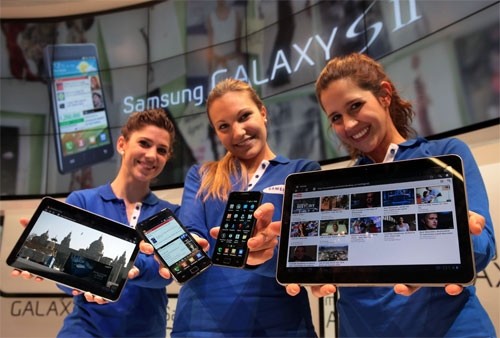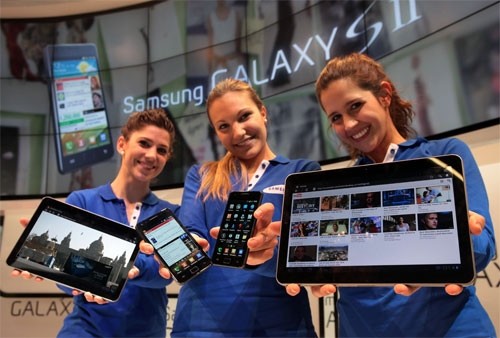 It wasn't so long ago that Samsung launched its new 7-inch iPad killer, also known as the Galaxy Tab. And although we haven't had much time to play with it, as much as we wanted, the Android-powered device has definitely won us over. But as you all probably know, good things with technological advances move forward at light speed, and so does Samsung, that seems ready and set to roll out a Galaxy Tab successor at the MWC 2011 event, which kicks out today. Well, that's what the rumor says, and so does the following picture that features Sammy's second-gen tablet (Galaxy Tab II), running an Android 3.0 Honeycomb platform, along with a 10.1-inch display, at 1280 x 800 resolution, 16/32GB of internal storage, and a 1GHz processor attached on board. Word on the street has it that it'd also include an 8 megapixel camera with HD video capabilities, but there's no official confirmation yet either way. Please stay tune as we gather more information about Samsung's upcoming tablet.
Update1: It looks like the rumors that were flying around about a new Galaxy Tab II device have finally been confirmed, as multiple media outlets are reporting that Samsung has officially unveiled its latest and greatest 10.1-inch Android Honeycomb tablet, namely Galaxy Tab 10.1 (and not Galaxy Tab II as we first thought), with a 3.5mm jack, a SIM card slot, an inbuilt gyro plus accelerometer, 16GB or 32GB of storage, a front-facing 2 megapixel webcam alongside a rear 8 megapixel camera, boasting a LED flash and 1080p capturing capabilities, WiFi, Bluetooth 2.1, a pair of stereo speakers and a powerful dual-core Tegra 2 processor on board. Pricing details are to be released closer to the market launch, which according to Samsung, is set to take place in Asia and Europe somewhere this March.  Full PR and specs chart are right after the jump.
Update2: We've just added a quick hands on video of Samsung's new Galaxy Tab 10.1, courtesy of the phonedog YouTube page. Check it out after the break.
Update3: If any of you have been waiting for Samsung's second-gen Galaxy Tab pricing or availability details to show up, it seems like Vodafone has just got the news for you and the Tab II will be hitting Vodafone Portugal sometime this March for €699, while the Spanish branch will offer the new Samsung tablet for €349 on-contract sometime this spring.
Update4: We've just added a great and thorough Galaxy Tab walk-through video. Check it out after the break.
[via Samsung Hub]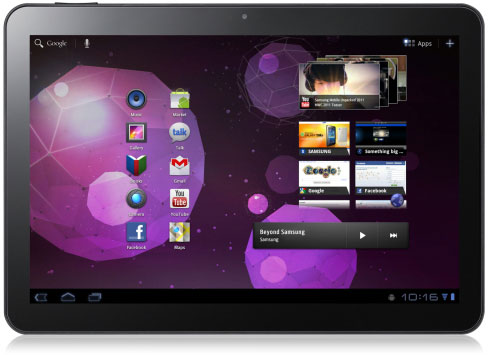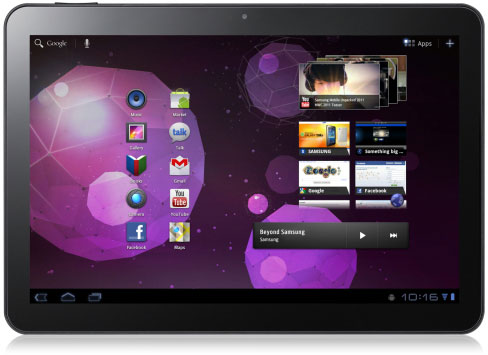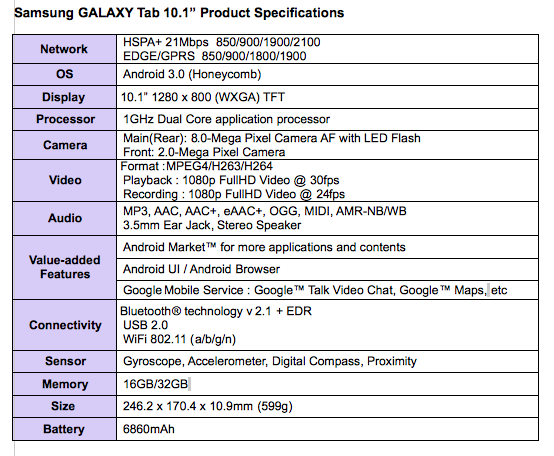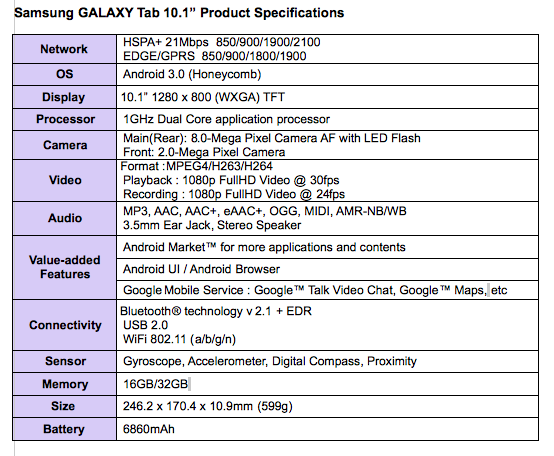 ARVE Error: id and provider shortcodes attributes are mandatory for old shortcodes. It is recommended to switch to new shortcodes that need only url
ARVE Error: id and provider shortcodes attributes are mandatory for old shortcodes. It is recommended to switch to new shortcodes that need only url
Samsung expands the Samsung GALAXY Tab range with a 10.1″ Entertainment Powerhouse
Global launch of Samsung's first Honeycomb-based, Dual Core smart media device

BARCELONA, February 13, 2011 – Samsung Electronics Co. Ltd., a provider of smart media devices and the global leader in Android™ tablets, in partnership with Vodafone Group, today announced the Samsung GALAXY Tab 10.1 (Model: P7100), a powerful Dual-Core Android 3.0 (Honeycomb) Smart Media Device, designed to deliver the ultimate mobile entertainment experience.
"As a leader in the Android-powered tablet market, Samsung is committed to providing a variety of feature-rich, always-on devices" said DJ Lee, Executive Vice President and Head of Sales & Marketing. He continued, "The Samsung GALAXY Tab 10.1 is a valuable addition to our expanding portfolio of smart media devices. Sporting a large 10.1 screen and dual surround-sound speakers, it enables users to enjoy multimedia to the maximum extent without having to compromise mobility.
Patrick Chomet, Vodafone's Group Director of Terminals, said: "Vodafone customers in over 20 markets around the world will be the first to get the GALAXY Tab 10.1 when it goes on sale this spring. Samsung have produced a stylish, market-leading implementation of the new Android 3.0 platform which will be the first Honeycomb device to arrive in many of those markets. Vodafone's competitive data tariffs and reliable, high-speed networks make using the GALAXY Tab 10.1 a great experience."
"Samsung continues to develop innovative products that contribute to the continued growth of the Android ecosystem," said Andy Rubin, Vice President of Engineering at Google.
As the tablet market experiences unprecedented interest, Samsung and Vodafone have partnered to cater to customer demand and offer them the perfect way to enjoy the huge variety of opportunities the Android platform provides. Whether playing games, reading eBooks or updating your Facebook status, the lightweight, ultra-slim Samsung GALAXY Tab 10.1 is the ultimate entertainer and builds on the industry-wide success of the two million-selling Samsung GALAXY Tab.
The Ultimate Entertainment Experience
A 10.1″ (WXGA TFT LCD) display with crystal clear resolution (1280 x 800) makes the Samsung GALAXY Tab 10.1 an unrivalled device for experiencing the hundreds of thousands of games and applications available from Android Market™. To compliment the amazing visual quality of the device, the GALAXY Tab 10.1 includes dual surround-sound speakers to immerse you even more fully.
The device also includes an 8 megapixel rear-facing camera with Auto Focus and a 2 megapixel front-facing camera which lets users capture experiences with the best-in-market full HD record and play as well as easily share them. With the Android browser and Flash 10.1, the Samsung GALAXY Tab 10.1 is the perfect tool for consuming the world of the internet content wherever you are.
Performance and Speed
Combined with the latest version of Android's tablet-optimized operating system, Honeycomb, Samsung has created a device that is powerful and lightning fast.
The Samsung GALAXY Tab 10.1 includes a 1GHz Dual Core application processor, giving you the kind of fast and powerful multimedia and web browsing experience. Samsung Galaxy Tab 10.1's Dual Core processor, low power DDR2 memory and 6860mAh battery, make it perfect for task management in an energy efficient way.
Maximized Portability
At just 599g in weight and mere 10.9mm- slimness, the Galaxy Tab 10.1 is lighter, slimmer and more portable, meaning users are free to enjoy its many features while on the move. With the need to remain constantly connected, Samsung has also included super-fast HSPA+ 21Mbps, Bluetooth® 2.1+EDR and Wi-Fi 802.11 a/b/g/n connectivity to support rapid mobile download speeds and reduce data transfer times.
The Samsung GALAXY Tab 10.1 will be exhibited at Mobile World Congress 2011 at Hall #8.
For multimedia content and more detailed information, please visit www.samsungunpacked.com/press.
---