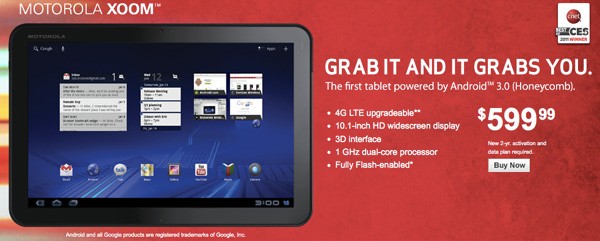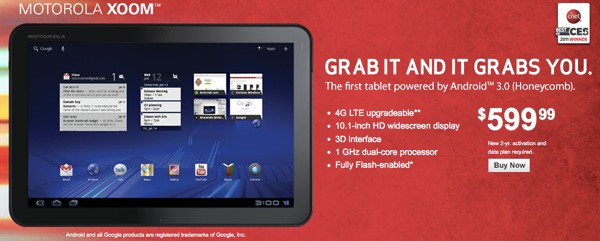 For the last few months we have been talking and writing a lot about the Motorola Xoom, and now it's all official at Verizon, available for grabbing for $799.99 off-contract sans Adobe flash support, or $599.99 with a two-year commitment package. The 1GHz dual-core-powered device which packs Google's latest and greatest Android Honeycomb platform will be available on Best Buy's shelves later today, but the 4G LTE feature, which many of you are probably waiting for, will show up for an update in 3 months or so, free of charge. The bad news is that we're still required to pay considerable amount of money for an off contract slate, but the good ones are that Motorola has changed its WiFi lockdown policy, and customers who are willing to pay 800 bucks for the tablet, will now no longer need to register for a one month Verizon data plan (additional $20). Thank god!
Update: UK retailer PC World has just listed the 10.1-inch Honeycomb-powered Motorola Xoom for online pre-order, with 10% off at checkout compared to the $800 price we've already seen Stateside. That means the Brits will have to shell out only £580, which are roughly about $980, in order to get the Tegra 2 Xoom device, with 32GB of storage, sans 3G connectivity, or £480 (about $785) for the WiFi only version. Meanwhile, German's biggest telecom company T-Mobile, has published its own 3G-enabled Xoom pricing, which stands at €699.95 – starting mid-late April. Full PR after the break.
Motorola Xoom™ with UMTS available for three months exclusively from Telekom
Feb 28, 2011
First tablet PC with Android 3.0 (Honeycomb)
Supports HPSA with up to 14.4 Mbit/s download capacity
Fast dual-core processor, two 5 and 2 megapixel cameras
From the end of April 2011 Telekom will be offering customers the first tablet PC with Android 3.0 Honeycomb operating system: the Motorola Xoom. Android 3.0 is the first version of Android developed by Google specifically for mobile devices with large displays. Some of its key features are the home screen with 3D elements, large widgets with extended interaction options and newly designed notification icons. The Motorola Xoom's full-touch display featuring a 25.6 cm (10.1″) screen and a resolution of 1280 x 800 pixels is the ideal platform for surfing on the go. "The Motorola Xoom fits perfectly with our strategy for the best mobile Internet experience," said Niek Jan van Damme, member of the Board of Management of Deutsche Telekom AG and Chairman of the Managing Board of Telekom Deutschland GmbH. "We are pleased to offer the tablet PC with UMTS exclusively for three months to our customers in Germany."
For all applications the Xoom's 1 GHz dual-core processor provides for its multitasking capability. HSPA technology for bandwidths of up to 14.4 Mbit/s enables high-speed mobile surfing and downloading even large files in a matter of seconds within the Telekom network. You can upload videos, photos and other content at up to 5.76 Mbit/s. A 5 megapixel camera with twin LED flash is integrated into the back of the Motorola Xoom. And that is not all: the tablet is equipped with a second 2 megapixel camera on the front. The Motorola Xoom supports HD video recording and playback and multimedia content can be streamed to your television via HDMI. Other features of the device, which is 247 x 167 x 12.4 mm in size and weighs just 700 grams, are a GPS module, a micro SD slot and a micro USB interface.
Telekom Deutschland plans to launch the Motorola Xoom at the end of April 2011 at a price of EUR 699.95. The version featuring UMTS mobile telecommunications technology for mobile data transmission will be available exclusively through Deutsche Telekom for 90 days.