Apple Releases iOS 4.3.3 To Fix Location Tracking Problems (Update: Now Jailbroken)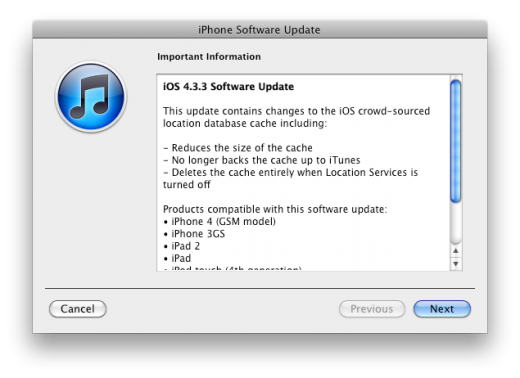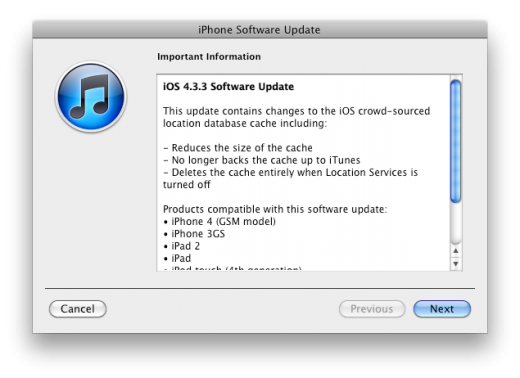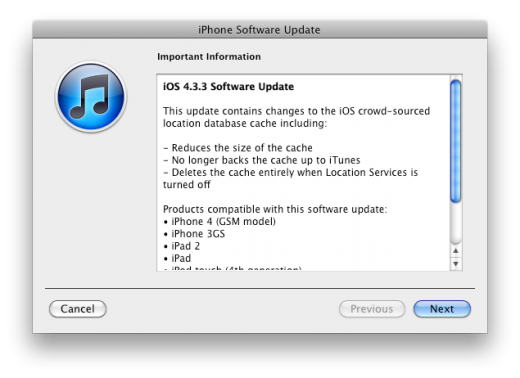 Apple has just rolled out iOS 4.3.3, available now via iTunes for its iDevices – with fixes for the battery life problems, and of course the way your mobile devices (e.g iPhone and iPad) are tackling location tracking database, shrinking it and making it more encrypted. The new firmware update makes sure that the location data archive that was backed up to iTunes, will now be correctly removed from the idevices system upon switching location services off. Direct links for iOS 4.3.3 after the break.
Update: Yes, you've guessed that right boys and girls, the Dev-Team has just dropped in their latest and greatest jailbreak solution for Cupertino's recently announced, iOS 4.3.3 update. In that regard, both PwnageTool and redsn0w are now capable of handling the 4.3.3 firmware and appear to be available for download from various vendors and sources. And while an iPad 2 jailbreaking solution is yet to be determined, the rest of the group (of iDevices) can be fully extracted and seem to support the new untethered jailbreak. Even more links after the break.
iOS 4.3.3 direct downloads
Verizon iPhones (iOS 4.2.8)
redsn0w [OS X] [Windows]
PwnageTool (OS X Only) [Direct Download]