BlackBerry PlayBook Finally Gets The OS2 Update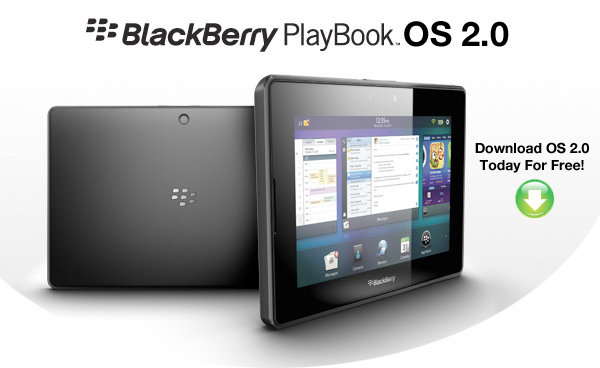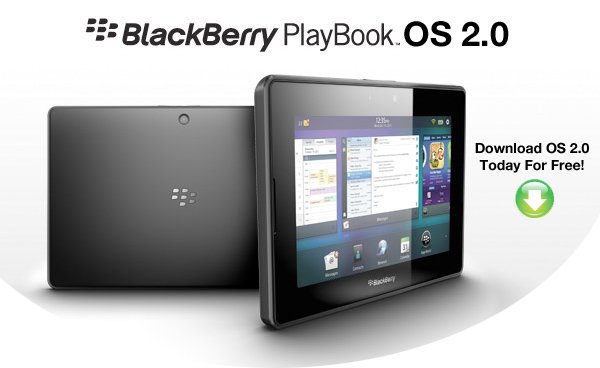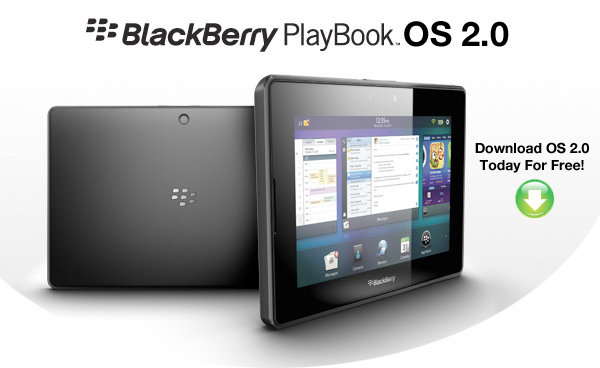 I know a lot of Blackberry Playbook users have been waiting for this one for quite some time, the OS2 update. Well, February is already here and today is the day that RIM is finally delivering the goods. As far as Research In Motion's concerned, we're looking at a major firmware update which adds a lot of changes, such as native email, improved social media integration with popular services like Facebook, Twitter, and LinkedIn, a whole new homescreen UI, calendar and contacts, some Bridge modifications for those who have a BlackBerry smartphone and interestingly enough, the Android App Player add-on that will grant you access to a bigger choice of Android apps in the BlackBerry App World. The new release contains 505MB of code which can be downloaded either through your Playbook  Settings or here. In addition you can learn more and watch some walkthrough demos in this link. Other than that, you can hit the jump, read the full PR announcement or watch the latest video ad.
[via CrackBerry]
BlackBerry PlayBook OS 2.0 Available Today
New OS delivers an enriched user experience for BlackBerry PlayBook tablet users
Waterloo, ON – Research In Motion (RIM) (NASDAQ: RIMM; TSX: RIM) announced that the new BlackBerry® PlayBook™ OS 2.0 will be released for download today. BlackBerry PlayBook OS 2.0 delivers an enhanced tablet experience and allows you to use the BlackBerry PlayBook in new ways throughout the day – at work and at play. "Building on the BlackBerry PlayBook tablet's proven web browsing, multimedia and multitasking strengths, the new BlackBerry PlayBook OS 2.0 introduces a range of new communications and productivity enhancements as well as expanded app and content support," said David J. Smith, SVP Mobile Computing, Research In Motion.
New BlackBerry PlayBook OS 2.0 features include:
• Integrated email client with a powerful unified inbox: With BlackBerry PlayBook OS 2.0 you have the option to use a unified inbox that consolidates all messages in one place, including messages from Facebook®, LinkedIn® and Twitter®, as well as personal and work email accounts.
• Social Integration with Calendar and Contacts apps: The built-in calendar harnesses information from social networks and makes it available where and when users need it. Contact cards are also dynamically populated with updated information from Facebook, Twitter, and LinkedIn to create a consolidated view of contacts.
• Updated BlackBerry Bridge app: BlackBerry® Bridge™ is a unique app that provides a Bluetooth® connection between your BlackBerry PlayBook and core apps on your BlackBerry® smartphone (including BBM™, Email, Contacts, Calendar and Browser) in order to let you view the content on the larger tablet display. With BlackBerry PlayBook OS 2.0, it's easier and quicker than ever to take documents, web pages, emails and photos that appear on your BlackBerry smartphone and display them on your BlackBerry PlayBook for an optimized viewing and editing experience. The updated BlackBerry Bridge app also provides a new remote control feature that allows a BlackBerry smartphone to be used as a wireless keyboard and mouse for a BlackBerry PlayBook.
• Improved mobile productivity: Updated document editing functions, the new Print To Go app, and increased control and manageability of corporate data with BlackBerry® Balance ™ allow you to get more out of your BlackBerry PlayBook every day. Plus, an updated virtual keyboard with auto correction and predictive next word completion learns how you type to enable faster, more accurate typing.
• New apps and content: Thousands of new apps are being added to BlackBerry App World™ today (including a range of Android® apps that will run on the BlackBerry PlayBook). A new BlackBerry Video Store1 is launching today. Enhanced web browsing capabilities are also available with BlackBerry PlayBook OS 2.0.
In conjunction with the release of BlackBerry PlayBook OS 2.0, RIM is making available an initial release of BlackBerry® Mobile Fusion that will include support for managing BlackBerry PlayBook tablets and BlackBerry smartphones2 in an enterprise. The full release of BlackBerry Mobile Fusion (with mobile device management capabilities for iOS and Android devices) is planned for general availability in late March 2012. For more information about BlackBerry Mobile Fusion, please visit www.blackberry.com/mobilefusion. Availability The BlackBerry PlayBook OS 2.0 software update is now available as a free download for all BlackBerry PlayBook tablets.