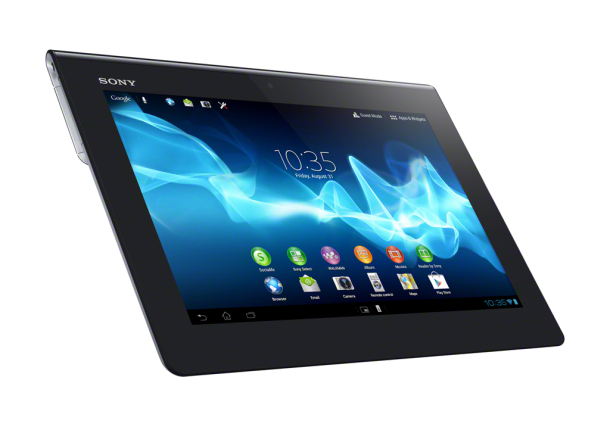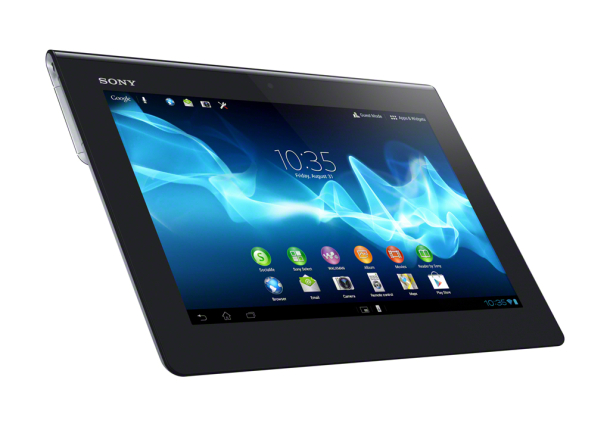 They say that every rumor has some truth to it, and the one that was talking about a new Sony slate, has also succeeded to live up to its claims. In other words, those leaked slides were spot on to the inch, as the Japanese corp officially announces the Xperia S tablet – A very powerful Tegra 3 quad-core device, with up to 64GB of internal storage, 802.11 a/b/g/n Wi-Fi connectivity, Bluetooth 3.0, a gyroscope, accelerometer, a full-size SD card slot, HDMI out, and a Google Android 4.0 Ice Cream Sandwich platform for the OS. In that regard, the company promised that a Jelly Bean update will be made available as soon as possible.
While Sony managed to preserve most of the Tablet S exterior design, the internal parts, however, were greatly enhanced. The storage capacity substantially increased, the chip, as mentioned earlier, was upgraded from Nvidia Tegra 2 to the latest and greatest Tegra 3, battery is now at 6,000mAh, or somewhere around 10 working hours. But the wonderful TruBlack Bravia screen, that was first shown at IFA last year, remained untouched at 9.4-inches with 1,280 x 800 resolution.
Sony has always been a leading TV brand, and as such the new Xperia S can also be used as a universal remote control when watching TV, with programmable shortcut keys (up to 6 macros) and an integrated IR emitter.
The tablet comes with preloaded apps like Watch Now, which lets you watch live TV and share your thoughts with other online users (either via Facebook or Twitter), get recommendations, or any other related info. There's also a "Guest Mode" feature that enables apps control or surfing limitations. All in all, a good privacy keeper, we'd say. And, of course, some multitasking capabilities were tossed in, alongside Sony's multimedia apps, the Video Unlimited and Music Unlimited, where you can browse and purchase some digital content.
The Xperia Tablet S launches September 7, in three different Wi-Fi only flavors: 16GB ($399.99), 32GB ($499.99) and 64GB ($599.00).
You may also buy yourself a wide range of handy accessories for the Xperia Tablet S, including a cover plus keyboard ($99.99), docking stand ($99.99), simple stand ($24.99), carrying cover ($50.99 – $79.99), charging cradle ($39.99) and speaker dock ($129.99, available in November).
Official video plus a quick hands-on footage:
Second video, courtesy of TechRadar