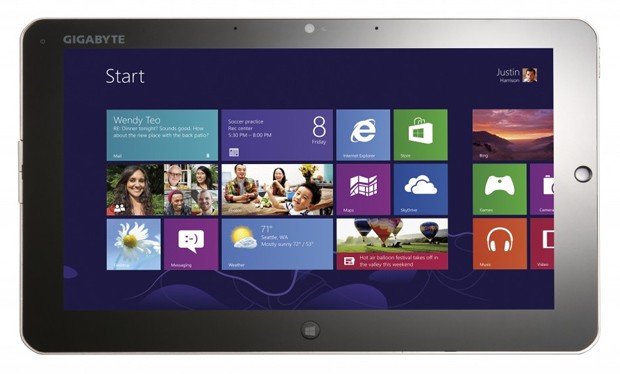 At CES 2013, Gigabyte is finally up and ready to launch a new line of Windows 8 tablets, including the S1185 which is targeted for the personal consumer market, and the S1082 that is more of a business oriented. The first model, S1185, that you'll be able to see over the next few months, boasts a 1080p 11.6-inch IPS screen, powered by a robust Intel Ivy Bridge processor at your choice (either Core i3 or Core i5 chips), two cameras, back and front (at 5MP and 1.3MP, respectively), a range of 64GB to 256GB of internal flash storage, HDMI out, and last but not least, a VGA port. Besides that, the S1185 offers a complete set of useful accessories alongside the tablet itself. A magnetic keyboard is one of the options, but also an optical finger navigation device, to ease your way while using the slate. The entire pack, if you're wondering, is set to go live sometime before April, for about $1,000.
The second slab, the S1082, sports the usual dual-core Intel processor under the plate, with cellular HSPA+ data capabilities to connect to GSM/UMTS networks worldwide, your choice of either 500GB HDD storage drive or the faster solution of the SSD housing. This new 10.1-incher (1,366 x 768 pixels) will be getting the same VGA/HDMI ports attached to its bulkier chassis, as well as LAN connectivity and a similar set of keyboard and cover add-ons. The  S1082 will be priced at $649 and will be available come February 2013.
Head over the break to watch the two video.
[via Mobile Geeks]
Please enable Javascript and Flash to view this Viddler video.
Both videos are courtesy of engadget.
---