Apple Releases iOS 8.1.1 To The World With Bug Fixes And Speed Performance Improvement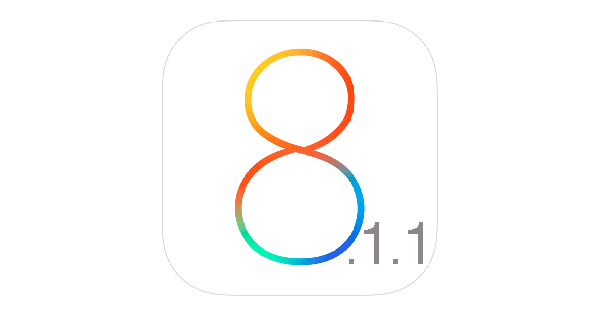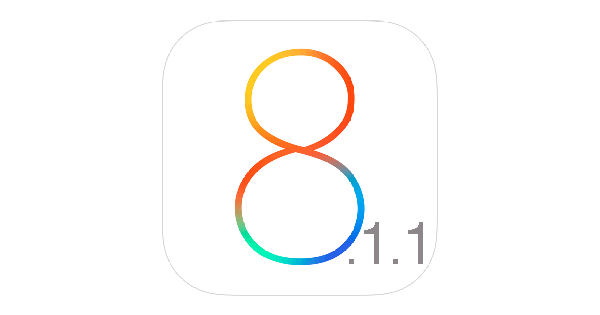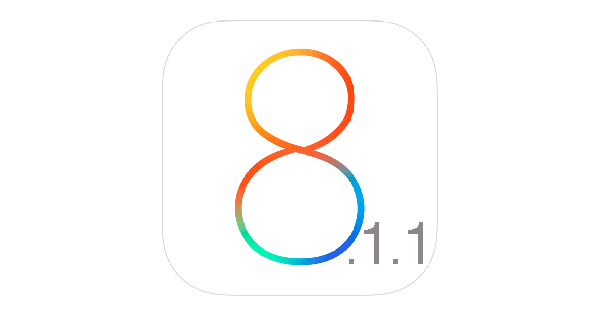 Apple has just released iOS 8.1.1 with some minor bug fixes for the iPhone, iPad, and iPod touch. In addition to that, the new release is set to bring a few several improvements to Apple's latest and greatest iOS platform including a few security updates, as well as an increased stability, and for the major part, performance improvements for some of the company's oldest devices including the iPhone 4s and iPad 2, which have apparently become somewhat sluggish with iOS 8.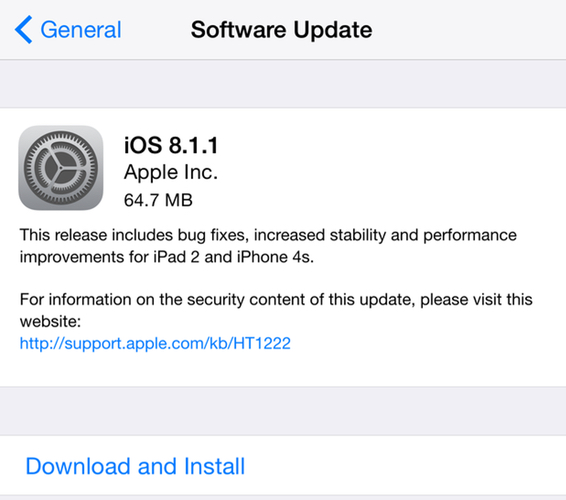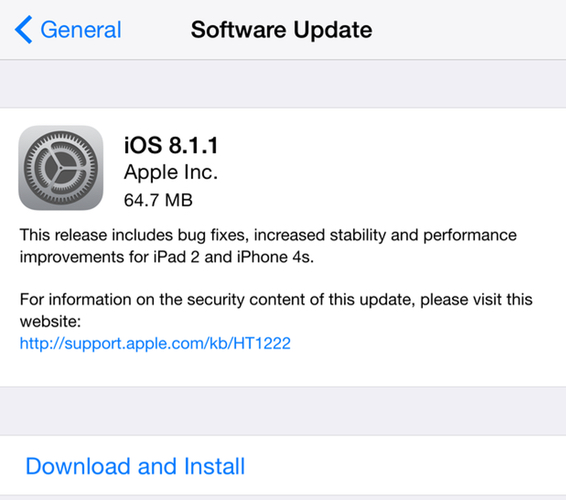 iOS 8.1.1 is available immediately as an OTA download. Simply go to to Settings > General > Software Update. the update is relatively small and should be
iOS 8.1.1 is compatible with the following iDevices:
iPhone 4S, iPhone 5, iPhone 5c, iPhone 5s, iPhone 6, iPhone 6 Plus
iPad Air 2, iPad mini 3, iPad 2, iPad (third-generation), iPad (fourth-generation), iPad Air, iPad mini, iPad mini with Retina display
iPod touch 5G
Get it now and  feel free to report back if you run into any problems.
---
Why Smartphones are Such a Popular Tool
These days, everyone who has a pulse has a smartphone. When they first came out, only the people who had a ton of money had it, and it was a tool that people have shown off with. However, the smartphone has become one of the most common tools among many different people. As a matter of fact, the other types of phones have become increasingly rare. It is not just a sign of status that attracts people to the smartphone. There is also the use that the smartphone offers.
Surf the Internet
With the popularity of the internet, the smartphone has become popular because of the ability to surf the internet and do some of the same things that are done on a full sized computer. As a matter of fact, many mobile carriers double as internet service providers in order to provide you with the services you need. Smartphones are often used to access apps. Often times, people use their smartphones in order to access their favorite video streaming sites and apps.
Connect With People
Smartphones seem to have become very popular at the same time that social media has become mainstream. People use smartphones to connect on social media. However, there are other things you can do with your smartphone as well as social media. Once you develop enough of a following, then you can use the smartphone to make money in various ways. The smartphone has resulted in more people becoming connected than ever. This has also provided people with opportunities to network and build something that is going to be great for their lives.
The Types of Smartphones to Look For
As with many other products, not all smartphones are equal. As a matter of fact, you might want to be careful with the type of smartphone you are purchasing. Some smartphones are going to be very useless when it comes to battery or other aspects of the phone. Before you decide on the type of smartphone you are going to use, you want to make sure that you are getting a phone that you can handle. You want a battery life that is reasonable and not liable to leave yo constantly looking for a charger. While you don't necessarily have to pay a fortune for the latest smartphone, you might want to look at the features and the performance of the phone before trying to move forward with one.
High Quality Entertainment
One thing that the smartphone has done was open people's mind when it comes to how they can watch shows. While people still look to a big screen with a large sound system, the high quality image and sound has also been translated to the smartphone. A reasonable sized smartphone is good enough to watch a show. Also, if you want high quality sound, the streaming sites have a great sound quality with really good dynamic range that translate well to your headphones. There are also some phones that support multi-channel surround sound.
Watch TV
Speaking of entertainment, the internet and the mobile web has advanced to the point where you can watch TV. This includes all of the programs and the advertising from channels in the palm of your hand. There are plenty of streaming services that offer television service with a few different channels that you can choose from in order to watch your favorite shows. You can watch them in the highest possible quality with your device and headphones.
One of the reasons that smartphones have become so popular is that there is just so much you can do with a smartphone besides connect with others and talk. It can actually be your only source of entertainment if you want it to be. This is one of the reasons that people find them to be very fascinating. Some people may find themselves struggling to live without a smartphone. Fortunately, smartphones can be used for reasons that are related to productivity as well so that they can be of greater benefit.
---
Kunpeng 920: Huawei Unveils World's Highest-Performance ARM-based CPU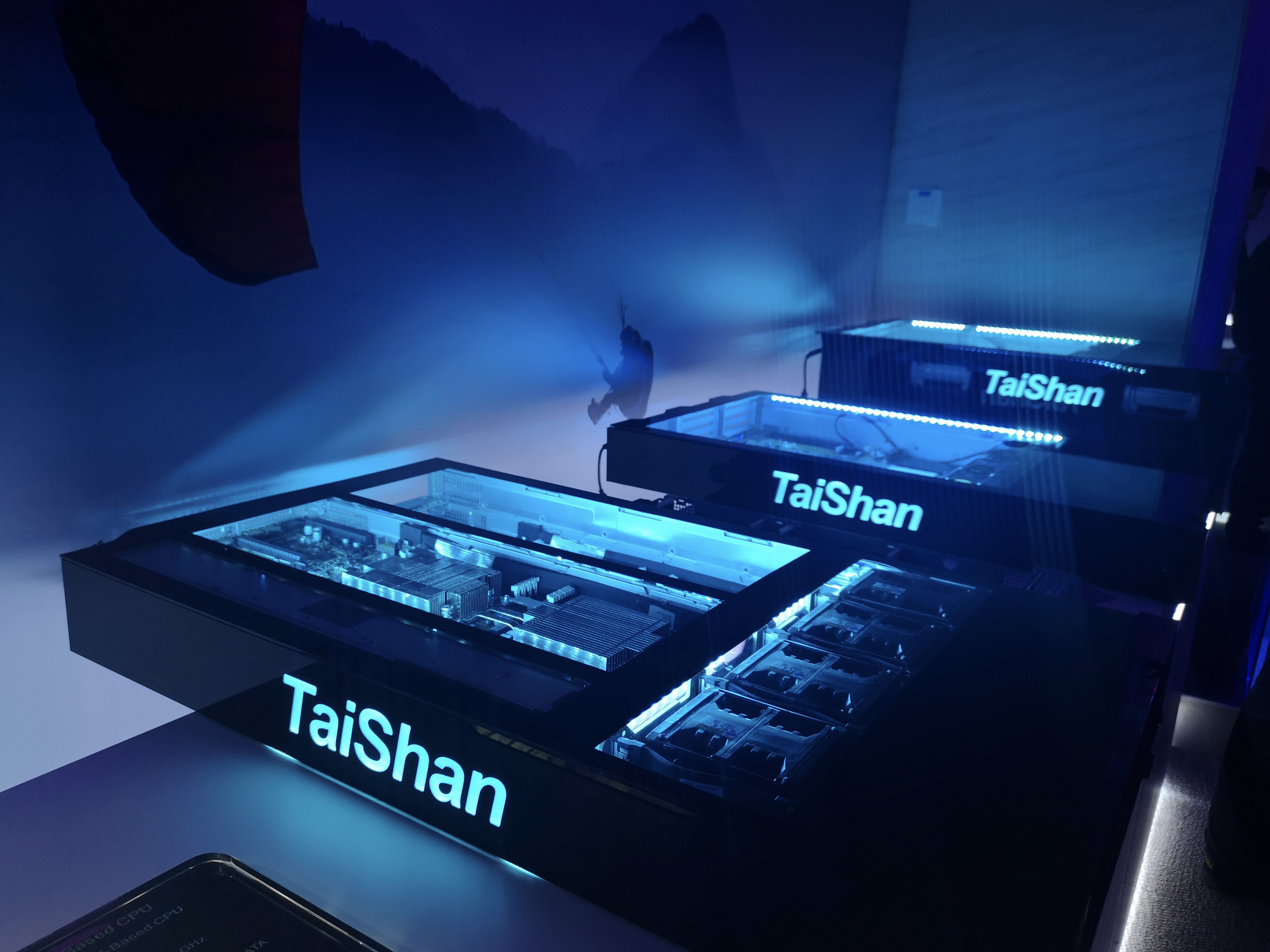 Just in time for CES 2019, Chinese tech leader Huawei, strategically unveiled the Kunpeng 920, the industry's highest-performing ARM-based processor. At Huawei's headquarters in Shenzhen, China, Huawei released the impressive CPU, intended for handling applications like big data processing and distributed storage.
William Xu, Director of Huawei's Board and Chief Strategy Marketing Officer, said during the press conference that "Huawei has continuously innovated in the computing domain in order to create customer value. We believe that, with the advent of an intelligent society, the computing market will see continuous growth in the future. Currently, the diversity of applications and data is driving heterogeneous computing requirements. Huawei has long partnered with Intel to make great achievements. Together we have contributed to the development of the ICT industry. Huawei and Intel will continue our long-term strategic partnerships and continue to innovate together."
Kunpeng 920: High-Performance ARM-based CPU
Huawei's high standards of leading the industry are very clear with the release of the new Kunpeng 920.  The new CPU, similar to Huawei's HiSilicon Kirin 980 (launched in October 2018), was  designed in-house and manufactured on a 7-nanometer processor. According to Huawei, the gain in performance between these two CPU's emerges from a series of optimized branch prediction algorithms and an increased number of OP units, along with an improved memory subsystem architecture. The Kunpeng 920 provides both higher computing performance for data centers while decreasing overall power consumption. The Kunpeng 920 is packed with 64 cores, clocking an impressive 2.6GHZ, and paired with 8-channel DDR4 memory allows the Kunpeng 920 to score over 930 on the SPECint Benchmark, 25% higher than the industry benchmark.  For the sake of comparison, the previous industry leader was the Fujitsu 7-nanometer A64X. Beyond its speed is the CPU's power efficiency, which performs 30% better than its competitors.
In terms of system integration, the new CPU has increased with two 100G RoCE ports. Kunpeng 920 also supports PCIe Gen4 and CCIX interfaces, and provides 640 Gbps total bandwidth.  In addition, the single-slot speed is twice that of the incumbent offering, effectively improving the performance of storage and various accelerators.
TaiShan Series: Huawei's ARM-based Server Built to Perform
To complement the Kunpeng 920, at today's press conference Huawei also released its TaiShan series servers, powered by the company's new CPU. Aimed at tackling three distinct issues, storage,  high-density, and balancing both requirements, the Taishan series designed three unique models. Powered by the Kunpeng 920, the TaiShan servers are built for big data, distributed storage, and ARM native application scenarios. These unique scenarios are ideal for the ARM architecture offering many advantages in many-core and performance per watt. The TaiShan series are ideal computing platforms for enterprises with high performance and low power consumption. Designed especially in big data scenarios, the TaiShan servers are tuned for optimal many-core high concurrency and resource scheduling to deliver a 20% computing performance boost.  
As Mr. Xu stated at the press conference, "The ARM industry is seeing a new development opportunity. The Kunpeng 920 CPU and TaiShan servers newly released by Huawei are primarily used in big data, distributed storage, and ARM native applications. We will work with global partners in the spirit of openness, collaboration, and shared success to drive the development of the ARM ecosystem and expand the computing space, and embrace a diversified computing era."
Open and Collaborative ARM Ecosystem is Geared for Mutual Success
For years, Huawei has continuously promoted industry cooperation and collaboration among its industry partners in terms of hardware, basic software, and applications. The company's unique approach is predicated on the growing trend that an intelligent society, with all things connected, and sensing, is well underway. In light of these industry trends and application requirements, a new era of diversified computing is emerging. The ability to process multiple data types and scenarios are the driving force behind optimizing computing architecture.   
Summarizing the company's vision of serving as an industry leader across all verticals, from telecommunications to servers to handsets, Mr. Xu noted that "With Kirin 980, Huawei has taken smartphones to a new level of intelligence. With products and services (e.g., Huawei Cloud) designed based on Ascend 310, Huawei enables inclusive AI for industries. Today, with Kunpeng 920, we are entering an era of diversified computing embodied by multiple cores and heterogeneity. Huawei has invested patiently and intensively in computing innovation to continuously make breakthroughs. We will work with our customers and partners to build a fully connected, intelligent world."
---
8 Apps to Make Moving Abroad Easier
When you move to a new country, it's all too easy to become overwhelmed by your ever-growing to-do list. This list includes a curated list of eight handy apps designed to help you learn the language, get around, stay safe and make friends in your new home.
Apps can be a great way to build up your language skills by helping you develop vocabulary, grammar and conversational abilities. Offering nearly 150 languages, Tandem is a great option for intermediate-level speakers who want to practice talking with native speakers in a judgement-free environment.
Mobile apps can be a real lifesaver when it comes to navigating around your new hometown. Handy alternatives to Google Maps include Waze and Moovit. If you intend to use public transport a lot, then Moovit: Public Transit is an absolute must-have as it uses real-time information to help you plan your bus, subway, rail or bike trip in many locations throughout the world.
In addition to knowing your way around, it's also very important to know how to look out for yourself. Help yourself stay safe and alert by downloading a personal safety app. One of our favourites is TripWhistle which enables users to quickly contact local emergency service phone numbers anywhere in the world. 
For many expats, the most difficult part of moving abroad is making new friends. Fortunately, there are plenty of apps designed to connect you with people in your area. One of the most popular is Meetup, which allows you to form groups and plan fun outings with people in your area who share similar interests.
If you would like to learn more about the best apps for travelling and/or moving abroad, take a look at this super informative infographic guide from the team at Hansen & Company.
Read the infographic below to learn more.
---