14 Great Free Online Resources To Boost Traffic To Your Blog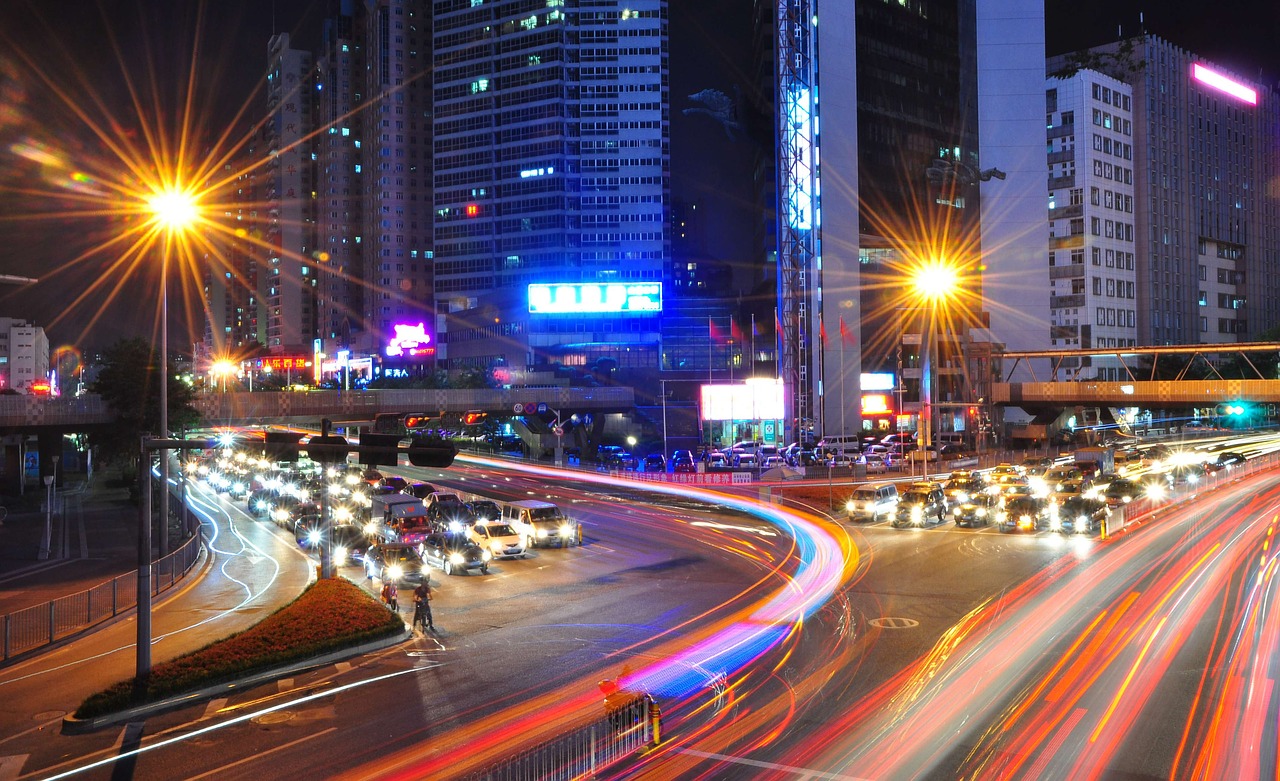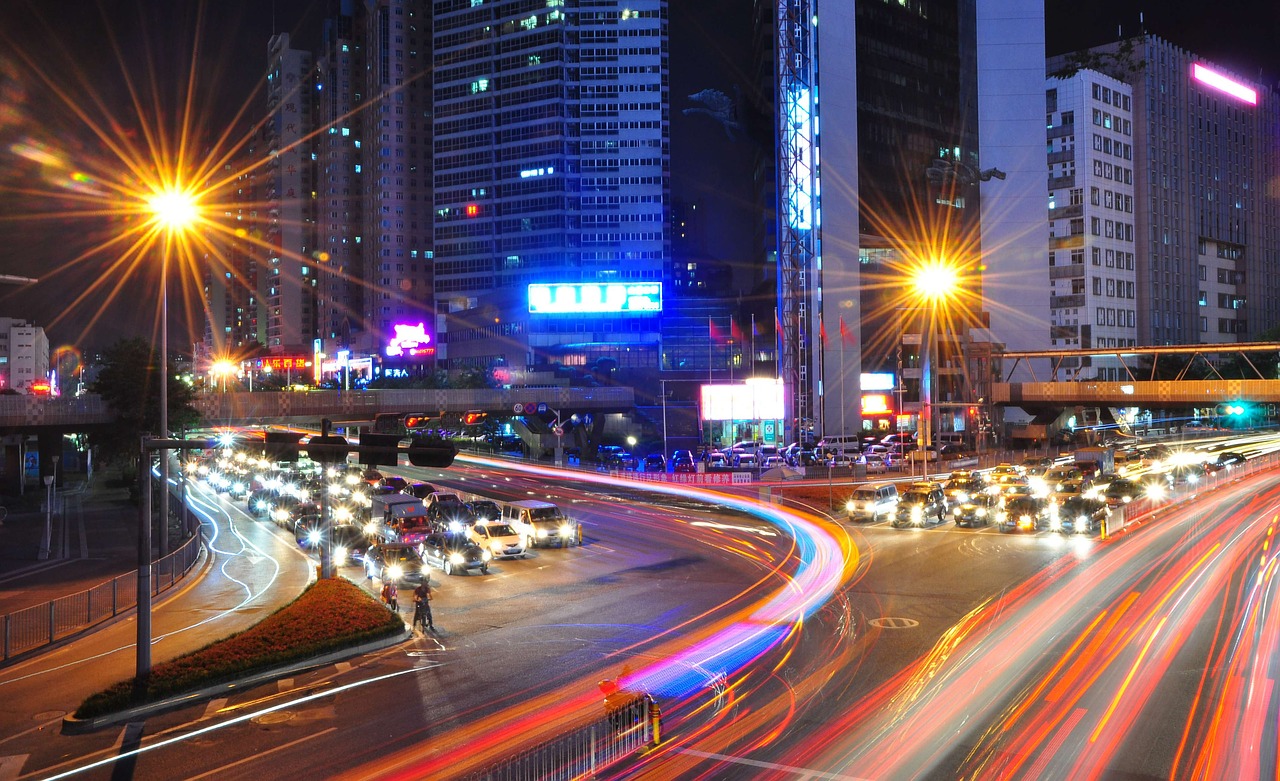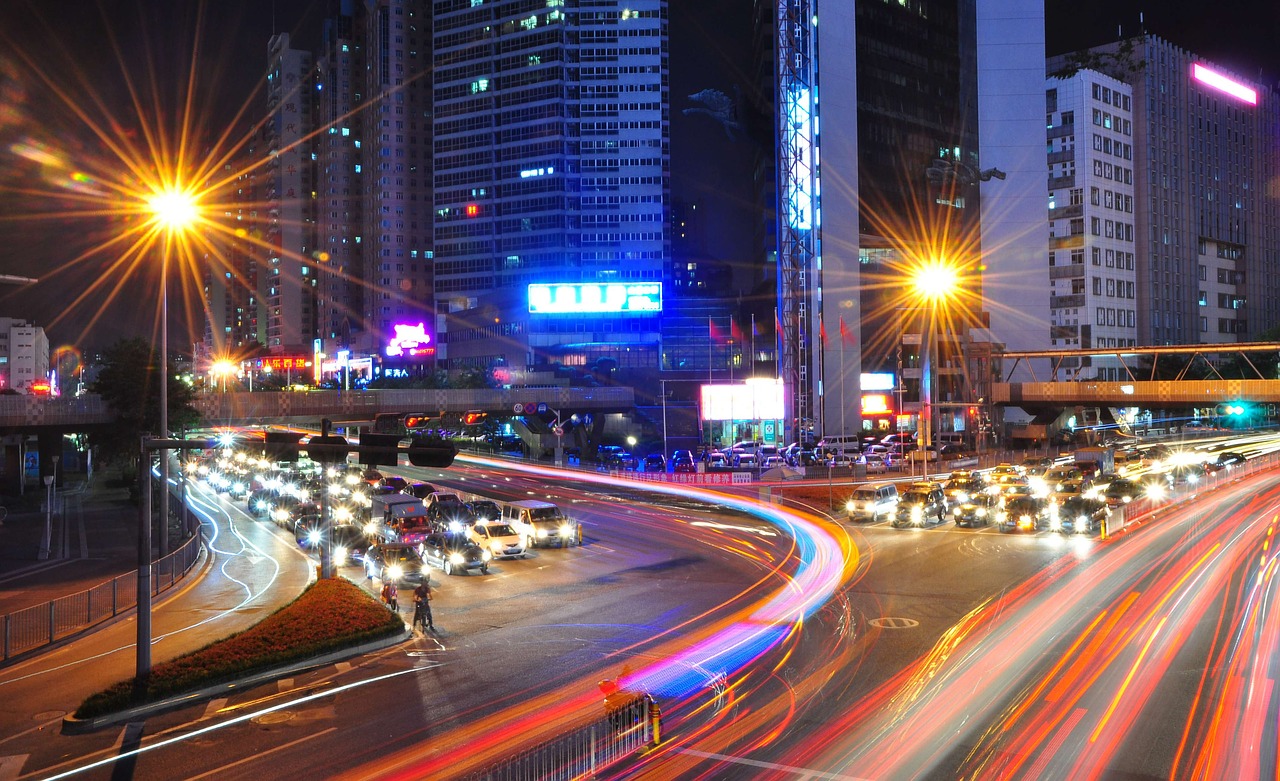 Congratulations, you've started a blog for your business. Content Marketing is one of the key ways to drive online leads to your business, so you're off to a good start.
But how can you find the best topics to write about, the best design tools and the best ways to distribute your content? Just as importantly, how can you do it all without breaking the bank?
To help your business we've collected 14 awesome free resources to help you grow your blog traffic. How do we know they are awesome? We've tried and tested them for ourselves, and we've only included the tools that we've seen have really made a difference to our blog traffic.
1. Generate Content Ideas- from BuzzSumo
Starting a blog isn't the hard part, knowing what to write is. Start off with BuzzSumo to check what content on your online site drives the most traffic, as well as what your competitors are writing about that is getting them attention from your potential customers.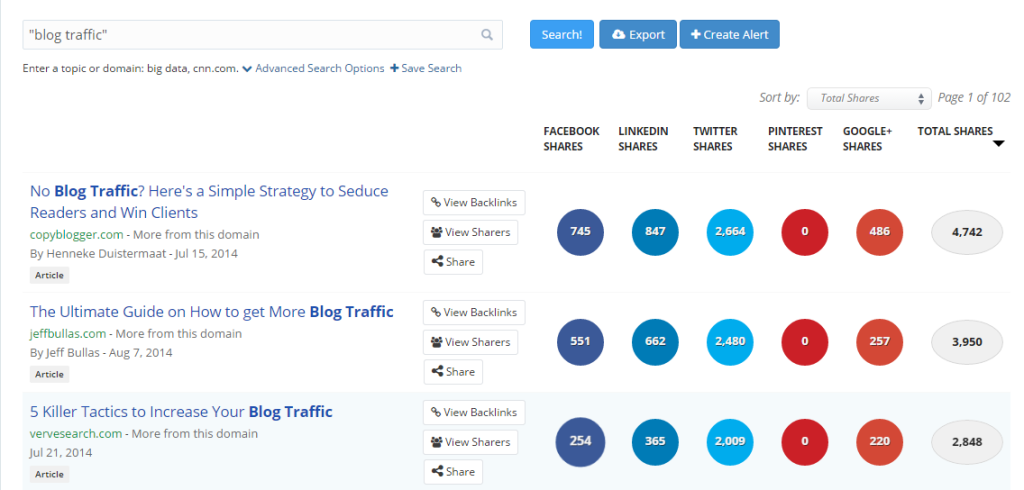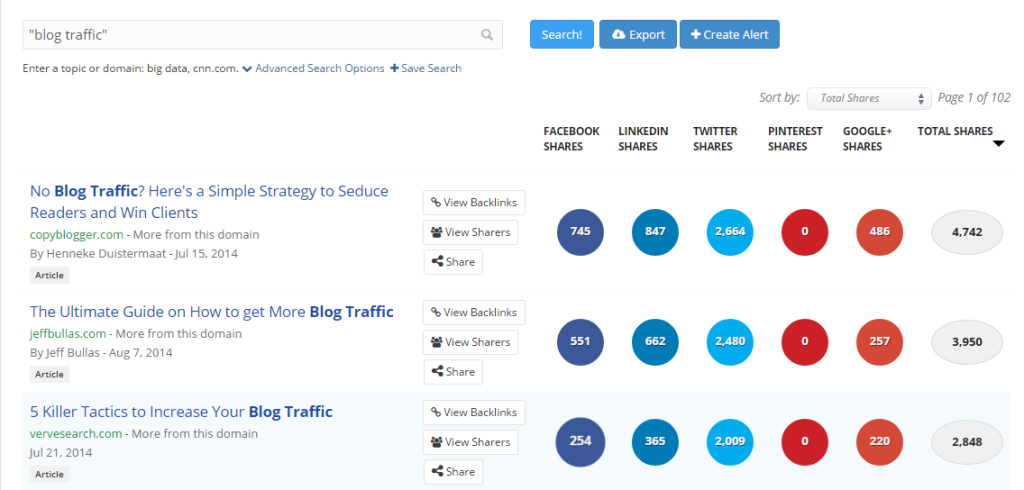 2. Check interest and Influencers with Topsy
You can also use Topsy to check that there is a general interest in your topic, and to learn which influencers are already talking about your topic. You can then embed their tweets in your posts, or quote them to add value to your blog, and interest for your readers.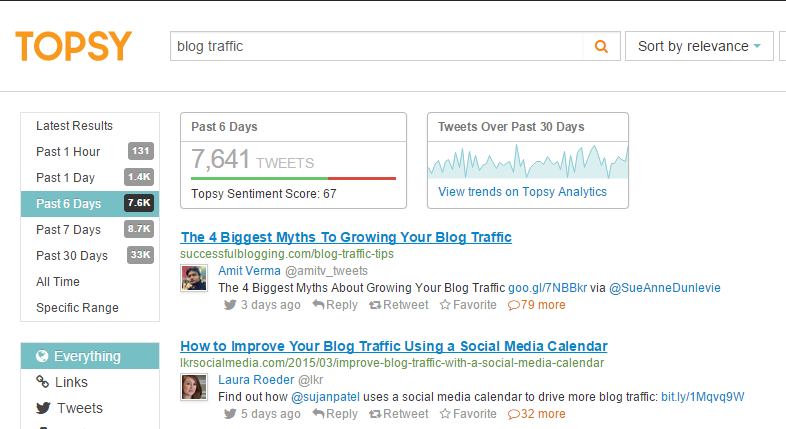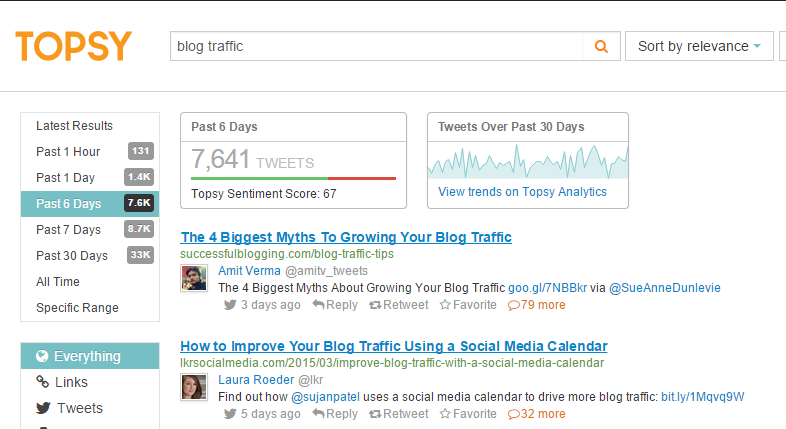 Have a general idea about what to write about now but can't seem to put the words together in a catchy way? You need Hubspot's Blog Topic Generator. Just put in a few nouns related to your topic of choice and this fantastic free resource will create a ton of great headline options to inspire you.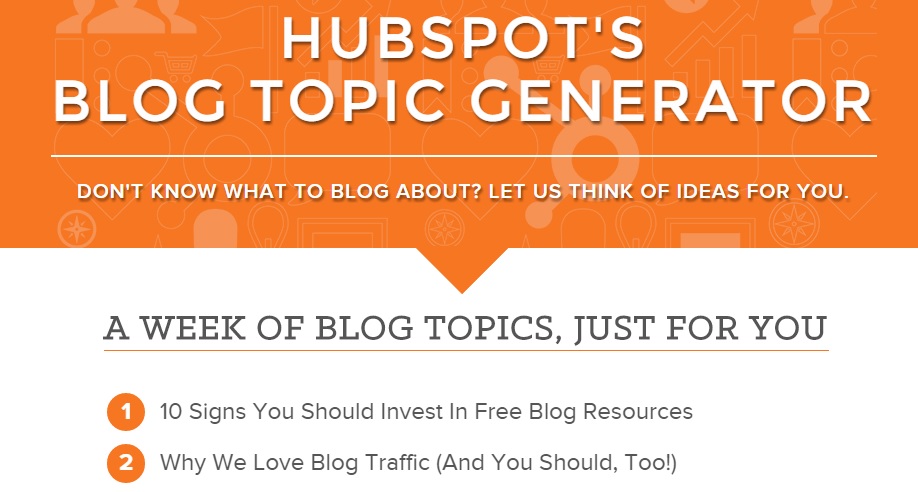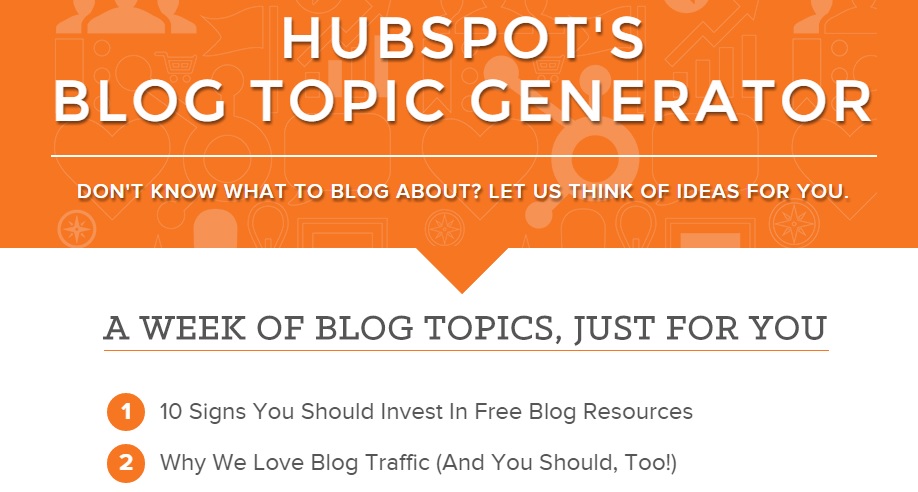 Once you've got some headline options you need to craft the perfect headline to grab your readers' attention. I'm a huge fan of Co-Schedule's headline analyzer to help create that perfect headline. Enter in your headline of choice and you'll get both an analysis and an overall score to hone your title to perfection.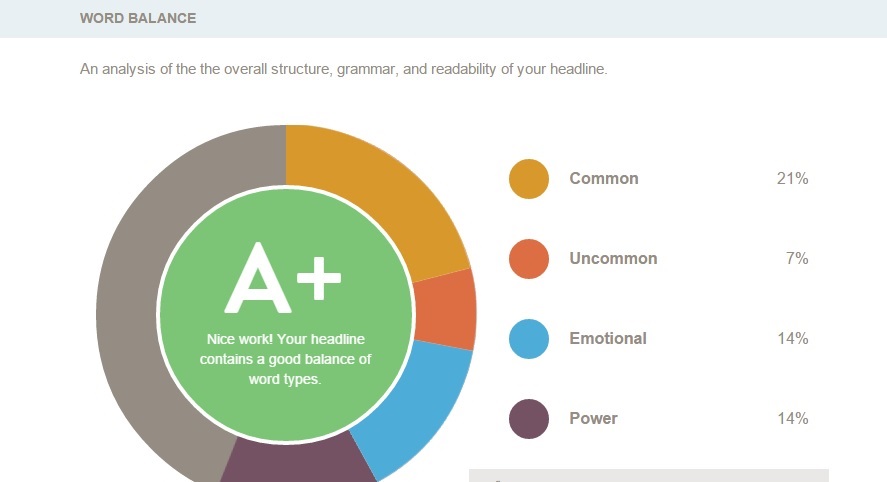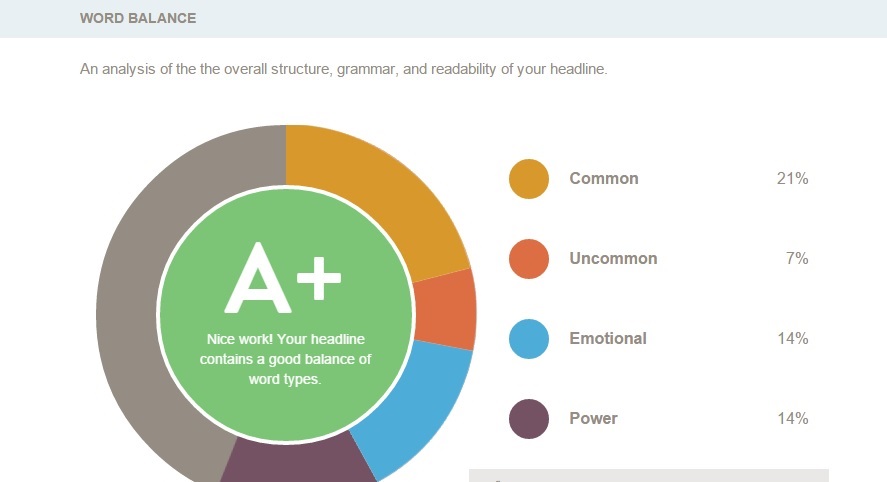 5. Use Evernote for Content Structuring and Brainstorming
Once you've crafted your headline you can start collecting ideas for your blog post. I love using Evernote for this, but you can also simply open a Google Doc and share it with your team. Collect all your ideas and begin to shape your blog content.


6. Use Atomic Reach for Testing and Honing Your Content
Written out a blog post outline? Great! Now you just need to check it is relevant and interesting for your audience. We've been testing out the Atomic Reach App, for exactly this purpose, and we are loving how easy it makes it to check your content.
It not only checks it for appropriate sentence length, spelling mistakes and more, it also lets you know if your content is relevant for your audience.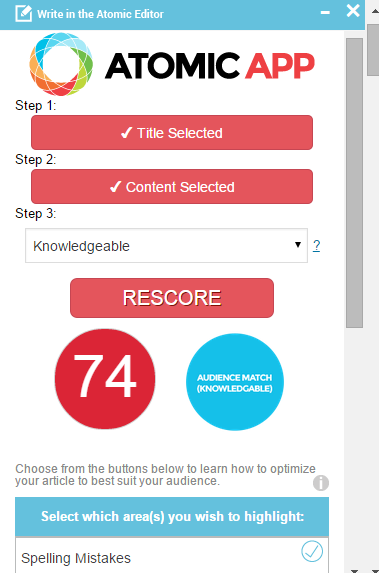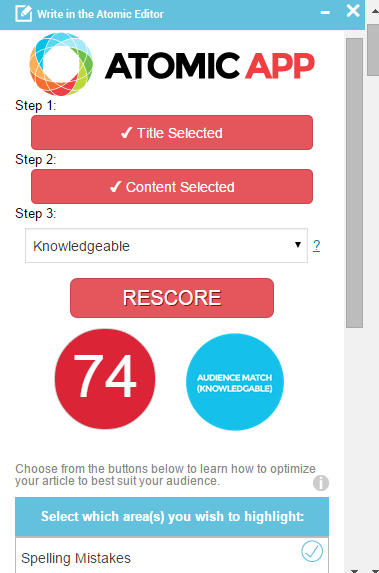 Ready to launch your beautifully crafted, appropriate content into the blogisphere? Wait a minute! You've forgotten images. Posts with images have a 50% higher click rate, so if you want to stand out from the crowd you'll need interesting and appropriate images.
7. Beautiful, free images from Canva
Canva is a freemium service which helps you design beautiful images to accompany your blog posts. Whilst many templates will cost you a token $1 to use, there are enough free options to help a beginner blogger create beautiful, functional images.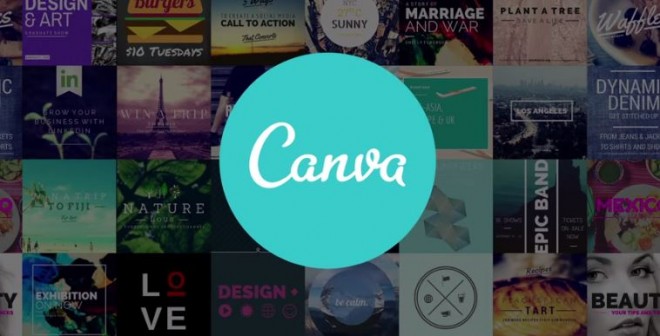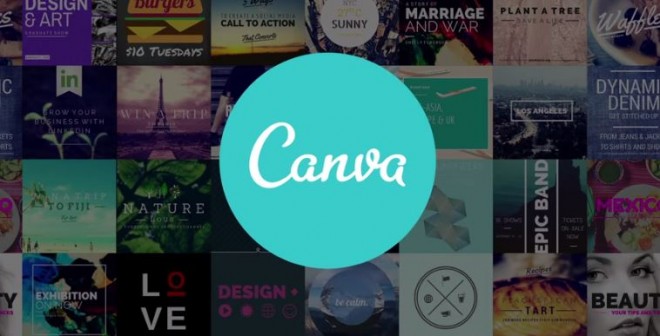 8. Free images for social media, including great collages from PicMonkey
Another fantastic free resource for creating images for your blog posts is PicMonkey. PicMonkey not only offers you a great choice of free backgrounds and fonts, but can also create perfect collages for your blog needs, perfect for tool roundups, or posts about influencers in your field.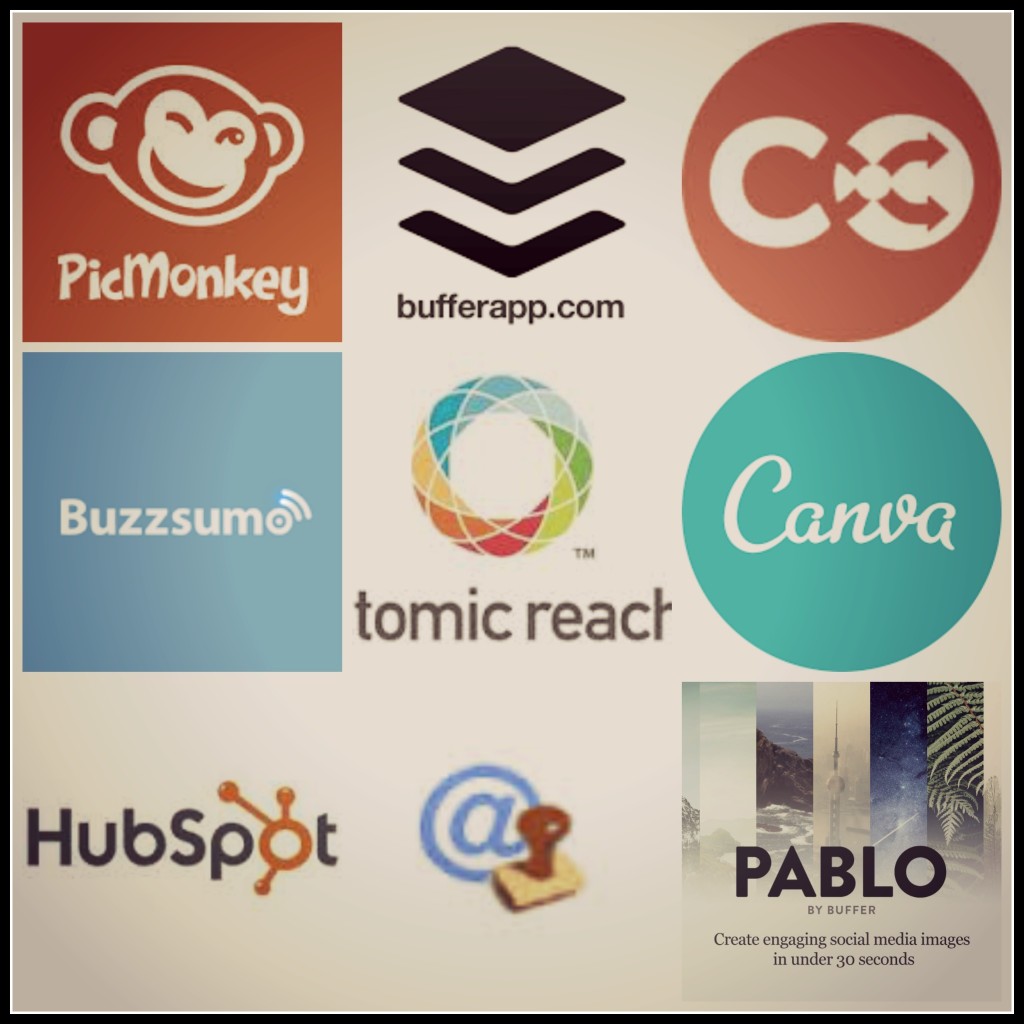 9. Super simple design for your blog from Pablo
Looking for even more options for gorgeous graphics to help your blog post stand out? We're loving the beautiful new tool from the team over at Buffer, Pablo.  Pablo is simplicity itself, enabling you to create wonderful images in mere seconds.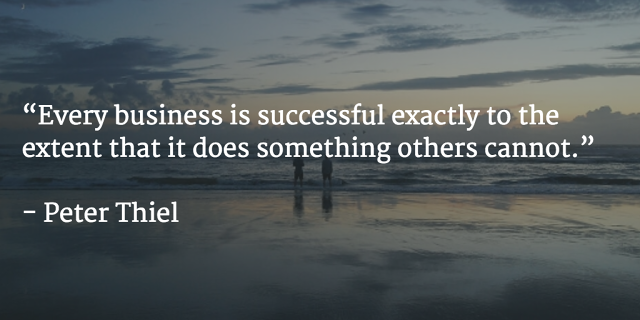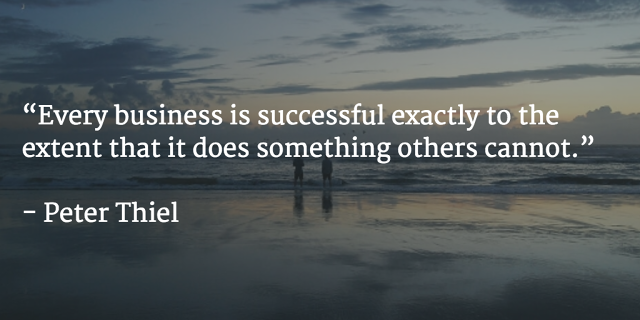 So you've picked your topic, you've written your headline, you've finished your content, and you've added beautiful images to really show off your work. Now what?
Without distribution nobody is going to get to your content. You don't need an enterprise budget to distribute your content to your target audience. There are some fantastic free tools to get you started without paying a dollar.
10. Social Media Distribution the easy way with Buffer
Buffer is a fantastic free social scheduling tool to help you distribute your content across all your social networks. You don't need any social media knowledge to be able to use Buffer, which really is the simplest social media tool around, and totally free.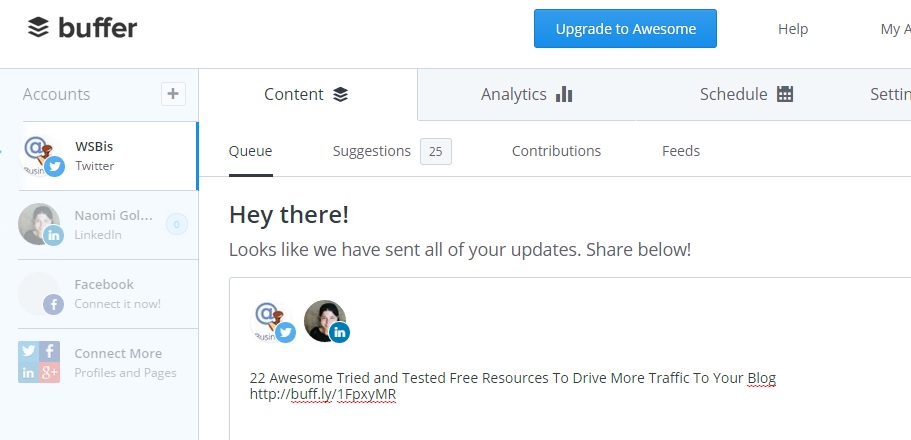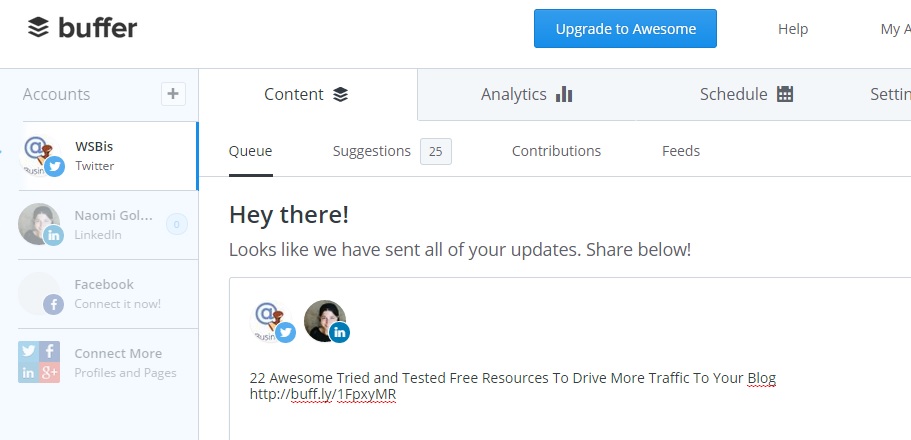 11. Promote your blog via your email signature with WiseStamp
When promoting your blog post don't just add it to your Buffer and forget about it. Add your blog link to your email signature with WiseStamp and every email you send out becomes a blog promotion tool. Promoting a company blog? Double, triple or quadruple your blog exposure by using a team signature solution like WiseStamp for Business.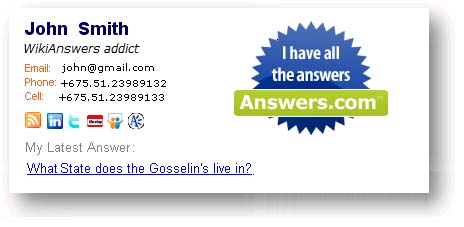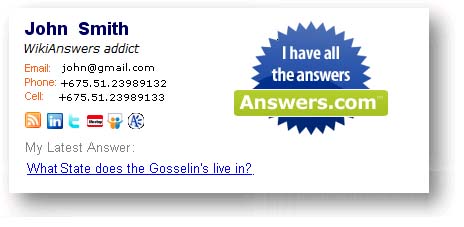 12. Add a call to action to your blog with Snip.ly
Snip.ly is an ingenious little free tool which allows you to add a personalized call to action to either your content, or somebody else's content. You can use snip.ly to drive your blog traffic by linking to other content from authoritative sources on a similar topic, and adding a snip.ly call to action to drive readers to your content. You can also add a call to action to your blog with snip.ly to convert more of your readers into users.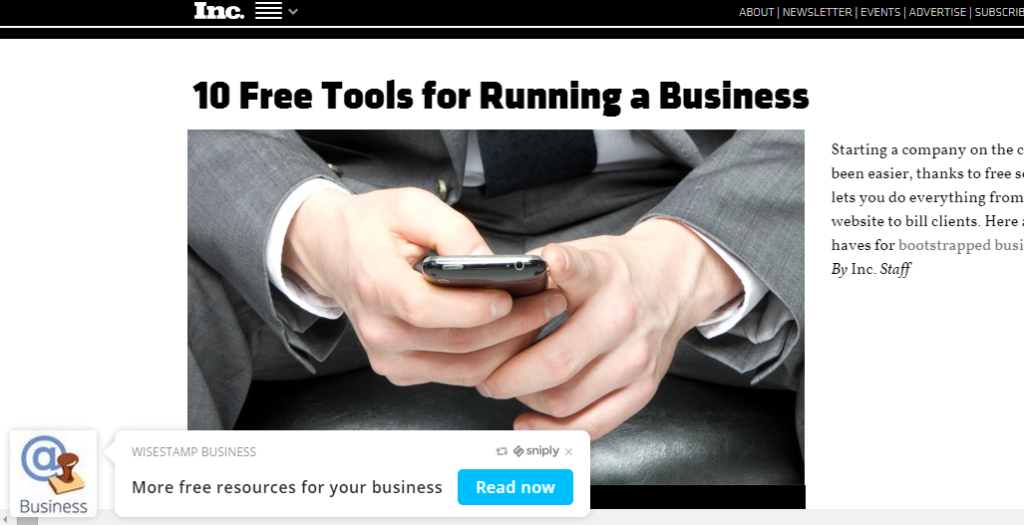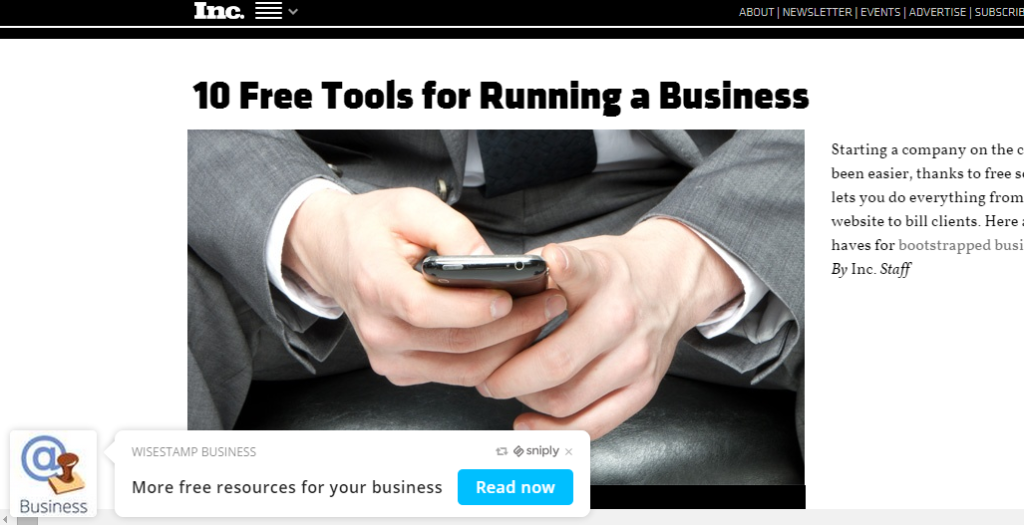 13. Track and amplify to your blog progress with Mention
I love Mention! Mention pulls up your footprint from the web and social media, so you can track exactly who is sharing your blog, and where. By being responsive to your readers you can double your blog traffic, as well as engage and create dialogue by looking for people asking the question that your blog post answers.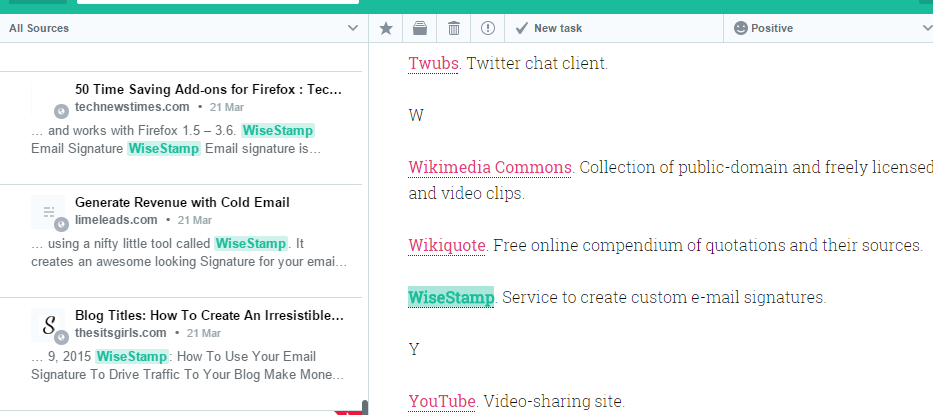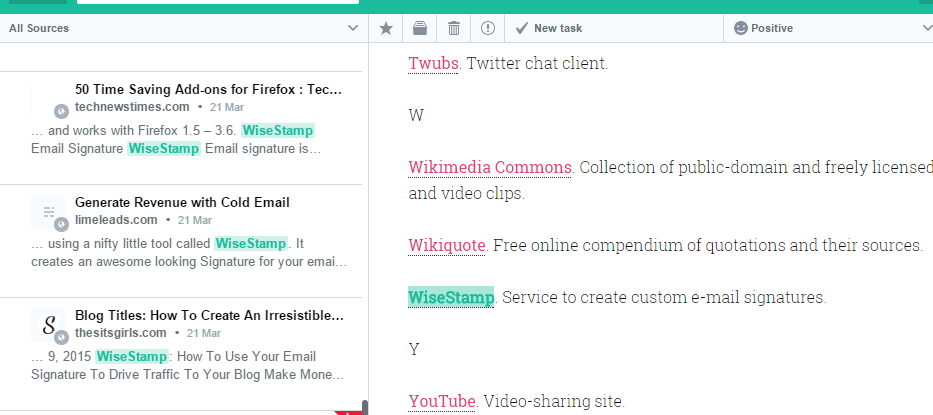 You've sent your blog post out, and with our free tools at your disposal, your traffic is looking good. Use Google Analytics to monitor not only your numbers, but also your traffic referrals, so you can thank your users, make any relevant changes to your blog post, and craft even better content next time.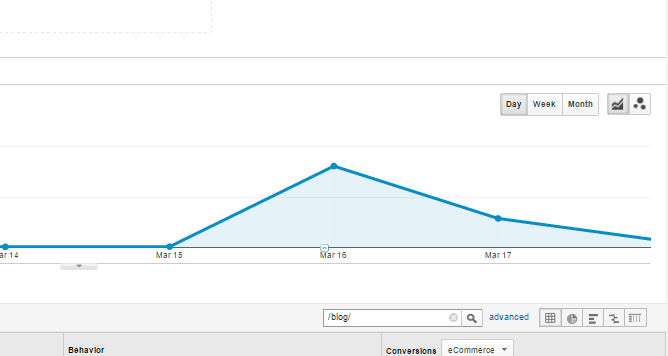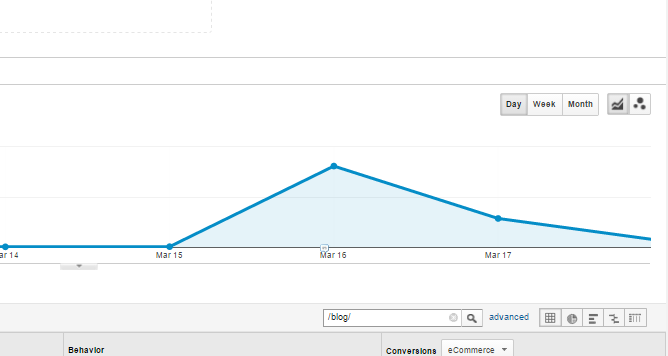 This is a guest post by Naomi Goldberg, a British-born content marketer and mummy to three, crafting and promoting content and social for WiseStamp for Business.
This post was originally published on WiseStamp blog
---
How Artificial Intelligence is Changing The Art Industry
At the end of last year, a work of art created by an algorithm was auctioned off for the first time ever. It was a painting and, though it was only expected to sell for around $10,000, it sold for a whopping $432,500, further cemented the growing interest in AI art. Artificial intelligence is undoubtedly changing the future of technology and business practices, but it's making waves in the visual arts sector as well. AI artists are collaborating with machine learning technology to write novels, produce fine art, expand capabilities in the culinary arts, produce music, and even help with choreographed dances.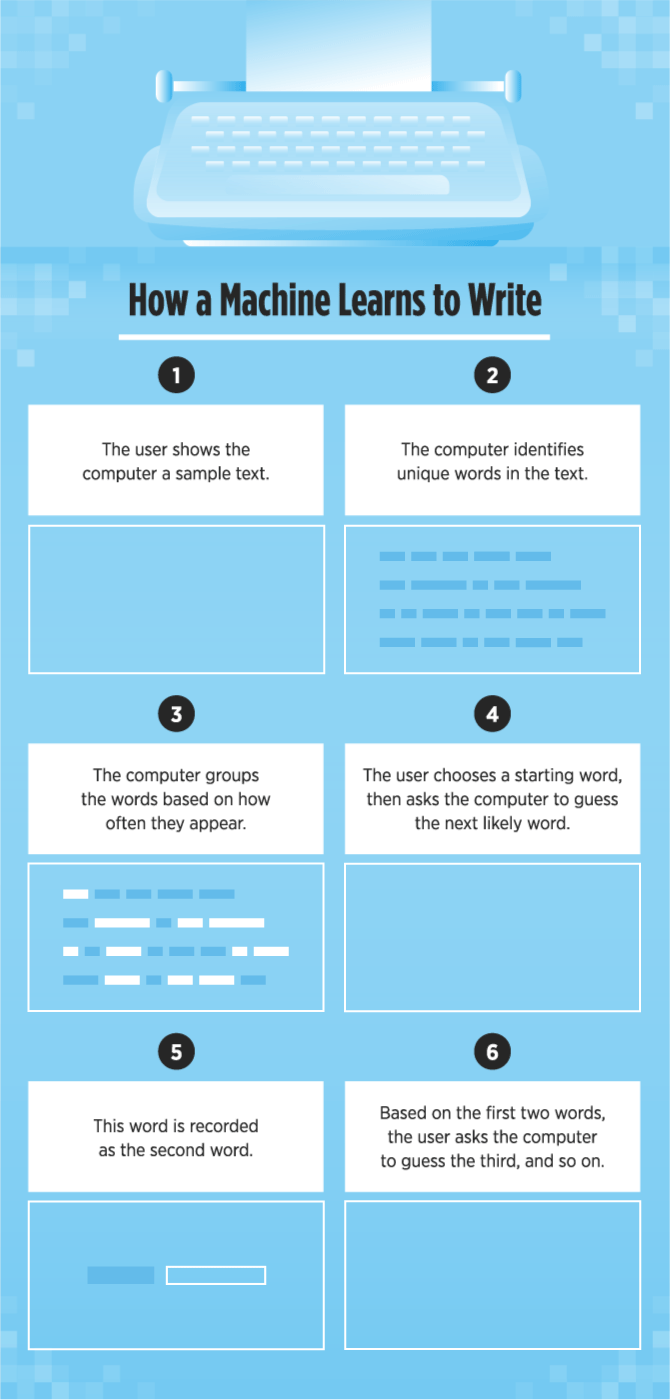 The idea of artificial intelligence creating art has been met with many divisive thoughts from creators, artists, and collectors alike. Who technically owns the art and should profit from its sale? Can a machine evoke the same creativity that human can? Will it ultimately replace artists? Auction house, Invaluable, explores the capabilities of AI art and answers these questions in their infographic below. You can see the full article here.

---
Kunpeng 920: Huawei Unveils World's Highest-Performance ARM-based CPU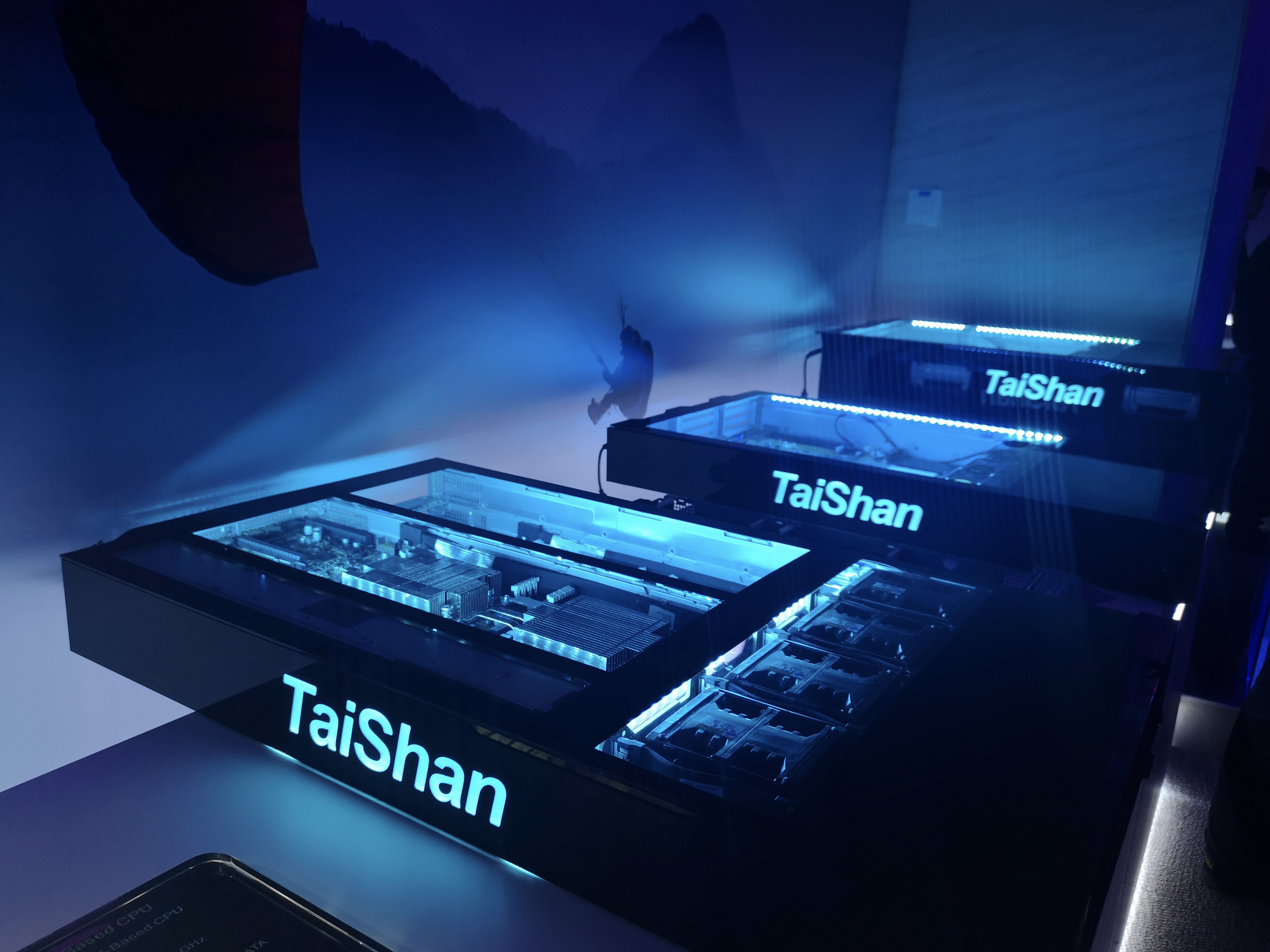 Just in time for CES 2019, Chinese tech leader Huawei, strategically unveiled the Kunpeng 920, the industry's highest-performing ARM-based processor. At Huawei's headquarters in Shenzhen, China, Huawei released the impressive CPU, intended for handling applications like big data processing and distributed storage.
William Xu, Director of Huawei's Board and Chief Strategy Marketing Officer, said during the press conference that "Huawei has continuously innovated in the computing domain in order to create customer value. We believe that, with the advent of an intelligent society, the computing market will see continuous growth in the future. Currently, the diversity of applications and data is driving heterogeneous computing requirements. Huawei has long partnered with Intel to make great achievements. Together we have contributed to the development of the ICT industry. Huawei and Intel will continue our long-term strategic partnerships and continue to innovate together."
Kunpeng 920: High-Performance ARM-based CPU
Huawei's high standards of leading the industry are very clear with the release of the new Kunpeng 920.  The new CPU, similar to Huawei's HiSilicon Kirin 980 (launched in October 2018), was  designed in-house and manufactured on a 7-nanometer processor. According to Huawei, the gain in performance between these two CPU's emerges from a series of optimized branch prediction algorithms and an increased number of OP units, along with an improved memory subsystem architecture. The Kunpeng 920 provides both higher computing performance for data centers while decreasing overall power consumption. The Kunpeng 920 is packed with 64 cores, clocking an impressive 2.6GHZ, and paired with 8-channel DDR4 memory allows the Kunpeng 920 to score over 930 on the SPECint Benchmark, 25% higher than the industry benchmark.  For the sake of comparison, the previous industry leader was the Fujitsu 7-nanometer A64X. Beyond its speed is the CPU's power efficiency, which performs 30% better than its competitors.
In terms of system integration, the new CPU has increased with two 100G RoCE ports. Kunpeng 920 also supports PCIe Gen4 and CCIX interfaces, and provides 640 Gbps total bandwidth.  In addition, the single-slot speed is twice that of the incumbent offering, effectively improving the performance of storage and various accelerators.
TaiShan Series: Huawei's ARM-based Server Built to Perform
To complement the Kunpeng 920, at today's press conference Huawei also released its TaiShan series servers, powered by the company's new CPU. Aimed at tackling three distinct issues, storage,  high-density, and balancing both requirements, the Taishan series designed three unique models. Powered by the Kunpeng 920, the TaiShan servers are built for big data, distributed storage, and ARM native application scenarios. These unique scenarios are ideal for the ARM architecture offering many advantages in many-core and performance per watt. The TaiShan series are ideal computing platforms for enterprises with high performance and low power consumption. Designed especially in big data scenarios, the TaiShan servers are tuned for optimal many-core high concurrency and resource scheduling to deliver a 20% computing performance boost.  
As Mr. Xu stated at the press conference, "The ARM industry is seeing a new development opportunity. The Kunpeng 920 CPU and TaiShan servers newly released by Huawei are primarily used in big data, distributed storage, and ARM native applications. We will work with global partners in the spirit of openness, collaboration, and shared success to drive the development of the ARM ecosystem and expand the computing space, and embrace a diversified computing era."
Open and Collaborative ARM Ecosystem is Geared for Mutual Success
For years, Huawei has continuously promoted industry cooperation and collaboration among its industry partners in terms of hardware, basic software, and applications. The company's unique approach is predicated on the growing trend that an intelligent society, with all things connected, and sensing, is well underway. In light of these industry trends and application requirements, a new era of diversified computing is emerging. The ability to process multiple data types and scenarios are the driving force behind optimizing computing architecture.   
Summarizing the company's vision of serving as an industry leader across all verticals, from telecommunications to servers to handsets, Mr. Xu noted that "With Kirin 980, Huawei has taken smartphones to a new level of intelligence. With products and services (e.g., Huawei Cloud) designed based on Ascend 310, Huawei enables inclusive AI for industries. Today, with Kunpeng 920, we are entering an era of diversified computing embodied by multiple cores and heterogeneity. Huawei has invested patiently and intensively in computing innovation to continuously make breakthroughs. We will work with our customers and partners to build a fully connected, intelligent world."
---
11 Important Cyber Security Tips That Will Help Seniors Protect Themselves From Hackers
With the increasing impact of the digital world, an AgeUK study shows that senior citizens are making use of emerging technologies – in fact the number of over 75s using the internet in particular has doubled in the last five years.
Seniors are not only using the internet, but the majority of seniors also own smart phones, online shop and 50% of internet users aged 65-75 have a social media account. The main ways seniors tend to use the internet is to keep in touch with family abroad, for general browsing and for entertainment purposes.
Although seeing the older generation taking advantage of the latest trends and technologies shows the positive impact of these innovations on people of all ages, there are also many potential threats they need to be aware of when using the internet. Only 32% of seniors surveyed claimed they were confident using the internet safely, and 25% of over 75s stated that technology made them feel vulnerable. Seniors particularly need to be aware of how to use the internet safely as they appear to have a lack of confidence and awareness, making them prime targets for cyber criminals. 1 in 5 seniors also don't have anti-virus software installed on their devices leaving them vulnerable.
This infographic created by Focus Training introduces simple yet effective ways seniors can safely use the internet and protect themselves from potential cyber attacks.

---