Lenovo has really given a thought lately to what bring us geeks out and make us extremely excited whenever approaching new gadgets. And clearly, the company has spent a lot of time and budgets when it first came up with the idea of creating a product that combines a laptop and a tablet under one single hood. Well, the product is now officially out and youm can call it IdeaPad U1 Hybrid. It looks both innovative and stylish at the same time, and packs a 11.6-inch laptop with a detachable multitouch display that turns the screen into a nice portable tablet, running Lenovo's proprietary Skylight Linux platform and powered by a Qualcomm Snapdragon chipset, paired with a 16GB SSD and that nice looking multitouch slate. The entire pack, including the tablet and the laptop together, weighs only 3.8 pound and boasts a CULV Intel Core 2 Duo processor , lining up with a chicklet-style keyboard, a 128GB SSD, a big integrated touchpad and Windows 7 Premium preloaded onboard. Price wise, it would cost you $999 from the moments it gets released, somewhere in June. Vids and PR right after the break.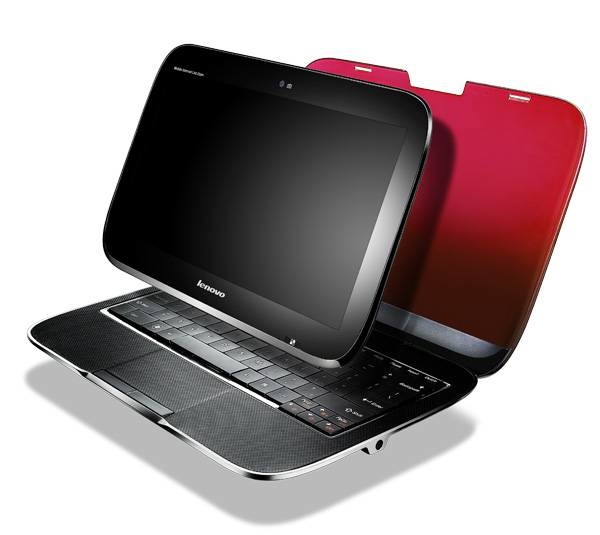 [via engadget]
[viddler id=bc49fca9&w=437&h=370]
[viddler id=310e4ecc&w=437&h=370]
One PC, Two Devices: Lenovo Introduces the Industry's First Hybrid Notebook
Innovative New Design Lets Users Switch Between Full Function Notebook Mode and 3G Multitouch Slate Tablet for Mobile Internet
RESEARCH TRIANGLE PARK, NC – January 6, 2010: Lenovo today announced the industry's first hybrid PC for consumers, the IdeaPad U1 hybrid notebook, a groundbreaking concept and new genre in PC form factors. The IdeaPad U1's unique design is engineered to provide consumers with two PCs in one device – each with its own processor and operating system – that work together and independently as either a clamshell laptop or a multitouch slate tablet.
"The IdeaPad U1 hybrid notebook is a game-changing technology in the PC industry that lets the user switch at will their PC experience to match their dynamic lifestyle," said Liu Jun, senior vice president, Idea Product Group, Lenovo. "By fusing the functionality of a notebook with the slate tablet's rich multitouch entertainment and mobile Internet experience, U1 provides consumers the freedom to choose the device they prefer for any activity."
The IdeaPad U1's fashionable scarlet red exterior has a footprint just smaller than a piece of paper and is paired with an equally impressive 3.8 pound thin and light design. With its unique detach-and-converge form factor, users can easily remove the screen to instantly switch from clamshell mode into a multitouch slate tablet. When the IdeaPad U1 is in its traditional clamshell form, the system boasts an 11.6 inch HD LED screen and runs Windows 7. When the 1.6 pound, multitouch screen is removed, it becomes an independent slate tablet with a powerful ARM processor, running Lenovo's customized Skylight operating system.
Two Brains are Better than One
Leveraging the benefits of both CPU, the two devices can synchronize to work as one with the ability to share battery power, 3G wireless, data and documents. In this way, the base laptop system can serve as a hub and docking station and the slate tablet as a mobile device. The two PCs have been engineered to work together and independently through Lenovo's Hybrid Switch technology that enables seamless toggling between the two processors. For instance, users can surf the Web in laptop mode and then continue from the same point without interruption if they detach to tablet mode.
"Me Centric" User Interface Provides Instant Gratification for Today's Consumers
Lenovo's hybrid notebook also features a customized "Me" centric tablet interface for comfortable landscape and portrait viewing. Users can switch between a six-section display and a four section display. U1's six-section screen display is designed to enhance the mobile internet experience by letting users easily multitouch access multiple Web-based applications at once such as email, calendars, RSS readers and social networking Web sites. The four-section screen display option is perfect as a media center on the PC such as photos, music, videos and to view/edit documents.
IdeaPad U1 Doubles Entertainment Fun
The IdeaPad U1's laptop and tablet modes each support more than five hours of 3G Web browsing and 60 hours of 3G standby. In addition, the U1 comes with integrated video camera and two stereo speakers with integrated microphone with echo cancellation make this the ideal PC for users who need flexibility but do not want to compromise features or functionality.
Pricing and Availability
The Lenovo IdeaPad U1 hybrid notebook will be available June 1, 2010 with an estimated retail price of $999.1
For the latest Lenovo news, subscribe to Lenovo RSS feeds or follow Lenovo on Twitter and Facebook. Follow Lenovo's activities at the International Consumer Electronics Show in Las Vegas at LenovoSocial.com/Live.
About Lenovo
Lenovo (HKE: 992) (ADR: LNVGY) is dedicated to building exceptionally engineered personal computers. Lenovo's business model is built on innovation, operational efficiency and customer satisfaction as well as a focus on investment in emerging markets. Formed by Lenovo Group's acquisition of the former IBM Personal Computing Division, the company develops, manufactures and markets reliable, high-quality, secure and easy-to-use technology products and services worldwide. Lenovo has major research centers in Yamato, Japan; Beijing, Shanghai and Shenzhen, China; and Raleigh, North Carolina. For more information see www.lenovo.com.
1 Price and availability vary by region.