MSI Teases With a 10-Inch Android Tablet At The CES (Update: Now Official)
It looks great, it sports a 10-inch capacitive display, runs a powerful Tegra 2 chipset and called Harmony. That's pretty much what we  know about MSI's new Android tablet that recently showed up at the CES show in Vegas. The platform is actually an Android 2.1 and the slate is literally tagged as an E-book machine.  It has both WiFi and 3G WWAN connectivity included, and apparently, wants to be "your office to go" solution.  Check out the videos we've added half past the break.
Update: MSI finally gets official with the new 10-inch Android-powered tablet, we've recently bumped into at CES 2010 in Vegas. And despite the scarce details at the moment, we do know it would pack a Tegra 2 chipset under the hood, and that buyers will get to choose between different "flexible" configurations. Availability is yet to be determined , but prices are said to be high, around the $500 barrier. Stay tuned.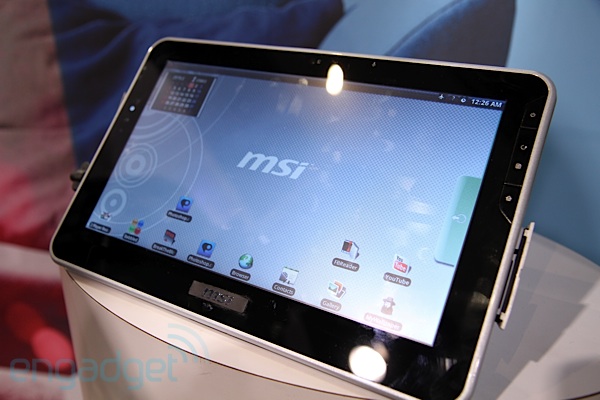 [via phandroid]
ARVE Error: id and provider shortcodes attributes are mandatory for old shortcodes. It is recommended to switch to new shortcodes that need only url
ARVE Error: id and provider shortcodes attributes are mandatory for old shortcodes. It is recommended to switch to new shortcodes that need only url
[Image: courtesy of engadget]