iPhone OS 4 Announced, Adds Multitasking, In Apps Ads, Folders, and More To The iPhone
The iPhone OS 4.0 event we've all been anxiously awaiting, just ended with Apple delivering some striking news to the world. But before getting to those shocking news we just heard, here's some other details that might be worth considering: As of today Apple sold about 450,000 iPads throughout the States (along 50M iPhone devices), while users have downloaded about 600,000 books and over 3.5 million apps, thus far. The iPhone OS 4 which suppose to get official release this summer, is said to provide more than 1500 new APIs for developers, who can now actually download the fourth SDK Beta package from the iPhone Dev Center, and start shaping their magical crafts.
Moving the focus point over the main buffet, it's all about the multitasking (Finally!). Yes, you've heard that right folks, Apple's OS 4 is said to include multitasking (…and I'll repeat myself again: 'multitasking'). Of course it will work if you have an iPhone 3GS in your bag. Earlier devices, according to Jobs, amongst you'll find "The iPhone 3G and iPod touch 2nd generation will run "many things", but they will not get multitasking".  In that note, Apple says it'd actually provide seven multitasking services including: background audio streaming like Pandora playing music all day long without the need to be stopped, Voice over IP apps like Skype taking calls even when you browse, background GPS and location apps, push and local notifications, task completion like Flickr image uploaded i background, and last but not least, fast app switching – all to be safely activated without the worry of battery draining.
Next in line is the new form of Folders, which aims to organize, and make sense out of the dispersed field of applications. With iPhone OS 4, users are said to be able to drag and drop apps onto one another to create folders, that from now on can hold up to 2160 apps instead of 180 apps you used to see over 11 pages.
Cupertino is also pushing forward today the Unified Inbox function, which gathers multiple email accounts (like MobileMe, Yahoo, Gmail, etc) into one single box, and thus eliminates the need to jump from one window to another. Apple has also enabled in this session the possibility of getting third-party email attachments straight into your phones – Yay, attachments are on!
iBooks gets to the iPhone OS 4 as well, with Apple taking advantage of recent iPad e-book galore.
Gaming Center. Another big news, especially for the gamer geeks between us. With Apple, building a social iPhone gaming network, which basically allows you to challenge your friends, compare achievements, leaderboards, match making  and more. In other words, it's like the Xbox Live, but for the iPhones.
iAds. Suddenly everything that starts with the letter "i" is an Apple related product, eh? But seriously now, it was Steve Jobs who was quoted saying that free apps "Developers need to find a way to start making their money"… so far so good, but how? Apparently, Apple will sell interactive in-apps mobile ads, that everyone can create, not only ad agencies but also iPhone app developers that will split revenues with Apple (60/40) in exchange for selling and hosting their ads. Apple is said to use HTML 5 format to create those ads – interesting!
More coming up  features to include: Home screen wallpaper installation, Bluetooth keyboard support, 5x digital zoom, Spell check like in iPads, Playlist creation, Map overlays, Video playback and capture, and more.
So this is it guys, it's huge and in some parts very surprising. A short multi-tasking OS 4 hands-on video is just after the break and you can also watch the full iPhone OS 4 keynote event on video on Apple's website right here.
Update: Full PR announcement after the break.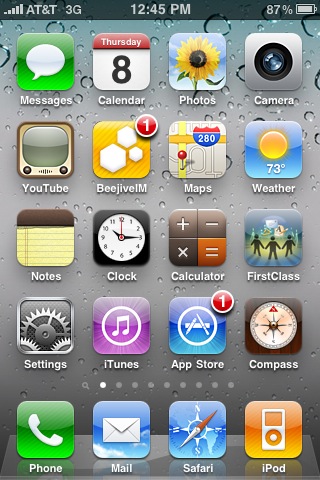 ARVE Error: id and provider shortcodes attributes are mandatory for old shortcodes. It is recommended to switch to new shortcodes that need only url
CUPERTINO, California—April 8, 2010—Apple® today previewed its iPhone® OS 4 software and released a beta version of the software to iPhone Developer Program members. The iPhone OS 4 beta release includes an updated Software Development Kit (SDK) with over 1,500 new Application Programming Interfaces (APIs) and over 100 new features that will be available to iPhone and iPod touch® users this summer. New features include Multitasking for third party apps; Folders to better organize and access apps; improved Mail with a unified inbox, fast inbox switching and threaded messages; enhanced Enterprise support with even better data protection, mobile device management, wireless app distribution and more; Apple's new iAd mobile advertising platform; and iBooks, the delightful new ebook reader and online bookstore recently debuted on the iPad™.
"iPhone OS 4 is the fourth major release of the world's most advanced mobile operating system," said Steve Jobs, Apple's CEO. "We're delivering over 100 new features, including multitasking, folders, a unified inbox, deeper Enterprise support, and an iPhone version of our iBooks reader and online iBookstore."
iPhone OS 4's new multitasking offers users a new way to quickly move between apps, and provides developers seven new multitasking services to easily add multitasking features to their apps. These services include background audio, so apps like Pandora can play music in the background, and VoIP, so VoIP apps can receive a VoIP call even when the iPhone is asleep or the user is running other apps. iPhone OS 4 provides multitasking to third party apps while preserving battery life and foreground app performance, which has until now proved elusive on mobile devices.
Folders help users better organize and quickly access their apps. Simply drag one app icon onto another, and a new folder is automatically created. The folder is automatically given a name based on the App Store category of that app, such as "Games," which the user can easily rename. Using folders, users can now organize and access over 2,000 apps on their iPhone. Users can also create and manage iPhone folders on their Mac® or PC using iTunes® 9.2.
iPhone OS 4 delivers the best mail experience on a mobile phone with its new Unified Inbox, allowing users to see messages from all their email accounts displayed together in a single inbox. With just a few taps, users can quickly switch between inboxes to see messages from any single account. In addition, users can now thread their messages by conversation, making it easier to stay on top of email discussions, as well as open email attachments with compatible apps from the App Store.
iAd, Apple's new mobile advertising platform, combines the emotion of TV ads with the interactivity of web ads. Today, when users click on mobile ads they are almost always taken out of their app to a web browser, which loads the advertiser's webpage. Users must then navigate back to their app, and it is often difficult or impossible to return to exactly where they left. iAd solves this problem by displaying full-screen video and interactive ad content without ever leaving the app, and letting users return to their app anytime they choose. iPhone OS 4 lets developers easily embed iAd opportunities within their apps, and the ads are dynamically and wirelessly delivered to the device. Apple will sell and serve the ads, and developers will receive an industry-standard 60 percent of iAd revenue.
The iPhone OS 4 beta release includes a developer preview of Game Center, which contains a set of APIs that allows developers to create apps with the ability to invite friends to play a game, start a multiplayer game through matchmaking and track achievements and compare high scores on a leader board. Apps created with GameKit APIs will work with Game Center, Apple's new social gaming network available to iPhone and iPod touch users later this year.
New enterprise features in iPhone OS 4 include improvements in security, scalability and compatibility. The new Mobile Device Management service can be integrated with third party servers to wirelessly configure, query and even wipe or lock managed iPhones, and iPhone OS 4 enables enterprises to securely host and wirelessly distribute their own in-house developed apps to employees. The new Data Protection feature uses a user's passcode as an encryption key to protect mail messages and attachments stored on the iPhone. iPhone OS 4 now provides the option to set a longer, more complex passcode, making iPhone and its data even more secure. iPhone OS 4 allows IT managers to set up multiple Exchange ActiveSync accounts, is compatible with Exchange Server 2010 and includes support for forthcoming SSL VPN applications from Juniper Networks and Cisco.
Today, more than four billion apps have been downloaded from the revolutionary App Store and more than 185,000 apps are available to consumers in 90 countries. Over 85 million iPhone and iPod touch users around the world can choose from an incredible range of apps in 20 categories, including games, business, news, sports, health, reference and travel.
Availability
The iPhone OS 4 beta software and SDK are available immediately for iPhone Developer Program members at developer.apple.com. iPhone OS 4 will be available as a software update to iPhone and iPod touch users this summer.* A version of iPhone OS 4 will be coming to iPad this Fall.
*Some features may not be available on all products. For example, Multitasking requires iPhone 3GS or third generation iPod touch (late 2009 models with 32GB or 64GB).