We have previously reported a rumor about a future Asus Eee Pad devices, and today the rumor starts floating again, apparently becomes official. Basically, there seem to be at least two different models of this coming slate – a 12-inch tablet (AKA: EP121), boasting Intel's Core 2 Duo CULV processors and running a Windows 7 platform for the OS, that is paired with a 10-hour battery pack, one integrated USB 2.0 hub and built-in webcam, while second version, the EP101TC, is a 10-inch capacitive tablet running Windows Embedded Compact 7 platform for the OS and some sort of a Tegra chipset for graphics handling. Both versions are said to have optional docking cradle for keyboard use with Q1, 2011 as a target release and prices ranged between $399 to $499 at most. Engadget's Joanna Stern hands on video after the break.
Update: Word on the street is that Asus has apparently ditched the idea of having a Windows Embedded Compact 7 OS onboard in favor of Google's Android platform – either Froyo or Gingerbread (Android 3.0), we still don't know. As a matter of fact, it appears that the Taiwanese company is currently working on few updated prototypes that should eventually run Mountain View's operating system onboard, whenever out, next year, at Computex 2011.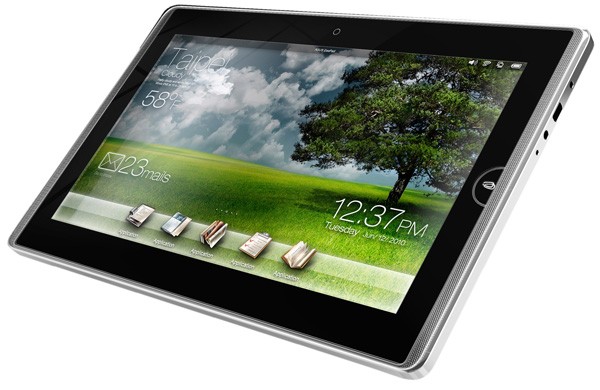 [viddler id=6cfa441c&w=437&h=288]
Stay Connected and Multitask with the Eee Pad
Engineering excellence meets stunning design in the ASUS Eee Pad, an ultra-slim and light yet high-performance slate device designed to provide users with a real time cloud computing experience. The Eee Pad will be available in two configurations.
The 12″ Eee Pad EP121 is a full-featured slate computer that serves as a multimedia player, e-reader, and compact computing device. Powered by a CULV Intel® Core™ 2 Duo processor and the Windows® 7 Home Premium operating system, it effortlessly handles multitasking tasks whether enabling users to check their email and calendars, have video conferences, or process Microsoft Word and Excel documents simultaneously. The ASUS Eee Pad EP121 offers two convenient modes of character input-an embedded virtual keyboard or an innovative hybrid keyboard/docking station design. All of this power is available in a personal computing device that delivers up to 10 hours of usage.
For users seeking additional mobility, ASUS is proud to present the 10" Eee Pad EP101TC that runs Windows Embedded Compact 7, which provides an engaging user experience and delivers instant connectivity to the Windows world. It also provides a familiar full-featured user experience across various connected devices and cloud computing services.