Philips' GoGear Connect PMP Goes Live In Europe With Android 2.1 Platform Already Preloaded Onboard
Android media player – that apparently looks like the latest greatest trend among audio-video gadgets across the pond, and the new joiner within that sphere is Philips and its most awesome GoGear Connect PMP. The slick silver device which you can find listed in online retailer store Argos, priced at €264.99 (about $340), boasts a 3.2-inch 480 x 320 display, running Android 2.1 platform and tucked with 16GB of flash storage, an integrated GPS navigation system, an FM tuner, a microSD, a 3.5mm headphone jack and battery pack delivering up to 25 hours of audio playback and 5 hours of continuous video work. It should already be available throughout the European continent while US release is yet to be determined.
Update: Philips just went official with its brand new 3.2-inch GoGear Connect PMP which apparently supports a very wide range of audio and video formats, including mp3, wma, .m4a (AAC), ogg, and flac audio; wmv, mp4, H264, and avi video; or JPEG, GIF, PNG, BMP, TIFF images. It is also said to have a built in camera inside, paired with microSD slot, android 2.1 for the OS and an integrated GPS platform to navigate your way on the go. Worldwide release (including the US) is scheduled for October of this year, with prices at €249 (about $315) for the 16GB flavor.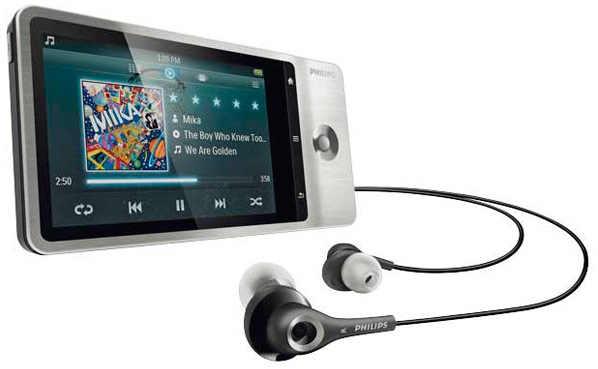 [Argos via Engadget]