It may still be intangible for most of us at the moment (until September 2), but the way it looks it seems that Samsung's future Galaxy Tab has finally made its first official video debut. And while giving us a quick teaser for what we can expect seeing in the coming future – considering the short screen time – it would be just unwise for us to jump into conclusions. That been said, and from the few we've managed to catch, it sure looks like the the neat features included: a 7-inch display, running an Android 2.2 platform with an integrated e-reader, video calling capabilities, GPS navigation system, HD video playback and full internet surfing support, are definitely worth the wait and expectations. Hit the break to see the teaser.
Update1: Looks like Samsung's lavish Android-based Galaxy Tab has just made its second video appearance – this time unofficially. What's inside, you ask? Android 2.2 for the OS, along a 7-inch 16:10 ratio display, a front-facing camera, WCDMA 3G connectivity, a DMB tuner, SDHC memory slot, video calling capabilities and finally, slick and very responsive user interface platform. Check it out after the break.
Update2: And to keep the entire tablet's accessories lineup in position, Samsung has just announced a new official collection, specifically designed for its 7-inch  Galaxy Tab. Among them you'll find a "table charging station" with both HDMI and audio ports at  €54 ($70), a keyboard cradle at €82 ($105), and naturally, a nice leather case with a stand arrangement for €41 ($53). Stay tuned for more exciting news to come. New image after the break.
Update3: According to the FCC Samsung's upcoming Galaxy Tab (AKA: SHW-M180S) is likely to include dual-band 2.4GHz capabilities along with GSM 1900 radio frequencies (supported by AT&T) and a 5.8GHz 802.11 a/b/g/n WiFi connectivity – pretty impressive Sami.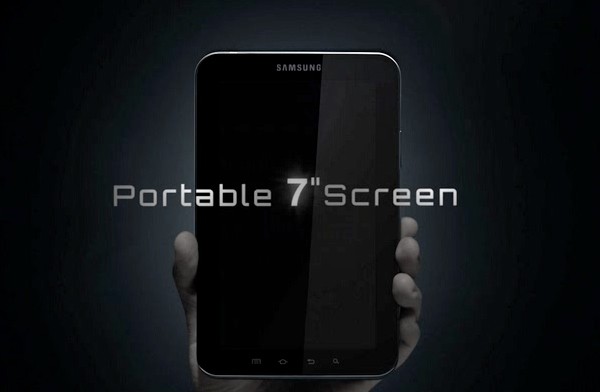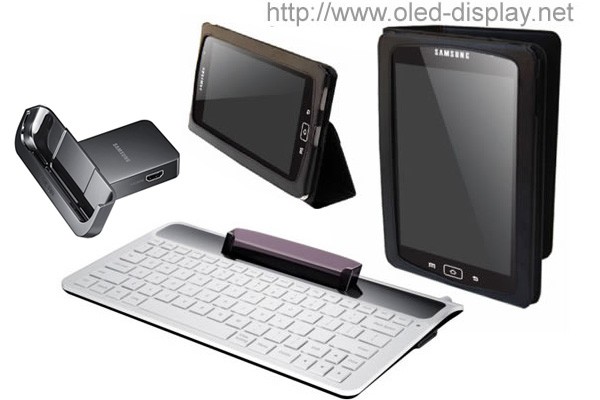 [youtube]http://www.youtube.com/watch?v=3cHgwS0TIcQ[/youtube]