One of the most interesting products that Apple has just rolled out at the Music event yesterday morning is the new iPod nano device which the company has completely revamped and transformed it into a nice squarish touchscreen player. Yes, the 6th generation iPod nano is actually equipped with a neat multi-touch user interface, while the body itself is now 46 percent smaller and 42 percent lighter than previous models. In addition to that, the Cupertino guys have also added couple of hard volume buttons on top and a tiny clip on the back (no more armbands needed). And despite the fact that Apple has officially ditched cool features like the integrated camera or video playback support, It would be still reasonable to shell out $149 for 8 gigs or $179  for double the storage in order to get yourself one, especially now when the new nanos boast a 24 hours battery pack, along with a pedometer, FM radio tuner and even Nike+ support. Full PR and a quick hands-on video (courtesy of Engadget) after the break.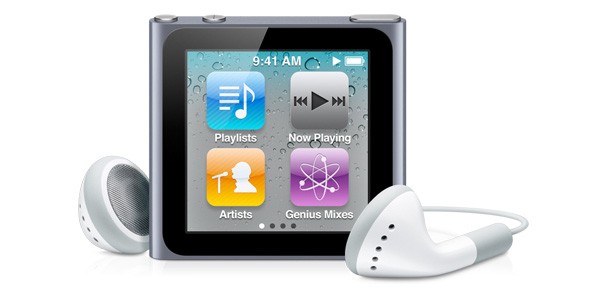 Apple Reinvents iPod nano With Multi-Touch Interface
New Built-in Clip for Instant Wearability
SAN FRANCISCO-September 1, 2010-Apple® today unveiled a completely redesigned iPod nano® featuring Apple's Multi-Touch™ interface that lets users navigate their music collection by simply tapping or swiping a finger on the display. Nearly half the size and weight of the previous generation, the new iPod nano features a polished aluminum and glass enclosure with a built-in clip, making it instantly wearable. The new iPod nano features Genius Mixes, the ability to create and edit playlists, a built-in FM radio with live pause and up to 24 hours of music playback on a single battery charge.*
"This is the biggest reinvention of the iPod nano since its debut in 2005, and we think users are going to love it," said Steve Jobs, Apple's CEO. "Replacing the click wheel with our Multi-Touch interface has enabled us to shrink the iPod nano into an amazingly small design that is instantly wearable with its built-in clip."
The new iPod nano with Apple's Multi-Touch interface allows users to access their songs, artists, albums and playlists with a tap or swipe of their finger on the display. Holding down a finger returns the user to the Home screen, and users can easily use two fingers to rotate the screen if it is clipped onto their clothing upside down. Users can also customize their Home screen by simply dragging icons from other screens onto the Home screen.
iPod nano also features Shake® to Shuffle™, giving music lovers the ability to shake their iPod nano to shuffle to a new song in their music library. With its built-in FM radio, iPod nano lets you listen to your favorite radio stations, and live pause lets you pause and resume playing your favorite FM radio shows without missing a beat.
With an amazing new design that is nearly half the size and weight of its predecessor, the new ultra-portable iPod nano is a natural workout companion. Clip iPod nano onto your workout clothing, touch your music and start your workout. iPod nano features a built-in pedometer that makes it easy to track your steps and also supports Nike + iPod®, giving users the ability to track runs and workouts.
iPod is the world's most popular family of digital music players with over a quarter billion sold. Apple's new holiday lineup includes a brand new iPod shuffle® for just $49; the remarkable new iPod nano with Multi-Touch starting at $149; the incredible new iPod touch® with Retina™ display, Apple's A4 chip, FaceTime®, HD video recording and Game Center starting at just $229; and iPod classic® in a 160GB model for $249.
Pricing & Availability
The new iPod nano will be available next week for a suggested price of $149 (US) for the 8GB model and $179 (US) for the 16GB model. Both models are available in silver, graphite, blue, green, orange and pink through the Apple Store® (www.apple.com), Apple's retail stores and Apple Authorized Resellers. The 8GB and 16GB iPod nano (PRODUCT) RED is available through the Apple Store (www.apple.com) and Apple's retail stores. iPod nano requires a Mac® with a USB 2.0 port, Mac OS® X v10.5.8 or later and iTunes® 10 or later; or a Windows PC with a USB 2.0 port and Windows Vista or Windows XP Home or Professional (Service Pack 3) or later and iTunes 10 or later.
*Battery life and number of charge cycles vary by use and settings. See www.apple.com/batteries for more information.
Apple designs Macs, the best personal computers in the world, along with OS X, iLife, iWork, and professional software. Apple leads the digital music revolution with its iPods and iTunes online store. Apple is reinventing the mobile phone with its revolutionary iPhone and App Store, and has recently introduced its magical iPad which is defining the future of mobile media and computing devices.