Everywhere I turn it seems I hear about Samsung's portable media devices, these days. And now that the South Korean electronic giant has officially launched its most hyped 7-inch Android Galaxy Tab at the IFA show in Berlin, there are numerous other cool products in Samsung's Galaxy lineup one could definitely see them coming. One such example is the new Android-powered Galaxy Player 50 that Sammy has just announced – which looks pretty much like a mobile smartphone at first glance – But it's not. As a matter of fact, this small whitish bad boy is actually a 3.2-inch WQVGA LCD player, which boasts an Android 2.1 OS, 8GB or 16GB of storage, a microSD slot expansion (up to 32GB), a 2 megapixel camera, 802.11n WiFi connectivity, and the ice on the cake – multitouch screen support. Regretfully, at this point there are no pricing or availability details to share with the world, but the full PR is just around the corner, so hit the break and read the note.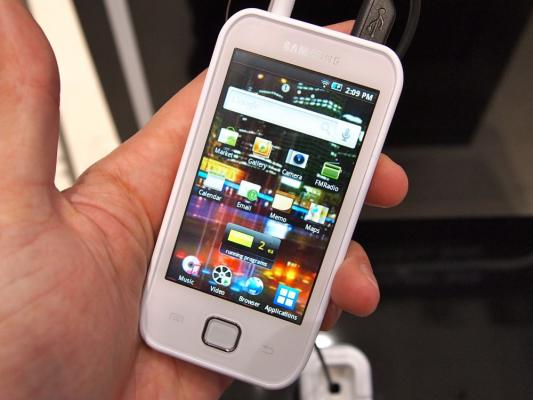 [via Android Center]
Samsung launchs a range of multimedia players for every need
Samsung's Portable Multimedia Players Designed for Every Lifestyle
Seoul (Korea Newswire) September 2, 2010 — Samsung Electronics Co. LTD., today announced the launch of four new portable multimedia players for the second half of 2010. The Galaxy Player 50, YP-Q3, YP-U6 and TicToc have all been designed to match the lifestyles and differing requirements of customers through a range of innovative technologies and features. All four portable multimedia players will be on display at IFA 2010.
The Samsung Galaxy Player 50, equipped with SoundAlive™, offers users superb sound quality and exciting multimedia experience that fully utilizes the Android 2.1 (Éclair) OS. Its 3.2″ wide display will make your multimedia come alive and with its easy "Drag & Drop" operation, users have the freedom to enjoy audio/video libraries anywhere, anytime. The Galaxy Player 50, enables users to play content without the need to convert files as it comes with DivX. It is the easiest way to make a diverse array of multimedia easy to access and enjoy.
YP-Q3's vibrant and colorful design makes it a multimedia device that stands out! Available in black or white, the Q3 has a glossy back, 2.2″ TFT LCD display and stylish aluminum edges – it will attract style conscious users with its elegant and refined design. The Q3 uses Samsung's own sound engine, SoundAlive™, giving music more clarity through the use of signal processing. SoundAlive™ gives music lovers the chance to hear their music with deeper bass, greater tone articulation and spaciousness.
YP-U6 makes digital audio simpler and easier than ever. Its hard aluminum body and secure slide-and-hide USB connector are matched perfectly with a bright color display.
The U6's robust design and fitness function allows users to time their workouts, making it an ideal solution for fitness fanatics. Along with FM radio and voice recording features. It delivers a powerful performance in compact body.
TicToc shows that it is hip to be square, with its minimalist design and fun and easy usability. TicToc's G-Sensor recognizes your motion and you need no more than one button and three LED icons to select the music you want. All operations can be done with a simple click and shake using fun motion control. Through Voice guide feature, users can discover the information related the music easily. Users can also manage their playlists using the 'tempo analysis feature' that consolidates the music based on the speed. With its unique User Experience, the TicToc has been awarded the 2010 iF Communication Design Awards for Product interfaces.