We've already seen the guys at ZTE trying to innovate their way around the MID section, and now it seem as if they're trying hard for something that looks good and that specifically designed for the Android tablet low-mid department. With a bright 7-inch touchscreen and a Google Android 2.1 platform running under its rounded lid, the ZTE Light is definitely an eye catcher. And while we're still unfamiliar with pricing, the Light which is rumored to be out pretty soon, has  some pretty darn good features to be proud of. For instance, it boasts an integrated GPS system along with a card reader, WiFi, 3G connectivity and battery pack delivering up to 10 hours of work. Stateside release is doubtful at the moment but you can read the Full PR announcement half past the break.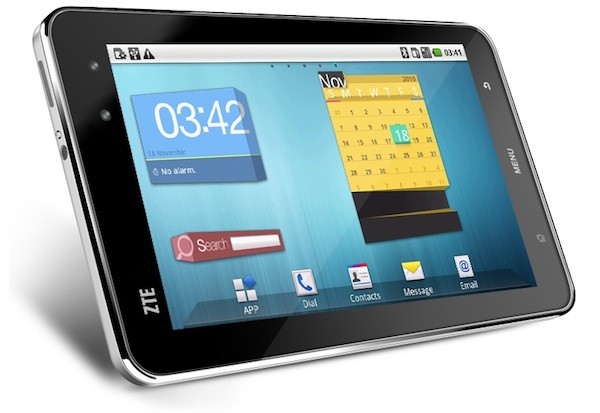 ZTE Launches a 7″ Touch Screen 3G Android Tablet PC
Bringing enriched entertainment and business features in a lightweight and portable design
12 October 2010, Beijing, China – ZTE Corporation ("ZTE" or the "Group") (A share stock code: 000063.SZ /H share stock code: 0763.HK), a leading global provider of telecommunications equipment and network solutions, launched its latest touch screen tablet PC, ZTE Light, today in Beijing. The device is displayed at "Beijing Exhibition", bringing various distinct features in a slim and light weight tablet PC.
ZTE Light brings another dimension to internet access with its vast range of entertainment and business applications. It is altogether a more portable, easy-to-use and internet friendly tablet PC, adding a brand new experience to entertainment and internet access.
As the ever-growing demand for mobile internet continues, ZTE Light helps to make the internet more portable with its faster browsing experience and 7 inch TFT touch screen. Weighing only 403g ZTE Light is lightweight and easy to take anywhere.
The ZTE Light tablet also supports voice calling on dual band UMTS 2100 MHZ/900 MHZ and internet access on HSUPA network with a download speed of up to 7.2 Mbps and an upload speed of up to 5.76 Mbps. The device packs smart processing capabilities as it features 512 Mb RAM and 512 Mb ROM and is based on the Android 2.1 Operating System.
ZTE Light provides enriched business applications through its open Android platform and guarantees easy access to thousands of third party applications and content services. It fully supports various Google Services, Multi Email account setup, desktop widget applications and online document reading and editing features.
ZTE Light can also be used as a full entertainment device since the large touch screen and G-sensor can support various multimedia and games. In addition, its GPS navigation ability can be used as the best guide on the road. Other highlighted features include Wi-Fi, 3Mpx camera, music and video player with Mp4 support, standard picture format compatibility, Bluetooth, external SD Slot with up to 32GB of external memory, a 3.5mm stereo headset and up to 10 hours of working battery time.
ZTE has long been committed to bringing innovative and high-quality products to its customers worldwide. With the growing demand of portable and compact devices with mobility features, ZTE Light is surely the next generation tablet PC, with its compact design and wide range of features it is ideal for all entertainment and business needs.
About ZTE
ZTE is a leading global provider of telecommunications equipment and network solutions with the most comprehensive product range covering virtually every sector of the wireline, wireless, service and terminals markets. The company delivers innovative, custom-made products and services to over 500 operators in more than 140 countries, helping them to meet the changing needs of their customers while achieving continued revenue growth. ZTE's 2009 revenue led the industry with a 36% increase to USD 8,820.7 million. ZTE commits 10 percent of its revenue to research and development and takes a leading role in a wide range of international bodies developing emerging telecoms standards. A company with sound corporate social responsibility (CSR) initiatives, ZTE is a member of the UN Global Compact. ZTE is China's only listed telecom manufacturer, publicly traded on both the Hong Kong and Shenzhen Stock Exchanges (H share stock code: 0763.HK / A share stock code: 000063.SZ). For more information, please visit www.zte.com.cn.