Viewsonic has made a bold move to dethrone Apple's iPad in the US market. The Taiwanese company announced late yesterday it would launch two new Viewpad tablets – that will maintain the Viewsonic logo – sometime between November of this year and the first quarter of 2011. And while first model in that new series, the Viewsonic 7, is claimed to run the Android 2.2 platform, preloaded with Google apps and full access to Google's Market, the second, Viewsonic 10, will boast Microsoft's Windows 7 Home Premium OS along with a 1.66GHz Atom processor, 16GB SSD, and 1GB of RAM on board. The latter has a 10-inch capacitive display and is expected to retail for $629 while the smaller one, which runs for $479, will likely house a 7-inch touchscreen, paired with a 1GHz Snapdragon processor, 512MB of RAM, dual cameras (rear and front), and 3G connectivity support. It's going to be a long, hot winter for the tablet computer market. At the meantime, make sure you checkout the Full PR right after the break.
Update1: Oh look, isn't it the new ViewPad 7 tablet? YES. And looks like it's already up on sale at Amazon.com, priced a little more than we've expected – $599(!). Is that for real or another one of those 'let the early adopters pay the price and then we'll make it cheaper?'
Update2: We're not so sure whether you'll like it or not but here's the deal: ViewSonic is now offering you a trade program – send in your old laptop or netbook and get up to £125 cash back when buying a new ViewPad tablet. What do you say?
Update3: Fellow US gadgeters, check this out: Office Depot's retail stores are now offering Viewsonic's 10-inch (1024 x 600) Android 2.2 G Tablet for $399 only. Remember, it's a Tegra 2 device that can easily pump out 1080p videos on your tele. So make sure you check out the full PR after the break or the local store next to your house.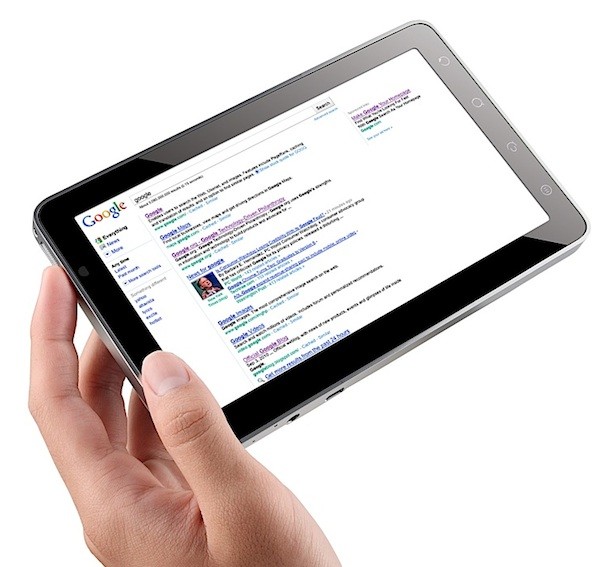 Office Depot Announces Availability of the ViewSonic G Tablet™ Just in Time for the Holidays
ANDROID™-Powered ViewSonic G Tablet™ Offers Fast Web Browsing and Access to Thousands of Apps
BOCA RATON, Fla.–(BUSINESS WIRE)–Office Depot (NYSE: ODP), a leading global provider of office products and services, today announced the availability of the ViewSonic G Tablet™, an Android™-based tablet computer, at retail store locations nationwide and online at www.officedepot.com.
Featuring a 10-inch LCD multi-touch screen, 1.3MP front-facing camera, 16 GB internal memory and microSD card slot, the G Tablet is sure to be a number one item for the gadget guru on your holiday list this season. Powered by Google's Android operating system, the ViewSonic G Tablet is equipped to handle mobile applications, play games in HD, and surf the web at blazing speeds when connected to a wireless hotspot.
"Android-based tablets are going to be one of the hottest items of the holiday season, and Office Depot is thrilled to be one of the first retailers to carry this much anticipated product," said Randy Wick, Vice President of Merchandising for Office Depot.
The ViewSonic G Tablet is available for $399.
To learn more about the products and services available at Office Depot, please visit your local Office Depot retail store location or www.officedepot.com. To become a fan of Office Depot on Facebook and receive exclusive content, offers and more, please visit www.facebook.com/officedepot. To follow Office Depot on Twitter, please visit www.twitter.com/officedepot.