Well, we knew it was only a matter of days before Dell's new hybrid machine, the Inspiron Duo, would officially become real. And while the 10.1-inch tablet / netbook device isn't exactly available for pre-orders yet (Dell says it should probably go live soon), we can finally tell you what's on it, when it'll be out, somewhere around the first week of December. Generally speaking, the basic model will run you for $549 (about £450), packing a dual-core Intel Atom N550 processor, along with 2GB of RAM, 250GB of storage, a Broadcom Crystal HD accelerator, and Windows 7 Home Premium for the OS. However, there are plenty of optional extras that can be added to Dell's ordinary bundle, such as the JBL speaker dock, that will definitely upgrade your day-to-day experience and make it, in our humble opinion, a lot more comfortable. But it would cost you a lot, a hundred bucks more. So there you have it – make it yours or let it go – it's your freedom of choice.
Update: And looks like the 10.1-inch Dell Inspiron Duo tablet / netbook hybrid is finally up at Dell's online store and available for purchase, starting at $549 for the base mode, which packs (as you already know) a dual-core Atom N550 processor, together with Windows 7 Home Premium for the OS, 2GB of RAM and plenty of other goodies on board. Full PR after the break.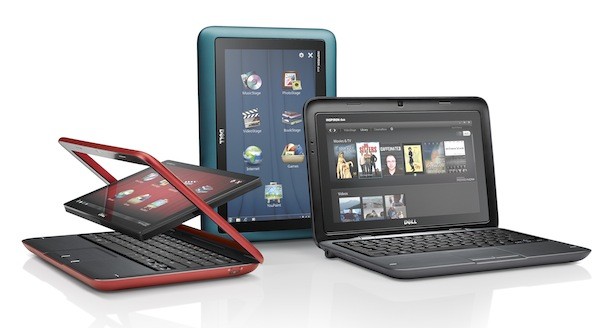 [Dell]
Dell Introduces the Inspiron duo – a Convertible Unlike Any Other

* Go from Touch to Type to Dock Mode in Seconds with One-of-a-Kind Design
* Unique Design Lets Families & Students Switch Seamlessly Between Entertainment and Productivity
* Available Today on Dell.com
* Inspiron duo Joins Growing Family of Dell Mobility Products
ROUND ROCK, Texas–(BUSINESS WIRE)–Dell today introduced another industry first design – the Inspiron duo convertible tablet. Sporting a unique, flip-hinge design, the Inspiron duo combines the simplicity of a tablet, the functionality of a full keyboard and the convenience of a dock so you can switch seamlessly from touch to type to dock mode in seconds. The tri-mode functionality is perfect for those who crave productivity yet also want the fun, interactive nature of a touch screen offering easy access to movies, TV shows, social-networking sites and more.
"We're committed to delivering the best products and the best customer experience, and we are bringing those twin aspects to life in our marketing campaigns, so our customers will see, hear and feel the Dell difference."
The Inspiron duo is the latest in Dell's growing portfolio of mobility products, which includes the Streak 5, the five-inch, go-anywhere device that fits perfectly in your hands, purse or pocket. With Streak 5, and now the Inspiron duo, Dell is demonstrating its commitment to mobile innovation and meeting the needs of today's on-the-go lifestyle, allowing people to stay connected to their friends, family and favorite content.
"Dell is changing the shape of computing, with products that usher in new experiences and allow people to stay connected to each other and the content they love from almost anywhere," said Sam Burd, vice president, Dell Consumer, Small and Medium Business Product Group. "The new Inspiron duo's dual purpose delivers one-touch access to great content and yet offers the functionality of a full keyboard for more intensive applications. We're excited to offer such an innovative and unique design to our customers."
The Inspiron duo, loaded with Windows 7 Home Premium and a dual-core processor, starts at $549*, $649 with optional dock, and is available today on www.dell.com in the United States, and in the United Kingdom on Dec. 2 on www.dell.co.uk. Through the holiday season, Inspiron duo is also available in retail, exclusively at Microsoft Stores and on www.store.microsoft.com. Availability in other regions will be announced soon.
"The work done to develop Dell's innovative new Inspiron duo is evidence of our close partnership efforts, combining the versatility and adaptability of Windows 7 with the creativity of Dell's unique flip hinge design to create a distinct and exciting new form factor," said Brad Brooks, corporate vice president of Windows consumer marketing at Microsoft. "And, given that the Microsoft Store has been named the exclusive retail partner during the holiday season, we're excited to extend this collaboration to offer this one-of-a-kind design to holiday shoppers."
From Touch to Type in Seconds
In tablet mode, with its screen facing outward, the duo is the perfect entertainment companion. Dell's innovative new duo Stage software provides easy touch access to music, video, an e-Bookstore through the BookStage** application, games and the Internet. The bright and gorgeous 10.1-inch high-definition display is also perfect for viewing videos.
Opening the lid and flipping the screen inward reveals a chiclet keyboard making traditional, productivity applications like e-mail, word processing, spreadsheets and presentations a breeze. Additionally, a built in Web-cam, integrated Wi-Fi and optional connectivity choices such as Bluetooth and 4G mobile broadband make it even easier than ever to stay in touch with friends and family.
For even more fun and versatility, Dell offers an optional Inspiron duo Audio Station dock with built-in media card reader, JBL speakers, two additional USB 2.0 ports, an Ethernet adapter and battery charger. When docked the Inspiron duo serves as the ultimate alarm clock, digital photo frame or top-notch music player.
For kids, the Inspiron duo is great for play as a touch tablet. Flip the screen and it's ready to help mom and dad organize their calendars. Students can watch videos or listen to music in touch mode on the way to class before flipping the screen to type notes or write a term paper in type mode. Also great for travelers, the Inspiron duo is a perfect on-the-go companion – watch movies or surf the Internet in touch mode, and organize itineraries, write a blog post or manage photos and music in keyboard mode with pre-installed Windows 7 Home Premium.
You Can Tell It's Dell
Dell is supporting its strong product portfolios with a new consumer marketing campaign, "You Can Tell It's Dell." The campaign, which began rolling out earlier this month, highlights the differentiated experiences and benefits of Dell's consumer products. "You Can Tell It's Dell" is part of the company's overarching "Power to do More" branding effort that emphasizes the company's commitment to deliver products and services across all segments, including large enterprise and public, that help customers grow and thrive.
"We are bringing the differentiated aspects of our products to life in new creative that is blanketing the television, as seen in the spot for the Streak 5, and on the web in the viral video for the new Inspiron duo, which garnered more than a quarter-million views in its first 72 hours," said PH Ferrand, Chief Marketing Officer for Dell's CSMB business. "We're committed to delivering the best products and the best customer experience, and we are bringing those twin aspects to life in our marketing campaigns, so our customers will see, hear and feel the Dell difference."
Dell Inspiron duo Specifications
* 10.1-inch HD (1366×768) display with capacitive multi-touch and HD accelerator for smooth HD playback; flips from touch to type
* Windows® 7 Home Premium installed
* Dell duo Stage software
* Integrated 1.3MP Webcam and digital microphone
* Two USB 2.0 ports; one headphone port
* Intel® AtomTM N550 dual core processor (1.5GHz)
* 250GB, 5400 RPM and 320GB, 7200 RPM hard drive options*** (vary by region)
* 2GB RAM DIMM DDR3 800 MHz****
* Optional Inspiron™ duo Audio Station dock with 7 in 1 card reader, JBL speakers, two additional USB 2.0 ports and an Ethernet adapter; charges battery while displaying photos or digital alarm clock
* Additional details provided at product availability
duo Stage: The Perfect Keep-In-Touch Interface
Dell's new user interface, duo Stage, makes using the Inspiron duo in tablet mode even better. Dell duo Stage lets families and students quickly access their favorite content as well as a collection of creative applications. The new interface presents instant access to collections of music, photos, videos, games, e-books** and other applications. For instance:
* Touching the MusicStage tile reveals an individual's personal music collection.
* The VideoStage organizes personal videos and downloaded TV shows and movies and gives people the ability to purchase or rent content directly from partners like CinemaNow in the United States.
* The PhotoStage includes integrated social networking capabilities through Facebook and Flickr so people can upload their latest photos or view pictures of their friends.
* BookStage** provides a central location for storing and purchasing e-books (available in the U.S. and U.K.).
Follow conversations on Twitter and in the blogosphere: #DellDuo
Key Links:
Inspiron duo: dell.com/inspironduo
Inspiron duo Image Gallery
Inspiron duo Direct2Dell blog post
Dell Facebook: Join the Conversation
Video: Dell Inspiron duo on YouTube
About Dell
Dell Inc. (NASDAQ: DELL) listens to customers and delivers innovative technology and services they need and value. Dell printers are available direct from Dell and from Dell's more than 50,000 partners worldwide. For more information, visit www.dell.com.
*Foggy Night color comes standard. Fastback Red and Marlin Blue available at additional cost.
**BookStage: Not a Dell offer. Customer will be required to set up an account with Blio. e-Book purchases occur between the customer and Blio, and are subject to the Privacy Policy and Terms and Conditions of Blio: http://www.blio.com/1000/en/terms.htm. Availability and terms vary by region.
***Hard Drive: GB means 1 billion bytes and TB equals 1 trillion bytes; actual capacity varies with preloaded material and operating environment and will be less.
****Graphics & System Memory: GB means 1 billion bytes and TB equals 1 trillion bytes; significant system memory may be used to support graphics, depending on system memory size and other factors.