As if the big Android tablets announcement wasn't enough, Acer also announced that it would be launching a 10.1-inch Windows 7 device. And while we are still awaiting further details on what this tablet should be packing inside, external outfit will measure 15mm thick and somewhere around the 2.2 pounds. Interestingly, it is said to have an AMD processor on board rather than an Intel Atom CPU or perhaps a Qualcomm Snapdragon one. Surely, it will offer some sort of a docking station to buy, along with dual 1.3MP cameras, WiFi connectivity and a 3G HSDPA WWAN. Stay tuned for plenty more to come.
Upate1: The guys over at DigiTimes are now reporting that Acer  plans to use AMD's dual-core C-50 Ontario APU inside its next 10.1-inch Windows 7 tablet. The impact of these news on a day-to-day use is actually huge – This will not only improve performance (thanks to the built-in Radeon HD 6250 graohics chip), it will also lower the power consumption dramatically (9W only). That is, of course, if all these mind-changing rumors are true. Stay tuned.
Update2: And looks like Acer's Windows-powered Iconia W500 tablet is finally up for pre-order for $549, with shipping starting Friday, April 15 and a line of specs that includes a 10.1-inch 1280 x 800 touchscreen display, a 1GHz Ontario (C-50) AMD Fusion processor, up to 2GB of RAM, 32GB of storage, HDMI out, three/six-cell battery at your choice, and an AMD Radeon HD 6250 card for the graphics. Interesting stuff happening within the Microsoft-tablets climate.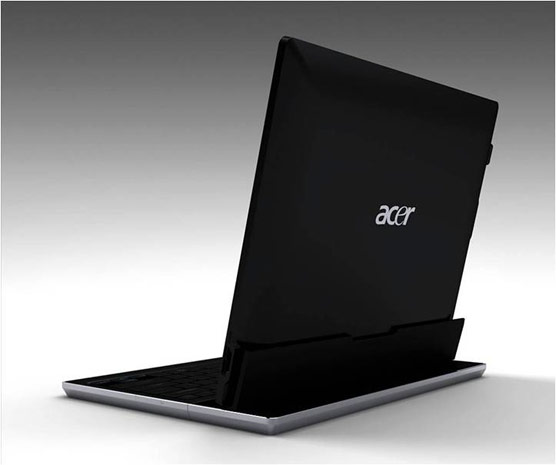 10.1″ Windows Tablet: Versatility in a tablet form factor
Acer's range of tablets also includes a 10.1-inch device offering an extremely innovative solution that combines touch screen user-friendliness with the comfortable experience of a physical keyboard. In fact, the tablet comes with a docking device that includes a full-size keyboard and more connectivity options to enhance the user experience.
Thanks to this simple solution, this tablet will provide optimal ergonomics and ease of use both on the go and at your desk. Thin and light (only 15 mm and less than 1kg), and with a 10.1″, high resolution display, it's easy to carry around and really unobtrusive. This tablet ensures outstanding entertainment and a superior touch experience.
The tablet will run on the next-generation AMD platform and will be equipped with two 1.3MP cameras, one rear and one front-facing, allowing you to take pictures, record video, chat and videoconference. Wi-Fi and 3G connectivity lets you keep in touch with your world at all times.
Available February 2011
Technological developments are changing the way we interact with devices. No longer a single product but a multitude of instruments with diverse form factors and display sizes designed to meet the specific connection need of that particular moment, allowing the digital individual to stay connected and interact with his world, anytime, anywhere.
Social networks, music, email, instant messages, photos, videos, chat and the web have become essential in everyday life. The content we produce, and the availability and accessibility to it at all times is what drives us towards new instruments.
Interaction, connecting, sharing and mobility. Welcome to the Acer tablet.