Toshiba NB520 and NB500 Netbooks Officially Announced
Toshiba has recently announced two new additions to its most popular netbooks lineup: the NB500 and the NB520. Both models, slated for release during the first quarter of 2011, are said to include a 10.1-inch 1024 x 600 LED-backlit display, along with up to 2GB of RAM, 250GB HDD, 3 x USB ports, Windows 7 Starter edition, WiFi, Bluetooth 3.0, and a 10 hours battery pack. The main difference between the two, and probably the one you're wondering about, is a pair of built-in Harman Kardon stereo speakers (2 watts each) that will help you take your NB520 sound experience to a whole new audio level. In addition to the physical differences, the NB520 also comes with an Atom N550 processor while its younger brother, the NB500, boasts a slightly slower CPU, an Atom N455. Unfortunately, there are no leaks of information about the prices of these netbooks, but color wise, both models are claimed to be available in a good selection of bright and vivid colors including Brown, Blue, Lime Green, Turquoise and Orange – coated with a soft rubber flavor. Full PR is right after the break together with Toshiba's official NB520 video.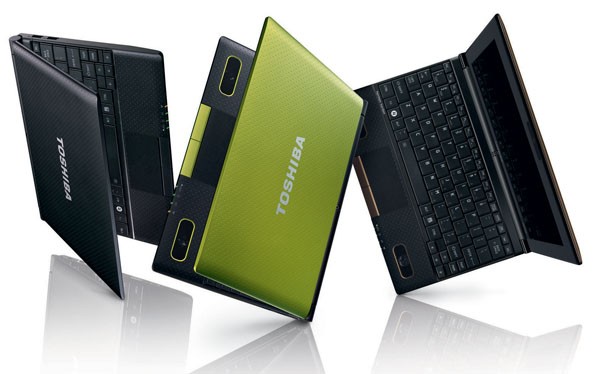 [via Pocket-lint]
ARVE Error: id and provider shortcodes attributes are mandatory for old shortcodes. It is recommended to switch to new shortcodes that need only url
The mobile sound machine: Toshiba mini NB520 with superior sound quality
Toshiba's latest netbook family includes the mini NB520 with Harman/Kardon® speakers and the no-frills model mini NB500
Neuss, 02nd December 2010
Toshiba Computer Systems, a division of Toshiba Europe GmbH, today unveiled two models of its new netbook family: the mini NB500 and the mini NB520, a model for users who want a slim and stylish netbook with enhanced sound features.
The mini NB520 is the world's first netbook with embedded premium speakers from Harman/Kardon® for a superb entertainment experience with a vibrant sound. The mini NB500 and the mini NB520 will be availablehttp://cms.aol.com/content/posts/create/21/ during the first quarter of 2011 throughout Europe, Middle East and Africa.
Netbook users very much value outstanding sound
"Offering a magic sound experience by featuring the world's smallest Harman/Kardon speakers on a laptop embedded in a slim and stylish casing, the mini NB520 meets a yet unfulfilled user demand in the netbook market", said Marco Perino, General Manager, Product Marketing EMEA Toshiba Computer Systems Division. 81.4% of netbook users say that it is important that their device offers a good sound. More than two thirds of netbook users use the speakers when listening to music or watching videos while being alone at home, while around 40% do so together with friends.
Vibrant bass and crystal clear trebles
Despite its diminutive size, the mini NB520 packs a powerful sonic punch with its 2 watt Harman/Kardon® stereo speakers, giving sound volume and quality not normally associated with netbooks. They support Dolby® Advanced AudioTM to provide a natural sound experience while listening to music or watching videos in HD quality (720p) on the netbook.
The Sleep and Music feature allows consumers who've stored their favorite music tracks on a MP3 player to connect the gadget to the netbook and listen to the music through the speakers without turning the PC on .
The slim mini NB500 serves users everyday computing consumption needs
As second member in Toshiba's new netbook family, the mini NB500 is targeted at users who appreciate a slim, mobile device with basic computing consumption features at a very competitive price. Despite the affordable price, the mini NB500 is one of the thinnest and lightest netbooks on the market featuring an Intel Atom processor.
Pleasing to all senses
While the mini NB500's and mini NB520's subtle look with shiny metallic reflections and engraved dot patterns is pleasing to the eye, the paint with its rubber textured feeling is appealing to the touch. A selection of five fresh colour variations – blue, brown, lime green, turquoise, and orange – give customers a wide choice to express their personality. The mini NB500 comes also in a black version.
Music adds value to the netbooks
Music Place powered by 7Digital offers an easy to use client that gives access to one of the widest catalogues of music. Users can either download purchased tracks and file it on the PC or store it on a personal cloud storage area and then sync their connected devices via internet. This opens up a modern way to enjoy content anytime and anywhere.
Additional press materials and information
To download images please visit the Image Library at the Toshiba Press Lounge at http://eu.press.toshiba.eu where also a visual news release on the mini NB520 can be found. Here you can also find a video which you're very welcome to embed on your website or blog.
About Toshiba Europe GmbH
Toshiba Europe GmbH (TEG) is a fully owned subsidiary of Toshiba Corporation, Tokyo, a global corporation with more than 130 years of company history. Toshiba is a world leader and innovator in pioneering high technology, a diversified manufacturer and marketer of advanced electronic and electrical products spanning information & communications systems; digital consumer products; electronic devices and components; power systems, including nuclear energy; industrial and social infrastructure systems; and home appliances.
Headquartered in Neuss, Germany, TEG is comprised of four business divisions: Computer Systems, Storage Device Products, Consumer Products and Electronic Systems Operations. Together, these divisions provide product offerings including industry leading portable computers and other mobile products and solutions, HDDs, DVDs, LCDs, TVs and electronic office equipment. As the headquarters for the EMEA region, TEG provides support and assistance to its local branch offices. For more information on Toshiba laptops and accessories, visit the Toshiba Press Lounge: www.toshiba.eu/presslounge
Toshiba was founded in 1875, and today operates a global network of more than 740 companies, with 204,000 employees worldwide and annual sales surpassing 6.3 trillion yen (US$68 billion). Visit Toshiba's web site at www.toshiba.co.jp/index.htm.