Google has just finally, officially announced the release of the Nexus S (from Samsung), Mountain View's next flagship smartphone that was built according to commonly accepted 2010 standards and designed to replace the company's first-gen HTC Nexus One. So what makes it so exciting, you're asking? Well, there's a stunning 4-inch WVGA "contour display" inside, paired with a 5 megapixel camera, 16GB of internal storage, NFC (Near Field Communications), 512MB of RAM, a 1GHz Cortex A8 Hummingbird processor, and a triband HSPA with AWS support. Besides that, for $199 with a two-year contract or $529 unlocked, you get yourself a three-axis gyroscope, together with a single USB 2.0 port, 802.11 b/g/n WiFi, Bluetooth 2.1, a GPS integration, and Google's latest Android 2.3 Gingerbread platform, already preloaded onboard – Nice! So how do you get one? Starting December 16th, the Nexus S will be available for a purchase (via T-mobile and Best Buy) by anyone who wishes to have it, either online or at one of the local retail stores. Full PR and a pair of videos right after the break.
Update: Looks like Best buy is gearing up to start selling Google's magical smartphone, the Nexus S, throughout its US retail stores, starting this Thursday, 8AM sharp. Basically, you won't be able to secure yourself a device (or two) in advance, which means you'll have to think about the possibility of queuing up for a long long time – and be sure we're gonna see long ones this time (just a hunch).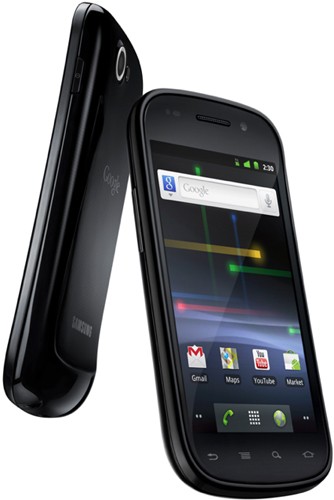 [youtube]http://www.youtube.com/watch?v=lxUXulxE5o0[/youtube]
[youtube]http://www.youtube.com/watch?v=fjaYKNwWWiQ[/youtube]
SAMSUNG AND GOOGLE TO DELIVER NEXUS S, THE FIRST MOBILE PHONE IN THE WORLD POWERED BY ANDROID 2.3 Nexus S offers the latest version of the Android platform, Gingerbread, 4″ Super AMOLED touch screen with curved design, Near Field Communication (NFC), front and rear-facing cameras and 1GHz application processor

SEOUL, Korea, and DALLAS, US December 6, 2010 – Samsung Electronics, a leading mobile phone provider and the No. 1 mobile phone provider1 in the U.S., and Google™ today announced Nexus S™, the world's first handset to feature the latest version of Google's Android™ platform. Powered by Android 2.3, Samsung and Google have packed Nexus S with powerful technology and the latest in hardware features.

JK Shin, President and Head of Mobile Communications Business at Samsung Electronics, said, "Samsung and Google have worked together closely to deliver the best Android smart phone experience for consumers. It has been our ambition in working with Google to continue to push the Android platform forward and create a smart phone that has both superior functionality and a stunning user-experience. It is extremely satisfying to see this partnership again bear tremendous fruit."

"Samsung was thrilled to work with Google to create the first device featuring the much anticipated Android 2.3 OS. Nexus S is powerful proof of Samsung and Google's commitment to bringing technology firsts to market and launching products that utilize the open and innovative Android operating system," said Omar Khan, chief strategy officer of Samsung Telecommunications America. "Nexus S integrates Samsung's best-in-class hardware and technology with the exciting new features and upgrades of Android 2.3 Gingerbread to give consumers a breakthrough smartphone experience."

"Google is excited to co-develop Nexus S with Samsung, ensuring solid integration of hardware and software to deliver the lead device for the latest version of Android, Gingerbread," said Andy Rubin, Vice President of Engineering at Google.

Nexus S is designed with Samsung's brilliant Super AMOLED touch screen technology providing a premium viewing experience. The 4-inch Contour Display features a curved design for a more ergonomic style and feel when held to the user's face. Nexus S also features Near Field Communication (NFC) technology which allows you to read information off of everyday objects like stickers and posters that are embedded with NFC chips. Powered by a 1 GHz Samsung application processor, Nexus S produces rich 3D graphics, faster upload and download times and supports HD-like multimedia content.

Nexus S is equipped with a 5 megapixel rear facing camera and camcorder, as well as a VGA front facing camera. In addition, Nexus S features a gyroscope sensor to provide a smooth, fluid gaming experience when the user is tilting the device up or down or panning the phone to the left or right. Nexus S also comes with 16 GB of internal memory.

Android 2.3, Gingerbread, is the fastest version of Android yet. It features support for Near Field Communication (NFC), a new and improved keyboard with multi-touch support, Internet calling (VoIP/SIP support), and a clean new user interface. Nexus S also includes popular Android features such as portable Wi-Fi hotspot, true multitasking, access to Google mobile services such as Google Search™, Gmail™, Google Maps™ with Navigation, Voice Actions, Google Voice™ and YouTube™, and access to over 100,000 apps and widgets on Android Market™.

Nexus S can be purchased (unlocked) online and in-store from Best Buy retailers in the U.S. starting after December 16 and at Carphone Warehouse retailers in the U.K. after December 20.