Shocking! Toshiba has just announced yet another NVIDIA Tegra 2 tablet and oddly, it ain't the 10-inch Folio slab we've all seen before. Details are scarce at the moment but we do know that the package includes a 10.1-inch 1280 x 800 display, with an integrated accelerometer, Adaptive Display technology (whatever that means), dual webcams (5mp at the back plus 2mp up front), Google's Honecomb Android 2.4 platform and myriad types of ports , such as full sized USB and HDMI hubs, a mini-USB socket, and an SD card slot. Obviously, we're very excited about it, and hopefully we should expect to see a working version in the coming days or so. There's another image at the other side of the post.
Update1: Quick measures update: The slate is said to weigh about 1.7lb and will feature a 0.6-inches body.
Update2: PCMag's Lance Ulanoff was lucky enough to take a closer look at one of Toshiba's unnamed working units at the CES show in Vegas and you can watch his quick "first-look" video right after the break.
Update3: And looks like Tosh has finally started rolling out its latest and greatest Android 3.0 tablets lineup, now available for a purchase over at Newegg's online store and known as ANT. Apparently, there are three Honeycomb tablets in stock: ANT-100 ($449.99), ANT-102 ($499.99) and ANT-104 ($579.99). Each one of them boast that 10.1-inch (1280 x 800) touchscreen on top, along with NVIDIA Tegra 2 chip, and either 8/16/32GB of storage at your choice. Cool!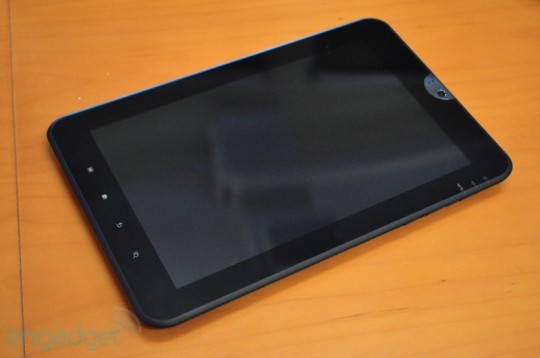 [via Engadget]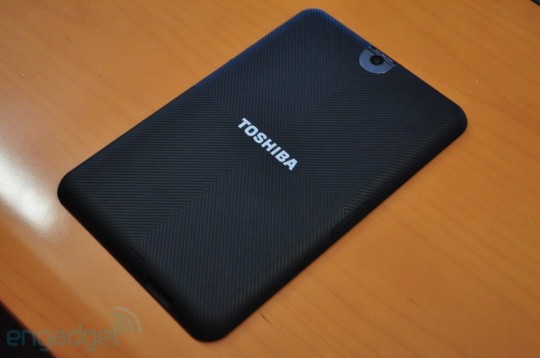 [youtube]http://www.youtube.com/watch?v=pJSyI7gC2YU[/youtube]