Remember Acer's mysterious 10.1-inch android-tablet which we've already seen in New York City back in November, last year? Well, there it is, live and kickin' in NVIDIA's booth at CES 2011, rising up again – this time with a brand new name – Acer Iconia Tab A500. Generally speaking, this is Acer's first serious attempt to take on the iPad, and it's a worthy one, no doubt. With "10 point multitouch" screen, Nvidia Tegra 2 chip, a built-in gyroscope and hopefully, Google's android Gingerbread running inside, you can't go wrong, can you? Especially when it's going to take advantage of the Verizon Wireless 4G LTE Mobile Broadband network. As for the UI, we're looking at "Acer UI 4.5" that the company has skinned atop the the Android OS, while other specs include a bunch of embedded ports such as HDMI out, a full-sized USB plus a micro-USB one, a dock connector on the bottom, and 1080p along with 3D gaming support. Still no price or availability dates to share at the moment, but 'till then, Engadget has the hands-on video that you can find along with the Full PR, after the break.
Update1: Acer has just confirmed the UK pricing for its forthcoming Iconia Tab A500 tablets lineup and it's pretty much within the iPad range: The WiFi-only flavors (Windows 7 or Android OS) will run you for £449 each, while the 3G-enabled W500 version will set you back for £529 when it officially gets out in the UK on April 8th. Still no word about the A500 pricing numbers.
Update2: And looks like the US official price is going to be more competitive than we originally thought, or in other words, the 10.1-inch (1280 x 800) Android Honeycomb tablet which boasts a 1GB of RAM along with a dual-core 1GHz Tegra 250 and dual cameras on the back (5MP) and up front (2MP), will set you back for only $450 on Best Buy retail stores while shipping starts on April 24. Let the competition begin!
Update3: It seems that Acer's new Iconia Tab A500 is finally listed for sale on Best Buy. Apparently, this is the WiFi-only version of Acer's brand new tablet and it will set you back for $450. In exchange you're getting all the good specs we've already mentioned, including a Tegra 2 chip, paired with a 10.1-inch display, 16GB of storage, USB 2.0 hub and 802.11b/g/n WiFi connectivity.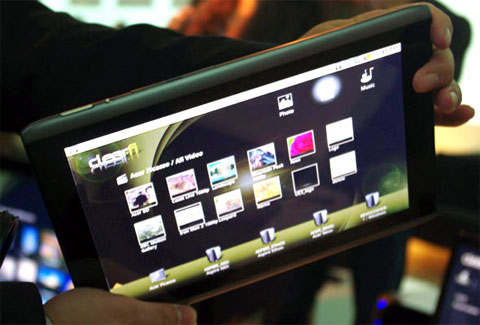 [viddler id=2e42169b&w=437&h=288]
Acer's New ICONIA Tab A500 to Support Gamers and Mobile Consumers on the Verizon Wireless 4G LTE Network
LAS VEGAS and BASKING RIDGE, N.J., Jan. 5, 2011 /PRNewswire/ — Acer announced today that the new Acer ICONIA Tab A500 will be showcased with Verizon Wireless at the 2011 International Consumer Electronics Show (CES), taking advantage of the Verizon Wireless 4G LTE Mobile Broadband network.
Providing the backbone for the United States' fastest, most advanced mobile network, Verizon Wireless 4G LTE ensures an improved end-user experience, including fast navigation and high-definition media streaming. The 4G LTE technology will be showcased on the ICONIA Tab A500 at the Verizon Wireless booth (#35216 in the South Hall of the Las Vegas Convention Center) at CES with a live demo.
"Innovation is in our DNA," said Campbell Kan, vice president of Acer's Smart Handheld BU. "We are proud to once again offer users the most advanced technologies. With the ICONIA Tab A500 supporting 4G LTE, users will be able to wirelessly navigate, download or stream as seamlessly as they do with a wired connection. This is indeed another step toward a truly mobile Internet experience."
Sleek, smart and full of innovative features, the ICONIA Tab A500 will be equipped with the latest highly intuitive Android OS and Acer UI 4.5 to reach a whole new level of interactivity. What's more, the Clear.fi media sharing system will be preloaded on the device to easily access, play and share multimedia across the home network and to instantly publish updates to social media networks.
Designed for HD entertainment, this tablet comes with a high-resolution, high color contrast display, allowing users to play or share HD video with friends on the go. Complete with a built-in HDMI port and 1080p output, it may also be used to enjoy HD content in full HD on a big-screen TV or monitor.
The 10.1″ full capacitive touch screen ensures an optimal on-screen experience from every angle. Aluminum casing provides a cool look and feel, while its high-gloss finish decorated with an engraved pattern demonstrates subtle sophistication. Despite being just 13.3mm thick, it's powerful enough to provide fun and productivity in any location.
One of the tablet's most impressive features is its ability to run and play premium HD arcade games and complex online 3D games, thanks to the 10-point multi-touch and gyro meter control, which guarantees an entertainment experience on par with the best game consoles.
The ICONIA Tab A500 will be equipped with NVIDIA Tegra 2 dual core 1.0Ghz processor with Flash 10.1 support for optimized HD Web experience, 3D gaming and multimedia playback anywhere. For seamless communication, it also features the SkyCross antenna and ZTE LTE wireless module.
The Verizon Wireless 4G LTE Mobile Broadband network, launched in December 2010, is the fastest, most advanced 4G network in the United States, providing speeds up to 10 times faster than Verizon Wireless' 3G network. Verizon Wireless' 4G LTE Mobile Broadband network currently reaches one-third of all Americans, with plans to expand the network to the company's entire 3G coverage area over the next three years.
For more information about Verizon Wireless' 4G LTE network, visit www.verizonwireless.com/lte.
About Verizon Wireless
Verizon Wireless operates the nation's fastest and most advanced 4G network and largest and most reliable 3G network, and serves more than 93 million customers. Headquartered in Basking Ridge, N.J., with 80,000 employees nationwide, Verizon Wireless is a joint venture of Verizon Communications (NYSE, Nasdaq: VZ) and Vodafone (LSE, Nasdaq: VOD). For more information, visit www.verizonwireless.com. To preview and request broadcast-quality video footage and high-resolution stills of Verizon Wireless operations, log on to the Verizon Wireless Multimedia Library at www.verizonwireless.com/multimedia.
About Acer
Since its founding in 1976, Acer has achieved the goal of breaking the barriers between people and technology. Globally, Acer ranks No. 2 for total PCs and notebooks. A profitable and sustainable Channel Business Model is instrumental to the company's continuing growth, while its multi-brand approach effectively integrates Acer, Gateway, Packard Bell, and eMachines brands in worldwide markets. Acer strives to design environmentally friendly products and establish a green supply chain through collaboration with suppliers. Acer is proud to be a Worldwide Partner of the Olympic Movement, including the Vancouver 2010 Olympic Winter and London 2012 Olympic Games. The Acer Group employs 7,000 people worldwide. 2009 revenues reached US$17.9 billion. See www.acer-group.com for more information.
© 2009 Acer Inc. All rights reserved. Acer and the Acer logo are registered trademarks of Acer Inc. Other trademarks, registered trademarks, and/or service marks, indicated or otherwise, are the property of their respective owners.