Of course we've already seen Dell tease us all with its upcoming 7-inch Android tablet, back in September. But today we finally get a chance to see a real unit of Dell's production model, this time with a few more details, worth knowing, attached and the oh-so-not-surprising "Streak 7" moniker. And while availability or pricing are still particularly vague – excluding the rumors that indicate a release "in the coming weeks" – other specifications include an Android 2.2 platform (and potentially upgrade to 3.0?), paired with a Gorilla Glass-protected touchscreen, 16GB of storage, a 1.3MP front-facing camera (plus 5mp on the back) and a powerful 1GHz dual-core Tegra 2 processor to improve your overall graphics and let you watch high-res content on board. Full PR plus Dell's commercial video right after the break.
Update1: Are you curious about the inner part of the hottest Dell Streak 7? Make sure to check out the disassembling video right after the break.
Update2: And yet another quick hands-on video that you can watch after the break. This time in one piece 🙂
Update3: T-Mobile will be offering the 7-inch, Android Froyo slate, powered by 4G capabilities and equipped with NVIDIA's Tegra 2 graphics, starting February 2nd, for $199.99 on a two-year contract (including a $50 mail-in rebate), or just $450 off contract.
Update4: And looks like Dell's WiFi-only Streak 7 tablet officially goes live in the UK, with prices starting at £299 (about $485), and specs that include pretty much the same lineup (3G capabilities aside): a 7-inch (800 x 480) touchscreen, paired with a Tegra 2 dual-core CPU, 16GB of storage, a rear 5 megapixel camera, and another one at 1.3 megapixel up front. Regretfully, there's "only" Android 2.2 running on board, but hopefully a Honeycomb update will be available for this device, somewhere before the Fall.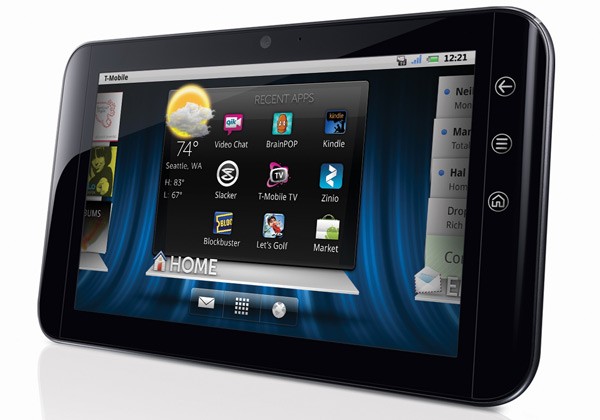 [youtube]http://www.youtube.com/watch?v=6Lh7SUfNg3M[/youtube]
[youtube]http://www.youtube.com/watch?v=-V0VRTk4epA[/youtube]
[youtube]http://www.youtube.com/watch?v=YY4jiGmlz8w[/youtube]
Dell and T-Mobile USA unveil Streak 7, both companies' first 4G tablet offering the ultimate entertainment experience
Las Vegas, Nev. – Jan. 6, 2011 PST
Today at 2011 International CES, Dell and T-Mobile USA, Inc. unveiled Dell's new 7-inch Android™ tablet, the Streak™ 7, both companies' first 4G* capable tablet specifically designed for the super-fast mobile broadband speeds of T-Mobile's 4G network. The sleek compact form of the Streak 7 combined with T-Mobile's super-fast 4G mobile broadband network make it the ultimate entertainment hub for families and consumers craving a rich multimedia and web experience both at home and on-the-go.
Portable, passable and easily shared, the Streak 7's brilliant seven-inch WVGA touch screen with Gorilla® Glass is ideal for Web browsing, streaming video, watching TV and movies, reading books and magazines or playing games virtually anytime, anywhere. The Streak 7 features Google's™ Android 2.2 operating system, a dual core 1GHz NVIDIA Tegra 2 processor and full support for Adobe® Flash® Player. Preloaded with a variety of compelling content and applications from
T-Mobile, the Android-powered tablet also has access to more than 100,000 applications, games and widgets from Android Market™.
In addition to a rich entertainment experience, the Streak 7 easily captures and shares life moments with the rear-facing 5 megapixel camera for high-definition stills and video recording. The front-facing 1.3 megapixel camera with the preloaded Qik™ Video Chat application provide video-calling over T-Mobile's network as well as Wi-Fi to enable spontaneous connections with family and friends.
"Dell is continuing to create the very best in entertainment, mobile and gaming experiences," said Steve Felice, president of Dell's Consumer, Small and Medium Business unit. "With Streak 7 on the blazingly fast T-Mobile network, families, students and mobile professionals will gather, share, and find new ways to interact and keep in touch."
"We're proud to bring consumers our first 4G tablet, a milestone for T-Mobile, Dell and the industry," said Cole Brodman, CMO, T-Mobile USA. "As tablets change the way we consume content, T-Mobile's combination of 4G speeds, breadth of our 4G network, our affordable data plans and compelling new products like the Streak 7 place us in a position to offer the best experience and value for our customers."
The new Streak 7 will feature Dell's innovative Stage user interface, which provides a seamless and unified experience for accessing all your favorite content. Later this year, Dell will add syncing to Stage so people can keep their photos, contacts, calendars and other personal content synchronized across their Dell Stage-equipped devices, from tablets to PCs, connected through their home network.
T-MOBILE ENTERTAINMENT AND CONTENT:
The Dell Streak 7 also comes preloaded with unique content and applications to entertain the whole family, including:
* T-Mobile TV: live and on-demand TV including live news, sports and full-length entertainment, plus on-demand full episodes of your favorite shows.
* BrainPOP: animated educational content embraced by students and trusted by teachers and parents around the globe. BrainPOP brings learning to your fingertips.
* Zinio: the largest online newsstand, enabling customers to shop for, search inside, read, share and save digital content in new ways with more than 75,000 digital magazines from 26 countries.
* Qik Video Chat: connect with friends and family through T-Mobile's network and Wi-Fi, unlike some other video-calling solutions that only work through Wi-Fi. With the Streak 7's front-facing camera paired with Video Chat through Qik, customers can hold video conversations with those who have a Streak 7, or other compatible mobile device, and even broadcast their view through the rear-facing camera.
* Additional entertainment applications including Blockbuster, Kindle for Android, Let's Golf demo, Slacker Radio and Zoodles.
AVAILABILITY INFORMATION:
The new Dell Streak 7 Tablet is expected to be available in the U.S. in the coming weeks at T-Mobile retail stores, www.t-mobile.com, and direct from Dell.
FEATURES & SPECIFICATIONS:
* Brilliant seven-inch WVGA (TFT) touch screen display with Gorilla Glass
* Android 2.2 (Froyo) with Android Market
* Qik video chat with built-in front-facing 1.3-megapixel webcam
* Stage User Interface – easy access to the stuff you care about
* Built-in support for T-Mobile's 4G mobile broadband network and Wi-Fi
* Dual core 1Ghz NVIDIA Tegra 2 processor
* SMS/MMS, SWYPE® virtual keyboard and stereo Bluetooth 2.1 capable
* Support for Adobe® Flash® Player
* Support for Microsoft® Exchange e-mail, contacts and calendar
* 16 GB of internal memory and SD Card slot with support for expandable memory up to 32 GB
* Dimensions: 7.87″ x 4.72″ x 0.49″
Streak 7 adds to Dell's rapidly expanding mobility portfolio and represents the first 4G tablet for T-Mobile's robust mobile broadband product lineup.
Follow conversations on Twitter and in the blogosphere: #Streak7