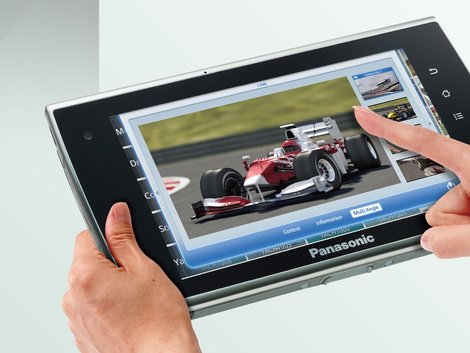 Panasonic is about to join the overcrowded group of international tablet doers, and tinge everything with something of its own color. The Japanese Corp, that recently held a press conference at CES 2011, has officially announced a new line of three Android Froyo tablets, equipped with either 4, 7, or 10-inch displays on top of the slate, and similar hardware specs under the hood. The company, that is well known for its unmatched expertise in the field of screening technology, is said to put its latest and greatest Viera Connect software solution in all three models, which means a seamless connectivity between tablet content and your big flat TV screen. In addition to that, Panasonic has also added a very convenient home theater remote controlling feature within, so that you won't miss the many fun and entertaining events that take place around the globe. And while price and availability details are still missing, full PR is just after the break.
Panasonic Develops VIERA Tablet for Cloud Services
Osaka, Japan – Panasonic Corporation has developed a new smart terminal called the VIERA Tablet to enable easy access to a variety of cloud services in conjunction with its VIERA digital televisions. The VIERA Tablet, which will be put in the global market within this year, marks Panasonic's first step toward cloud-based services including video streaming and e-books. Prototypes of the new tablet will be exhibited at the 2011 International CES (2011 CES) in Las Vegas, Nevada, from January 6 to 9.
The VIERA Tablet is a tablet-type terminal with a small touch screen LCD display. The new tablet is designed to provide creative functions and easy operability in conjunction with VIERA digital televisions to deliver new value that cannot be offered through Internet televisions alone. The tablet will create a whole new viewing style. Its intuitive navigation interface makes it easy for the user to use cloud services. The tablet can also work as a sub-screen for displaying images and information related to the images shown on the connected television.
The VIERA Tablet will come in various models with different screen sizes from four to ten inches to offer the optimum graphical user interface (GUI) with visibility and operability suitable for various services and content. These portable devices feature a slim and lightweight design, long hours of operation and shock resistant construction, incorporating Panasonic's know-how in hardware design and development that has been accumulated over the years.
Building upon the technologies developed for the VIERA Tablet, Panasonic will work to launch its cloud service business as early as possible – with an eye to forming alliances with major companies in various industries, – to offer the services that will be fun and easy to enjoy.
At 2011 CES, Panasonic will introduce its concept of entertainment via the VIERA Tablet to bring about, including the following:
(1) Enjoy IPTV services such as VIERA Connect* online video-on-demand and interactive services
(2) Use it intuitively as a "visual remote control" to operate TV including switching channels
(3) View sports scenes from different angles as a sub-screen
(4) Communicate via social network services (SNS) while watching TV
(5) Enjoy the advantage of e-commerce, ordering suggested items related to the TV contents by shopping online on the tablet
*VIERA Connect: IPTV service in VIERA televisions that offers a variety of contents and services easily accessible with the TV remote.