Archos Launches Ice Cream Sandwich 97 Carbon Tablet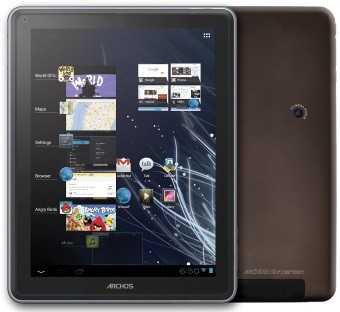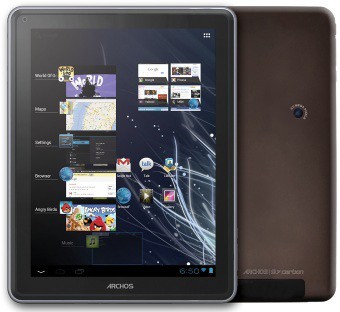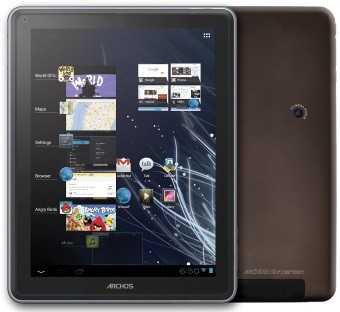 It's been  awhile since we've heard from Archos, but now they are planning to return strongly, with a new line of cheap Android ICS tablets, dubbed "Elements." Basically, we're looking at three different versions in that series, at three completely different sizes. The first one, the 97 Carbon, is said to include a 9.7-inch IPS display, along with a 1GHz processor, two cameras, 16GB of internal storage, expandable via microSD slot. The 0.45-inch thick aluminum tablet will also have an HDMI output to increase the TV connection options for users, as well as a full-sized USB hub and an Ice Cream Sandwich platform for the OS. Prices range from $230 to $250 USD, with 7 inch and 8 inch tablet devices to follow in the coming future. Full PR after the break.
ARCHOS Releases New ELEMENTS Line; Introduces First in the Series, the 97 Carbon
ARCHOS, an award-winning innovator in consumer electronics, is pleased to introduce the ARCHOS 97 carbon, the first of its new tablet range called "ELEMENTS", an entry-level line up of 7, 8, and 9.7 inch tablets that combine ARCHOS design and engineering with full access to Google PlayTM and a full suite of Google apps at an affordable price.
Equipped with the latest mobile technology and an elegant aluminum finish, the ARCHOS 97 Carbon is only 21.8 ounces and 0.45″ thick. Its sharp and clear IPS multi-touch screen delivers amazing vivid colors and impressive wide viewing angles. For the smoothest interface experience, ARCHOS has powered this tablet with a fast 1GHz processor, 1GB of RAM while running AndroidTM 4.0 "Ice Cream Sandwich".
Combining very high performance hardware, intuitive software and affordability, this Google PlayTM supported device will be available starting in July 2012 for $229.99 – $249.99 SRP.
"We wanted to introduce a new series that not only combines affordability with a new slim design, but features the best that Google has to offer," says Henri Crohas, ARCHOS Founder and CEO. "With the ELEMENTS series we have done just that. It's the perfect balance of hardware, software optimization and content through the Google PlayTM ecosystem."