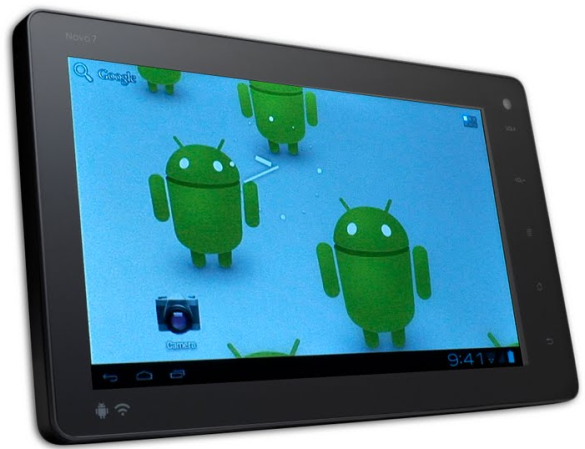 Ainol is a well known Chinese player, active in the low-budget tablets market. Frankly speaking, it has never been much of an interest for us, but today it definitely is, as the company announces the world's first Android 4.0 tablet, or in its most friendly name: Novo7. The 7-inch capacitive touchscreen device which is supposedly based on Ingenic JZ4770 mobile applications processor and powered by a 1GHz XBurst CPU, runs Google's latest and greatest Ice Cream Sandwich for the OS, and features a Vivante GC860 GPU clocked at 444MHz, along with a VGA front-facing camera plus a rear 2MP, microSD slot expansion (up to 32GB), USB 2.0, an HDMI output, WiFi, built-in G-senor and a battery that can deliver in one single charge 25 hours of video, or about 6-8 hours of continuous video playback work. The price, if you insist on asking, stands at $99 or just above the one hundred mark including shipping. Wouldn't you get one, now that we've told you that? Anyway, while thinking about it hop on in for the full update and a quick video after the break.
 [Ainovo]
[youtube]http://www.youtube.com/watch?v=2i41fA9WfsA[/youtube]
MIPS Technologies and Ingenic Semiconductor Announce
Availability of World's First Android™ 'Ice Cream Sandwich' Tablet
1GHz, Low-Power Tablet Sets New Market Standard at Sub-$100 Price Point
SUNNYVALE, Calif. – December 5, 2011 – MIPS Technologies, Inc. (NASDAQ: MIPS), a leading provider of industry-standard processor architectures and cores for digital home, networking and mobile applications, and Ingenic Semiconductor, a leading China-based CPU provider for mobile multimedia applications, today announced worldwide availability of the world's first tablet based on Android ™ 4.0, known as 'Ice Cream Sandwich', that is retailing for less than $100 (U.S). The tablet is powered by Ingenic's JZ4770 mobile applications processor, which leverages a MIPS-Based™ XBurst™ CPU running at 1GHz.
According to Andy Rubin, senior vice president of mobile at Google, "I'm thrilled to see the entrance of MIPS-Based Android 4.0 tablets into the market. Low cost, high performance tablets are a big win for mobile consumers and a strong illustration of how Android's openness drives innovation and competition for the benefit of consumers around the world."
The new Android 4.0 tablet is available in China and online through Ainol Electronics Co., Ltd. It will be available in the United States and other geographies within the next several months under brands from companies including Leader International Inc. and OMG Electronics Ltd.
The new tablet is available with a 7″ capacitive multi-touch screen. 8″ and 9″ form factors will be available soon. All versions include support for WiFi 802.11 b/g/n, USB 2.0, HDMI 1.3 and microSD, as well as 3D graphics with the Vivante GC860 GPU, 1080p video decoding and dual front/rear cameras. The XBurst processor's power-efficient architecture provides extended battery life-the 7″ tablet draws less than 400mA during active web browsing.
"We are pleased to join with MIPS to announce these breakthrough high-performance, low-power, low-cost Android 4.0 tablets. Combining the elegance of the MIPS architecture and Ingenic's innovation in processor design, we are bringing a new level of processor technology to mobile devices. As we continue to collaborate with MIPS to broaden the mobile ecosystem around the legendary MIPS architecture, we anticipate even broader proliferation of our devices worldwide. We believe the mobile world will be more versatile and colorful with another processor joining in," said Qiang Liu, chairman and CEO, Ingenic Semiconductor.
"The openness of Android is enabling a new level of connectedness and interaction between devices and between people across the globe. We are excited to be a part of the Android ecosystem delivering on that vision. We applaud Ingenic's accomplishment in developing this new high-performance, feature-rich Android 4.0 tablet, and offering it at a price point that makes it widely accessible. We look forward to teaming with Ingenic as it continues to develop MIPS-Based mobile innovations," said Sandeep Vij, president and CEO, MIPS Technologies.
Ingenic JZ4770 SoC
The Ingenic JZ4770 SoC inside of the new tablet is one of the first MIPS-Based systems-on-chips (SoCs) targeted for mobile devices that delivers 1GHz+ frequency, increasingly a requirement for tablets and other devices that incorporate rich multimedia and high-performance applications/functionality. The JZ4770 SoC is powered by a MIPS32 compatible XBurst CPU designed by Ingenic. The XBurst CPU core adopts an innovative ultra-low-power pipelining architecture which consumes less than 90mW in 1GHz (with L1 cache), and the entire SOC consumes ~250mW with the CPU and video engine operating under full load. In addition to the XBurst CPU, the JZ4770 SoC integrates an optimized 1080p video processing engine, OpenGL ES 2.0 3D graphics processing unit from Vivante Corp. and numerous on-chip analog and application blocks such as audio codecs and GPS.
Pricing and Availability
Ingenic's JZ4770 SoC for Android 4.0 tablets is available now. The new Android 4.0 tablet is available in China and online through Ainol Electronics Co., Ltd. at www.ainovo.com. The 7″ tablet retails for less than $100 (U.S.) non-subsidized. The tablet will be available in other geographies within the next several months.