Tablets, Androids, portable devices, we keep hearing them a lot, everywhere we go, in/off cyber world. The latest, is from Camagni, a Taiwanese group that brings us the Webstation, an Android-based tablet device which sports a 7-inch 800 x 480 glass touchscreen, paired with a 624MHz Marvell PXA303 processor, 128MB of RAM, 256MB of internal storage, a microSD card slot (expandable up to 8GB capacity) and a nice slick whitish frame, that comfortably fits the palm of your hand. Communication wise, you'll find the Webstation equipped up to date with 3G WWAN, 802.11b/g WiFi and even a GPS navigation system, that was tucked in order to guide your way out there. Price suppose to stand at $399 in Japan while availability dates are still a mystery – although we do know – that basic white flavor is not alone and Pink or Black hues will hit the shelves as well. Hands on videos were added after the jump, hit them up and catch with the updates.
Update1: Turns out you can pre-order the Webstation Android tablet right now from Camagni's online store, equipped with that 7-inch glass touchscreen, a 624MHz Marvell PXA303 and 256MB of flash storage, for $389 in case you're one of those "early birds" or $399 if you decide to do a thorough market research before getting now.
Update2: Looks like Camangi's Android-based Webstation has finally landed on US shores and the guys at Gear Diary have taken it for a series of unboxing shots. Hit the break to see the results (third video).
Update3: It seems the guys at Laptop aren't pleased with Camangi's  performance, stating it's sluggish and a bit limited at the moment. Design wise, they were very satisfied.
Update4: Apparently, Camagni just pushed down the Webstation price from $399 to only $275. Now, Whether it's the fear from Apple's iPad which suppose to come out next month or the growing toll of Android tablets available around, hard to tell – but it's up to you to decide – we'd like to see some software and hardware improvements before trying it out.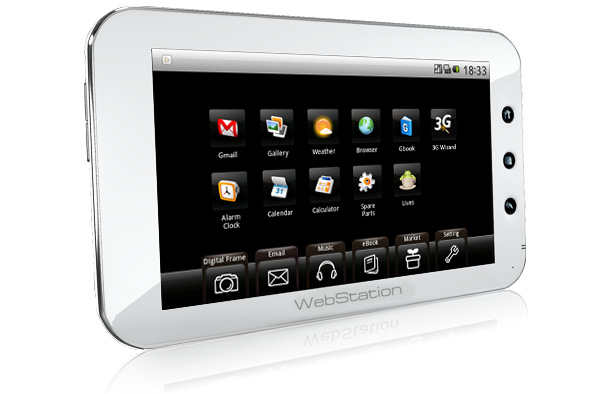 [via engadget]
[youtube]http://www.youtube.com/watch?v=HLqXPyBWr0g[/youtube]
[youtube]http://www.youtube.com/watch?v=CzkODn9WEzM[/youtube]
[youtube]http://www.youtube.com/watch?v=2PcJocpPfXk[/youtube]