A Personal Folders file (.pst) is an Outlook data file that in general stores the messages and other items on your computer. In fact, this is the most common file in which information in MS Outlook is saved by home users or in small organizations. The key point to note is that as a .pst file is kept on your computer, it is not subject to mailbox size limits on the mail server. Therefore, by performing a simple act of removing items to a .pst file, it gets easier for you to free up the storage space in the mailbox. But just like any other file format, these .pst files also get corrupt in various circumstances.
There are all sorts of reasons why an Outlook PST file can become corrupt, and whenever such unwanted incidents happen; it stops working. If you work within any size business that depends upon MS Outlook, chances are you will need the services of a PST repair tool.
However, we are aware of the fact that most of the organizations depend on MS Outlook for email, calendaring, tasks, contacts. In fact, it won't be wrong to say that MS Outlook is often the heart and soul of a business. But the real matter of concern is its fragility and it can be a real big nightmare when it breaks. Outlook PST files can become corrupt and may even turn inaccessible due to different reasons. But once the outlook PST file gets corrupt then what happens. There is always a high possibility where your entire communication or work routines come to a sudden halt.
Fortunately, plenty of tools are out there that can help in keeping the integrity of that data file intact. Which ones are the most reliable and safe to use? If you or your organization relies on Outlook, then there is only one tool that I am going to talk about could save your day and time – Kernel for Outlook PST Repair.
Kernel for Outlook PST Repair
Kernel for Outlook PST Repair provide effortless PST file recovery solution when the MS Outlook PST file gets corrupted, damaged, or accidently deleted. All it takes is just a few minutes to recover and retrieve all the required data files like Notes, scheduled tasks, Calendar entries, Journal, appointments, etc. The software is very well integrated with several innovative functionalities and options that further assists in the successful recovery of the corrupt PST files from the scenarios such as abrupt shutdown of a system, MS Outlook crashes, virus attack and registry error and etc. Let us look and understand what it has more to offer:
INTERACTIVE INTERFACE
One you download and install the software, the welcome interface automatically displays the dialog box which is the handy interface to upload corrupted or inaccessible Outlook PST files. In the same dialog box, you could also view the placement of Search feature, which turn out to be very handy in situations when you are not exactly aware of the location of PST file and searching for the required PST file is taking too much time.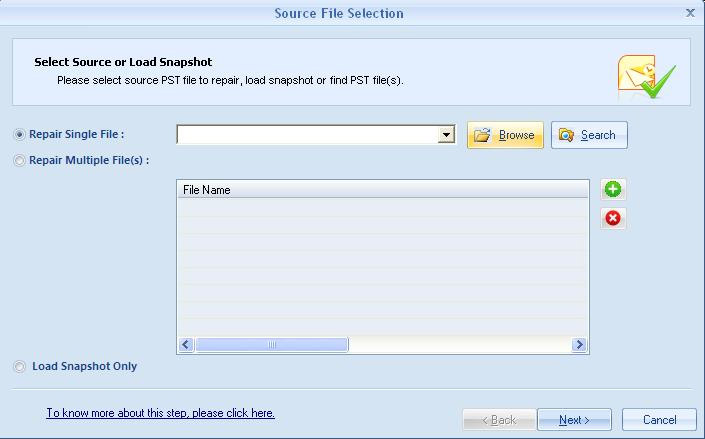 You just require to select the folder where you want to search for the required PST file, and after selecting the required drive, click the Search button.
INSTANT RECOVERY OF MULTIPLE FILES
Situations do arise where you have to deal with multiple PST file corruption. Using this software, dealing with such circumstances also get easier. In the "Source File Selection" dialog box, you can add multiple PST files, and then subsequently select Repair Multiple File(s) option for repairing multiple PST files. In just a fraction of few seconds, you can add various Outlook PST files and perform the required email recovery operation.
"Select Output Type" DIALOG BOX TO SAVE RECOVERED FILE IN VARIOUS FORMATS
The software also offers various options to restore the recovered PST files.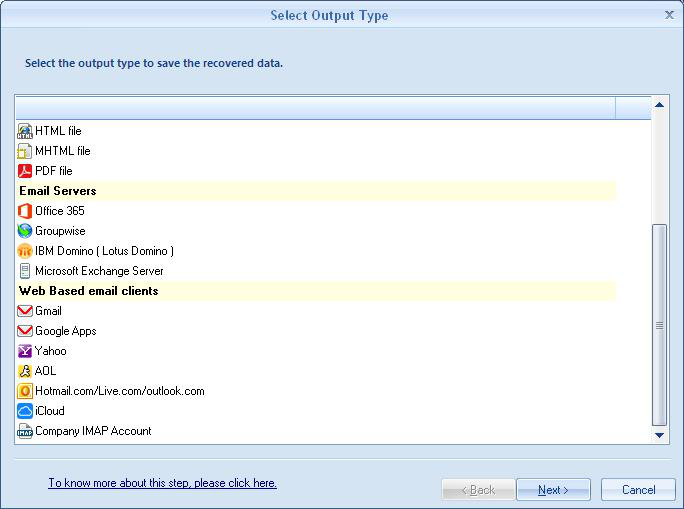 The following list divides the saving alternatives on the basis of applications and quantity of files processed.
Single File Options – PST file (MS Outlook), DBX file (Outlook Express), and MBOX file.
Multiple File Options- EML file, TXT file, MSG file, RTF file, MHTML file, HTML file and PDF file
Email Servers – GroupWise, Microsoft Exchange Server, IBM Domino (Lotus Domino), and Office 365.
Web Based Email Clients – Gmail, Yahoo, AOL, Outlook.com, Google Apps,,Live.com, iCloud, and company IMAP account
FILTRATION OPTION
The software is also well embedded with inbuilt filter. This functionality is of great help and provide the liberty to save the restored file what you want through various email filters (From, To, Subject, Item Type, Folder Name and Date Range).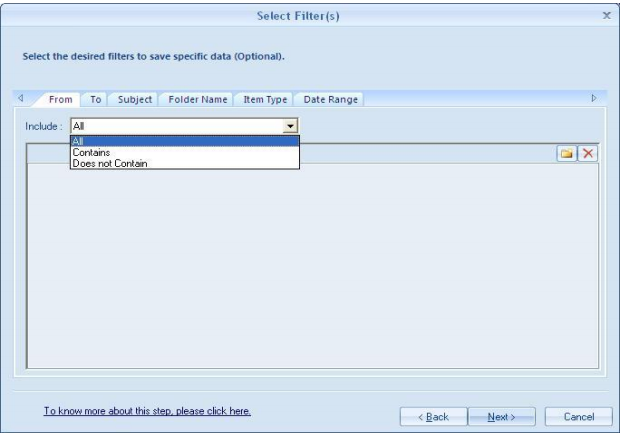 There is an option of adding prefix to the Store Name, if you enable this option and type the required prefix in the Store name prefix text box, then the recovered Store name will appear with the provided prefix in Outlook.
FILE SPLITTING OPTION
Just in case, you are wondering of how to deal with large sized PST file, then there is an additional option to trim large-size PST file upon crossing the specified limit using Split Option. This software even provides you to opt PST Split option up to 5 GB to reduce the resultant PST File in size.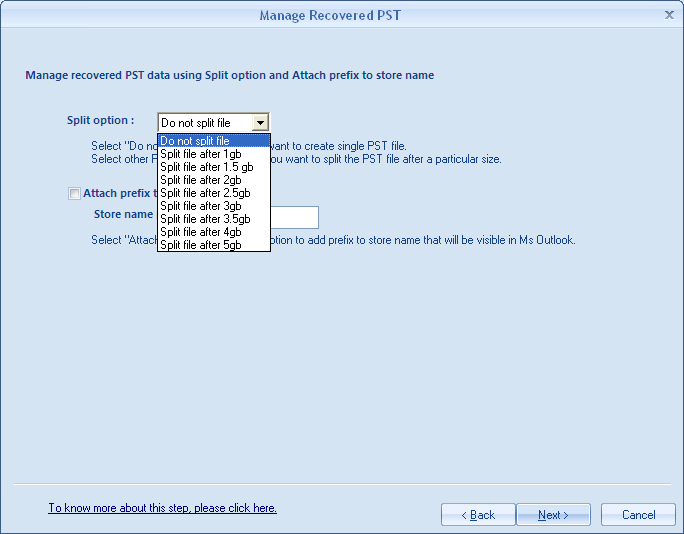 GENERATING FILE ANALYSIS REPORT
This software has been integrated with the facility to showcase the graphical File Analysis Reports showing the logs of four different parameters. The point to be noted is these reports are generated only after adding and repairing the PST files. To view the reports, click the required report name in the bottom of the Task Pane, after repairing the PST file. The reports can be generated on the basis of following attributes:
Total item types
Mail flow density by date
Mail flow density by senders
Interaction between users
PREREQUISITES
This software has been programmed in such a manner that it can be installed on all versions of Windows Platform, including Windows (10, 8.1, 8, 7, Vista, XP, 2000, 98, NT and 95) and Windows Server (2012, 2008 R2, 2008, 2003 R2, 2003). In fact, the software can successfully repair all versions of Outlook PST files plus Outlook 2016.
For those who wants to get familiar with the working of the software before purchasing its licensed version can even download its trial version. The free trial version is embedded with an option to restore first 25 items from each folder of PST file.
CONCLUSION
The software is very advance and very easy to operate. What makes it more ideal choice for performing an effective PST file recovery operation is its ability to provide 100% error-free recovery solution in almost any situation without altering the actual properties of your data files. Moreover, the software comes with 30-day money back guarantee, and so if you are not completely satisfied with the results then you may make a refund request.