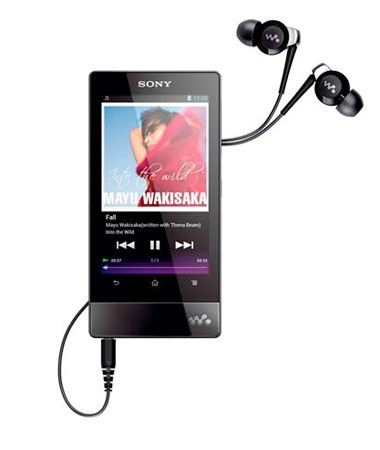 Today, when tablets have become very popular, and mp3 players are considered "meh" it is rare to see a company at such high-profile as Sony announce plans to launch a new range of small media devices, that people barely notice anymore. But that will not deter a company like Sony in pursuing business opportunities, right? Well, as a matter of fact, it has just rolled out a few different types of new music players; among them you'll find the Walkman F800 and the E470/570 series. And while the F group is more of an upscale, high-end look, the E series is an entry-level set at the top of the line.
So what do really get and for how much? The Walkman F800, Sony's new flagship player, is said to run Google's Android 4.0 platform out of the box, along with a 3.5-inch display, WiFi / Bluetooth connectivity, fairly reasonable 4.5 hours of video playback, and storage capacities of 8GB/16GB/32GB at your choice, with a European launch expected in the next coming months, and prices vary, starting at about £210 ($280).
The E series, on the other hand, is expected to be a lot cheaper than the F. The noise-cancelling feature in the Walkman E570 lineup is one of the most noticeable things you'll find in this upcoming iteration , and it's expected to pack a 2-inch LCD screen, as well. Another model in that series, the Walkman E470, is likely to sell for around £80 (or $80), in a wide variety of colors and a battery life of up to 36 hours for music playback . The new versions will also have an optional dock that can charge 'em up and increase their volume level.
Lastly, there's the Walkman S770BT model, for those who like to stream music over their bluetooth wireless speakers.
Full PR after the break.
Latest Walkman® MP3 players from Sony with Android™, Bluetooth® and digital noise cancelling
Walkman® F800 Series: Web-enabled with Android™, 8.9cm/3.5″ multi-touch LCD and S-Master MX Digital Amplifier
Walkman® S770BT Series: Wireless listening with bundled Bluetooth® headphones
Walkman® E570 Series: Brilliantly clear sound with digital noise cancelling
Walkman® E470 Series: Vibrant colours and 36 hours battery life1
Walkman NWZ-E470
Experience your perfect summer soundtrack, with the new range of Walkman® MP3 audio and video players from Sony.
Whatever your tastes, you'll be satisfied by legendary Walkman® sound quality. Clear Audio technologies by Sony assure richly-detailed sound, with deep, powerful bass, crystalline highs and reduced leakage between stereo channels. Walkman® even restores those subtle high frequency details that get lost when you're listening to heavily-compressed digital music files.
This summer's line-up of MP3 audio and video players by Sony includes the sleekest, slimmest Walkman® models ever. Just 7mm thin, the new S770BT and E570/470 Series take up little space when they're slipped into a pocket or bag. With up to 36 hours play time1 from a single charge, there's plenty of stamina to keep you entertained on long journeys. And if you're looking for a supreme listening experience, Walkman® F800 Series brings you an exciting world of ultra-detailed hi-fi sound, Wi-Fi connectivity and apps.
All new Walkman® models are compatible with Music Unlimited from Sony Entertainment Network, allowing easy access to the millions of music tracks on offer2. As part of a simple monthly subscription, Music Unlimited lets you transfer your favourite personalised playlists and ad-free radio channels to Walkman®, so you can enjoy a world of music discovery even when offline.
It's easy to load up your existing media collection, too. Walkman® supports drag-and-drop transfer of music, photos, videos, podcasts and playlists from iTunes (non-DRM content only) or Windows® Explorer.
Walkman® F800 Series
Walkman F series
Treat yourself to an extreme on-the-go entertainment experience. Powered by AndroidTM 4.0 ("Ice Cream Sandwich"), the web-enabled Walkman® F800 Series lets you enjoy a generous range of pre-installed apps, from email to maps and media gallery. Connect wirelessly via Wi-Fi or Bluetooth® and download more from an ever-growing choice on Google PlayTM. Interacting with your media collection, apps and games is a pleasure, thanks to the large, highly-responsive 8.9cm/3.5″ multi-touch screen, plus plenty of processing power for smooth, speedy responses.
You'll enjoy crisp highs and full, thumping bass powered by S-Master MX Digital Amplifier and five Clear Audio technologies. You can even share your sounds out loud via the built-in xLOUD® speaker system that cuts distortion and unpleasant clipping for clearer listening.
Walkman® S770BT Series
S 770
Supplied with colour-matched in-ear Bluetooth® headphones, Walkman® S770BT Series lets you enjoy your favourite sounds without a tangle of wires. Even when your Walkman® is in a pocket or bag, it's easy to make fumble-free volume adjustments or skip tracks with handy controls on the headphone cord – while Walkman® stays safely hidden.
At home or on the move, Walkman® S770BT Series can also stream high-quality sound to other Bluetooth® compatible devices3, like speaker docks, home audio systems or your car audio system.
Walkman® E570 Series
Walkman NWZ-E570
Immerse yourself in a world of pure, uninterrupted music when you're commuting into college or just relaxing at home. Walkman® E570 Series can reduce background sound levels by 98%4, thanks to its unique combination of built-in digital noise cancelling technology, and the high-quality noise cancelling headphones that come supplied.
Walkman® E470 Series
Walkman NWZ-E470
Enjoy a perfect introduction to the world of crisp Walkman® sound and powerful bass with slim, colourful Walkman® E470 Series. It's packed with fun features like Karaoke mode and synchronised lyrics display to help you get the party started. New to Walkman®, there's even a choice of entertaining games to enjoy on the bright, detailed 5.1cm/2″ LCD screen while you listen.
Also available, Walkman® E473K includes a portable speaker dock with eye-grabbing new styling that's great for sharing your sounds out loud, whether you're indoors or relaxing in the garden with friends. Powered by the MP3 player's internal battery, the dock delivers punchy sound with rich bass while being small and light enough to carry with you anywhere.
Walkman NWZ-E473K
The new Walkman® range of MP3 audio and video players from Sony is available in Europe from 18th July 2012.