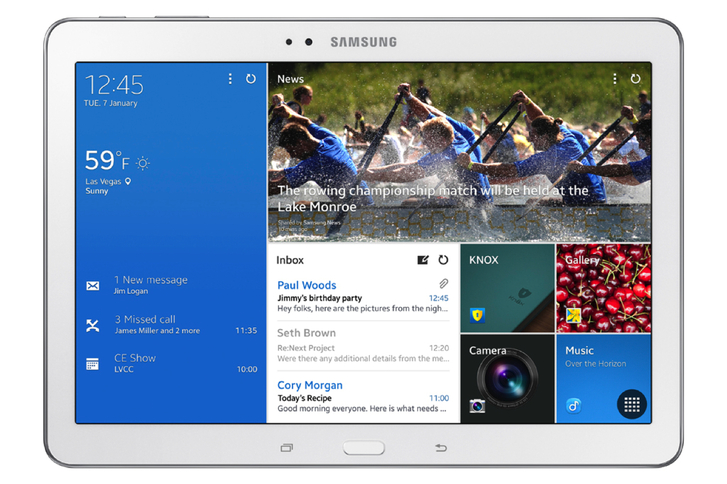 It's 2014, ladies and gents, and Samsung is obviously planning some big things to be announced later on! Not one of them leaked to the media, up until now. Today, however, we've been fortunate enough to learn of a new tablet device (courtesy of @evleaks) which will hopefully be a part of this company offerings real soon. The culprit, also known as the Galaxy Tab Pro, is said to be wearing an 8.4-inch WQXGA 2,560×1,600-pixel display atop, alongside a 2GB of memory and up to 32GB of internal storage. The slate is also packing Android 4.4 KitKat out of the box, and is likely to be powered by a Qualcomm Snapdragon quad-core processor. In addition, we hear that the 8-incher may also be accompanied by a second model sized at 10-inch, and a third iteration sized at 12-inch tall. All three will be running the same operating system and rumored to be rocking the same screen resolution under the hood, while the larger models will also deliver an higher performance Exynos 5 Octa processor, with bigger memory and storage capacities. Finally, the 10.1 and 12.2 tablets are likely to be available in three connectivity options: Wi-Fi-only, 3G, and 4G LTE high speed broadband. Stay tuned for a lot more to come.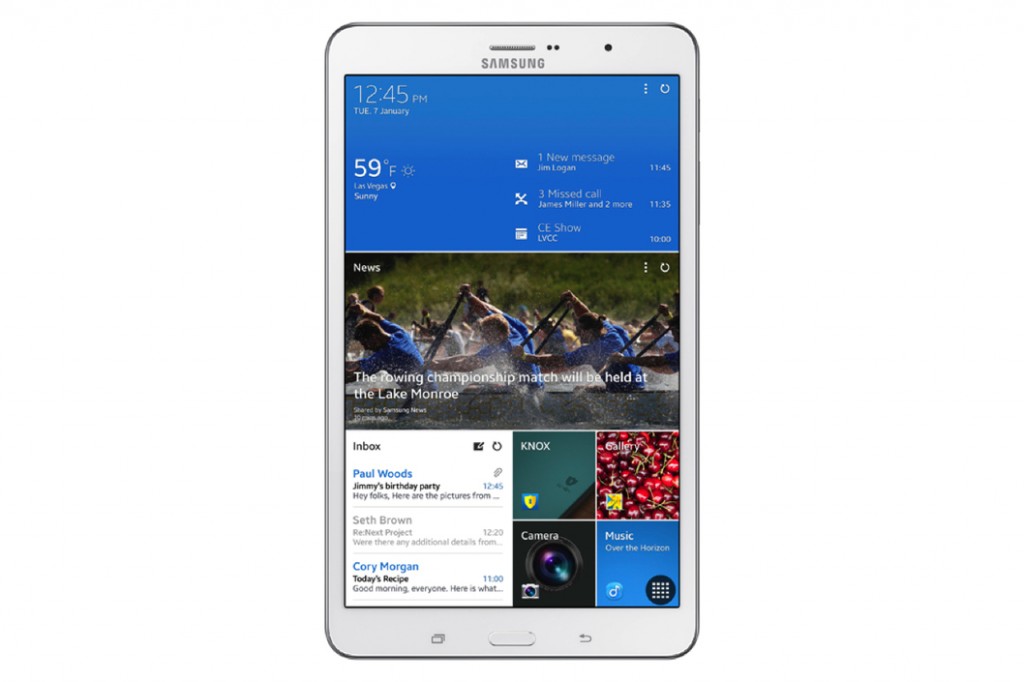 Update: Samsung has officially taken the wraps off of its three new tablets at CES 2014. The trio are measuring at 8-, 10-, and 12-inch sizes, when all three run the same exact Android KitKat OS on board (with the multi-window system), and are expected to include an impressive 2,560×1,600-pixel resolution. Sammy's brand new Galaxy Tab Pro lineup will come in WiFi, 3G, and LTE variants. Options for internal memory will be in the range of 32 or 64 gigabytes, but the bundle includes a 50GB of Dropbox storage freebie. In addition to that, the back of each model is covered with some kind of a leather texture which would be cool to grab, alongside the Samsung Galaxy S-Pen Stylus Pen and two cameras: an 8-megapixel one on the back as well as a 2-megapixel one on the front. Last but not least, the Wi-Fi models are powered by Samsung's Exynos 5 Octa chip while the LTE models will utilize Qualcomm's Snapdragon 800. Price and availability are yet to be determined.
[youtube id="XKop29JrepQ"]
Video courtesy of talkandroid
[toggle title="FULL PR TEXT"]
Samsung Galaxy NotePRO and TabPRO series set a New Rule for the Tablet Experience at CES 2014
Extending the company's innovation legacy with best-in-class media consumption and productivity capabilities
Las Vegas, NV – January 6, 2014 – Samsung Electronics Co., Ltd. today unveiled the Samsung Galaxy NotePRO and TabPRO line of tablets, setting a new standard of mobile excellence, equipped with innovative and meaningful technology. Sporting four powerful devices in the lineup – the Galaxy NotePRO (12.2-inch), TabPRO (12.2, 10.1, 8.4-inch), Samsung's Galaxy tablet portfolio redefines what a tablet can do.
"We created the Galaxy NotePRO and TabPRO series to kick-off a year in which Samsung truly establishes its leadership in the tablet market," said JK Shin, CEO and President of IT & Mobile Division, Samsung Electronics. "This new line offers the best-in-class content consumption and productivity, combining a stunning viewing experience with Samsung's design legacy. The Samsung Galaxy NotePRO and TabPRO truly demonstrate our commitment to providing our customers with extraordinarily versatile product offerings, tailored to tablet users of every description."
Providing users with an extraordinary display and a matching feature set, the Galaxy NotePRO and TabPRO series bring premium style and powerful performance in a single device. Created to satisfy every possible type of user case scenario, the Samsung Galaxy NotePRO and TabPRO combine a crystal-clear, WQXGA display for a world-class viewing experience, powerful productivity tools, and unique features with preloaded and free downloadable content, producing a superior mobile solution.
Introducing Galaxy NotePRO and TabPRO (12.2) – the Definitive Tablet Viewing Experience
The Samsung Galaxy NotePRO and TabPRO present the world's first 12.2-inch WQXGA Widescreen (16:10) display, offering crystal clear resolution (2560×1600) with more than 4 million pixels, making it an ideal platform for every type of content creation and consumption. With a larger viewing area, the defined screen allows users to enjoy stunning Full HD video play and view even more information at a glance. In addition to the industry-leading display, the devices have been designed with a sleek, light, slim frame that is both premium and highly portable.
A personalized Magazine UX, specifically optimized for a large screen, allows users to further tailor their Galaxy tablet experience for their own needs. The UX enables them to organize their favorite content in an easy-to-use dashboard with automatic feed or news updates and then quickly access the most frequently used apps for a more comfortable reading experience. By utilizing a screen size that is more comparable to traditional magazine-sized material, content is easier to view in its original format when reading digital magazines or e-books.
Powerful Partner for Productivity
The Samsung Galaxy NotePRO and TabPRO (12.2) come equipped with a variety of productivity tools to help users to manage both their personal and professional lives.
Multi Window enables users to split the screen up into four different windows and an innovative, Virtual Keyboard provides them with enough space to type comfortably, leveraging haptic feedback to produce a more realistic typing experience.
The Samsung S Pen included with the Galaxy NotePRO delivers a more responsive, productive and overall efficient tablet experience with access to features such as Action Memo, Scrapbook, Screen Write and S Finder. In addition, Pen Window enables users to simply draw a window of any size on the screen, and instantly access unique in-application features such as YouTube or a calculator.
Users can easily access and control their home or office PC directly through their Galaxy NotePRO or TabPRO with Remote PC in order to seamlessly edit and save files remotely.
The Galaxy NotePRO and TabPRO also come pre-loaded with Cisco WebEx Meetings platform, the industry's leading web conferencing solution that provides users with an easy way to meet with anyone, anywhere. And now for the first time on Android tablets, users can share anything on their screen as well as starting a WebEx meeting from contact list. Samsung e-Meeting provides collaboration capabilities by giving users the ability to share content during a meeting without having to access a central server or network.
Ultimate User Content Gift Package*
For additional value and productivity right out of the box, the Samsung Galaxy NotePRO and TabPRO (12.2) will feature up to approximately $700 worth of the premium pre-paid, long-term subscription offers from best-selling news, social media and cloud storage providers, including:Bitcasa, Bloomberg Businessweek+, Blurb, Cisco WebEx Meetings, Dropbox, Easilydo Pro for Tablet, Evernote, Hancom Office for Android, LinkedIn, LIVESPORT.TV, NY Times, Oxford Advanced Learner's A-Z, and Sketchbook Pro (content packages may vary by region).
The Samsung Galaxy NotePRO and TabPRO line will come in various connectivity options: WiFi Only, WiFi and 3G, or WiFi and LTE. Users can choose between the 12.2-inch Galaxy NotePRO that comes with an included S Pen, and the 12.2-inch Galaxy TabPRO, Galaxy TabPRO 10.1-inch and 8.4-inch without the S Pen.
Designed to extend productivity even further, the following optional accessories are also available for purchase with the Galaxy NotePRO and TabPRO: Various Book Covers, USB LAN HUB, Universal BT Keyboard and S Action Mouse (accessories may vary by product model).
The Samsung Galaxy NotePRO and TabPRO tablet line will be offered globally and will be available starting from Q1, 2014.
For more product information, please visithttp://www.samsungmobilepress.com / m.samsungmobilepress.com
[/toggle]