The M2 Pro and M2 Max processors are the latest additions to Apple's lineup of laptop processors. They are designed to be faster and more efficient than their predecessors, and they offer improved performance and battery life.
The new MacBook Pro laptops are now available for your orders with the M2 Pro and M2 Max processors, making them the fastest and most powerful laptops Apple has ever made. They offer improved performance, faster loading times, and longer battery life (22 hours of battery life per charge). Buyers who wish to grab the latest Macs can add up to 96GB of RAM (up to 64GB of memory with the M1 Max chip), and get an upgraded HDMI 2.1 port with support for an 8K external display (e.g  one external display with up to 8K resolution at 60Hz, or 4K resolution at 240Hz.), faster Wi-Fi 6E, and so much more.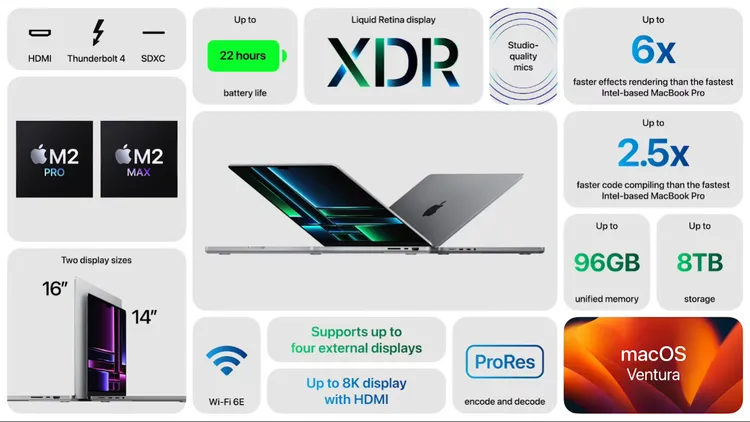 The notebooks can be configured with up to 8TB of SSD storage, which is unchanged from the previous generation. With the new processors, the M2 Pro and M2 Max, the MacBook Pros are capable of running multiple powerful applications simultaneously, with no noticeable lag or slowdown. The 8TB of SSD storage ensures that users have plenty of space to store large files and applications. The improved performance, faster loading times, and longer battery life make the laptops ideal for professional users.
You can also choose between 10-core or 12-core CPU, that will add up to 20% faster performance than the M1 Pro chip, along with a pack of three Thunderbolt 4 ports, an HDMI port, an SD card slot, a 3.5mm headphone jack, MagSafe 3, six-speaker sound system and a 1080p FaceTime HD camera at the front.
Apple store has already updated its page with the latest and greatest models. The new 14-inch and 16-inch MacBook Pro are listed at $1,999 for the basic configuration of the 14-inch MacBook Pro and at $2,499 for the 16-inch MacBook Pro.
Apple has also announced the new generation of Mac Mini computers with the M2 and M2 Pro chips, with a starting price of $599 (or $499 for education package), and is available to order today, with availability starting Tuesday, January 24th.
The new Mac Minis offer the M2 chip, as well as 8GB of RAM for the basic model, along with 256GB of storage. they house an HDMI port, with a gigabit ethernet connection, a headphone jack, two USB-A ports and two Thunderbolt 4 (USB-C) ports as well.
The M2 Pro on the other hand comes with 16GB of RAM, 512GB of SSD storage, and a set of four Thunderbolt 4 ports instead of two in the entry-level model.