It's that time of the year again for the iPhone showtime!
Apple held its annual iPhone launch event Tuesday at Apple Park, the company's HQ in Cupertino, California, where it has officially announced the iPhone 15 lineup:
The iPhone 15 and iPhone 15 Pro are the latest models of Apple's flagship smartphone, released in September 2023. They offer a range of new features and improvements over the previous generation, such as a faster processor, a longer battery, a higher-resolution display, and a redesigned camera system.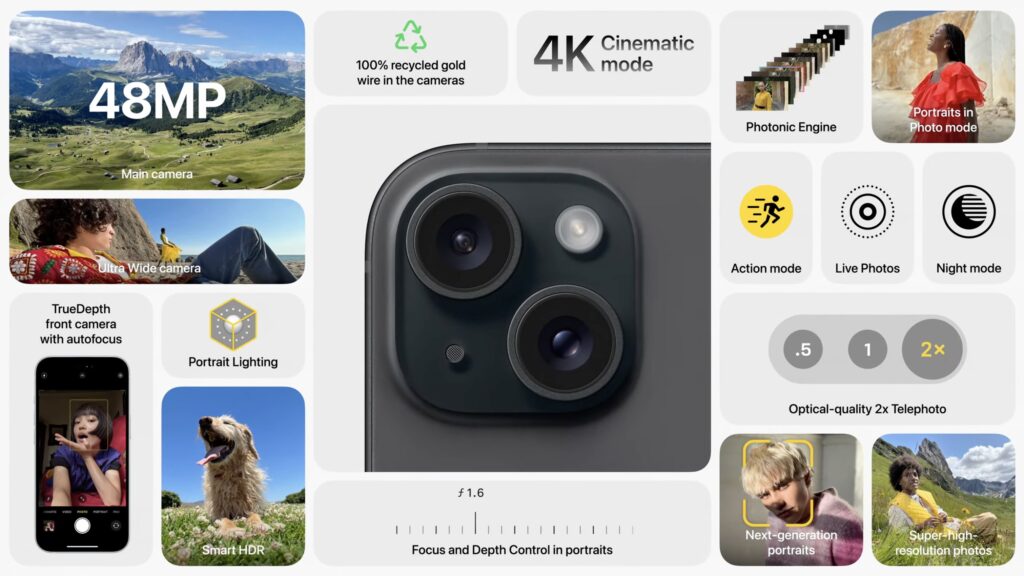 While the iPhone 15 and 15 Plus share the same A16 Bionic chip, which is a powerful processor with six-core CPU, four-core GPU, and a 16-core Neural Engine that can perform up to 15.8 trillion operations per second, the Pro and Max iPhone 15 are boasting Apple's latest and greatest A17 Pro chip revelation – A 3 nanometer chip, with 19 billion transistors, 6 main cores (2 performance cores / 4 efficiency cores), and the 16-core Neural Engine. This means that the iPhone 15 and particularly the iPhone 15 Pro and Max can handle any task you throw literally at them, whether it's gaming, video editing, or augmented reality at top levels of usability and quality.
The iPhone 15 has a 6.1-inch OLED Super Retina display, with a peak brightness of 2,000 nits in sunlight, while the iPhone 15 Plus and Pro Max have a 6.7-inch OLED display. Both displays have a resolution of 2532 by 1170 pixels, which translates to a pixel density of 460 pixels per inch. They also support HDR10 and Dolby Vision, which deliver stunning colors and contrast. The iPhone 15 Pro has an additional feature called ProMotion, which dynamically adjusts the refresh rate of the display from 10Hz to 120Hz depending on the content. This makes the screen smoother and more responsive.
In addition to that you'll find on the side of the Pros the new Action Button, which enables you to set various shortcuts at your choice to access the camera or flashlight quickly, alongside the option to open Voice Memos or Translate, as well as set Focus modes. etc.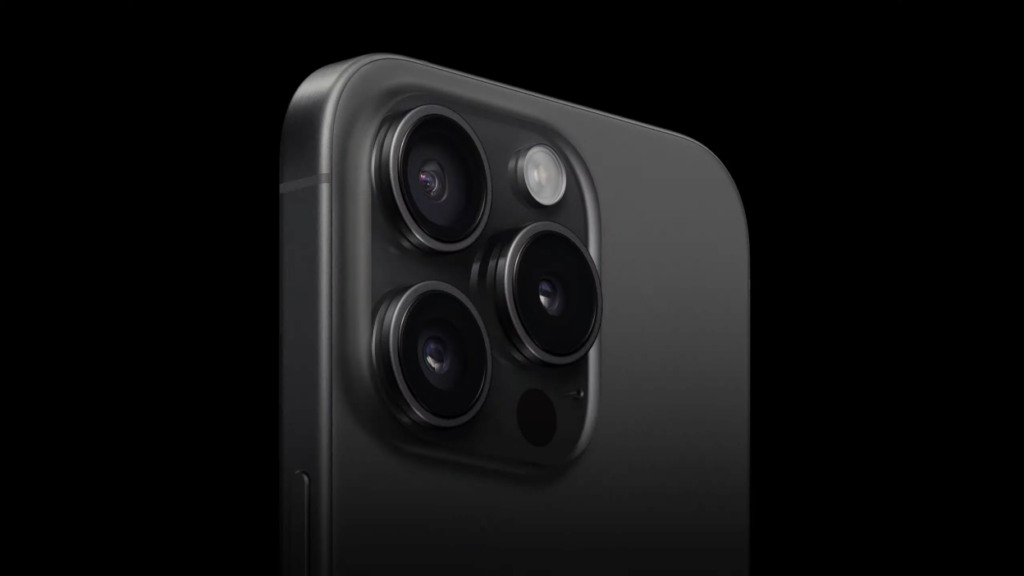 The iPhone 15 and iPhone 15 Pro have a new 48 MP camera system that consists of three lenses: a wide-angle lens, an ultra-wide-angle lens, and a telephoto lens. The wide-angle lens has a 12-megapixel sensor with an aperture of f/1.6, which allows more light to enter and improves low-light performance. The ultra-wide-angle lens has a 12-megapixel sensor with an aperture of f/2.8, which captures more of the scene in front of you. The telephoto lens has a 12-megapixel sensor with an aperture of f/2.0, which enables optical zoom up to 3x and digital zoom up to 12x. There's also a 2x Telephoto option that gives users three optical-quality zoom levels — 0.5x, 1x, 2x — for the first time on an iPhone dual-camera system.
The iPhone 15 Pro lineup offers the same 48MP camera up front, but with a new 5x tetraprism zoom lens on the Pro Max that has a 120mm focal length and a 24MP shoot at default, both at 48mp ProRaw and 48mp HEIF. The Main camera allows users to switch between three popular focal lengths — 24 mm, 28 mm, and 35 mm and most importantly, supports the capture of a Spatial Video format, which enables you to watch it on Apple's upcoming Vision Pro goggles.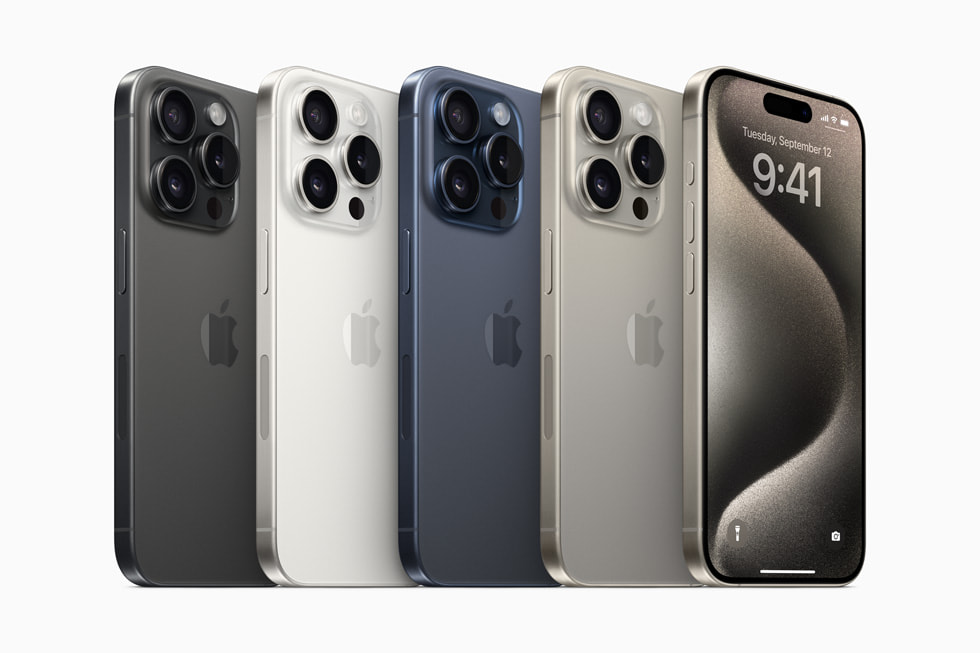 The iPhone 15 and iPhone 15 Pro have a sleek design that is similar to the previous generation, only thinner thanks to a very lite frame that is now made of titanium and has a brushed look with the long-awaited USB-C port on the bottom, which apparently supports up to 10Gbps transfers using a USB 3 cable and a much higher transfer speeds and video output up to 4K at 60 fps HDR.
The new titanium frame surrounds the glass front and back, while the phones are also water-resistant up to six meters for up to 30 minutes. The iPhone 15 comes in four colors: black, silver, blue and gold, while the iPhone 15 series offers a colorful choice of five different colors including black, pink, yellow, blue, and green.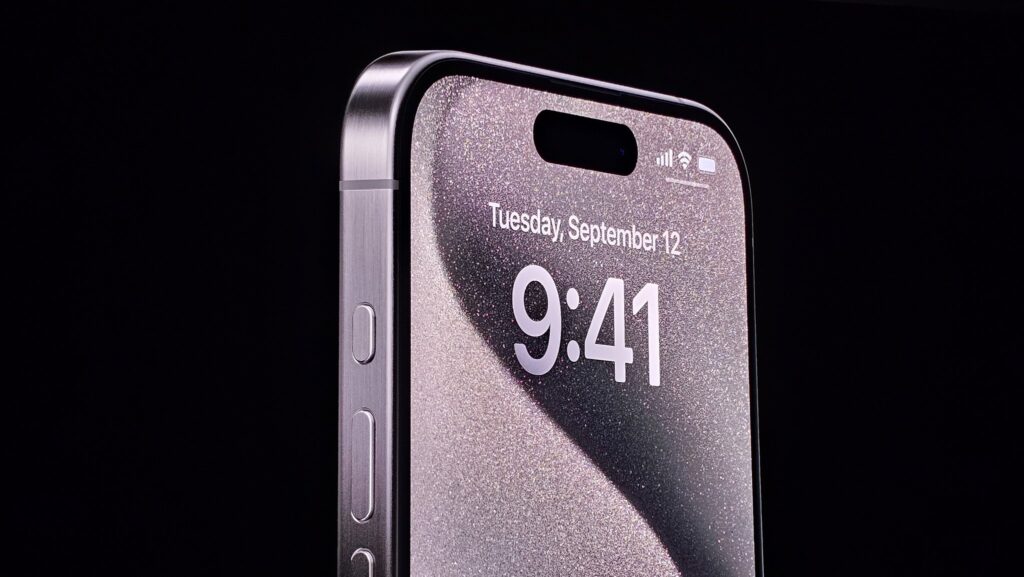 The iPhone 15 and iPhone 15 Pro are available in three storage options: 128GB, 256GB, 512GB and 1TB to store your media. The prices vary depending on the model and the storage capacity. The iPhone 15 starts at $799, while the Plus starts at $899 with 128GB of storage for the entry version.
The starting price for the iPhone 15 Pro is exactly as the previous model, $999, while for the iPhone 15 pro Max option, you will have to shell out a $100 more at $1,199, with merely 256GB of storage.
Both models will be available for pre-order on Sept. 15, with store availability starting on Sept. 22.
The iPhone 15 and iPhone 15 Pro are undoubtedly impressive smartphones that offer many benefits to users who want the best performance, display, camera, battery life, and design. They are also compatible with iOS 17, which is the latest version of Apple's operating system to come out.