CUPERTINO, Calif.– Apple held its 33rd annual Worldwide Developers Conference (WWDC) on Monday morning Pacific time, unveiling updates to its iOS, WatchOS, MacOS, and iPadOS, alongside new hardware releases in the form of Macbook laptops. Apple kicked off its annual Worldwide Developers Conference (WWDC) with a handful of new operating system announcements, as well as two new MacBook offerings, powered by the Cupertino-based tech giants latest internal silicon, M2. As usual, Apple's WWDC 2022 was packed to the brim with a little bit of everything, from Apples flagship iPhone operating system, iOS 16, and its latest 5nm chip, the M2, to the new hardware putting all of it into your hands – in this case, the MacBook Air and the MacBook Pro 13.
—
Apple today unveiled the fully-redesigned MacBook Air and updated 13-inch MacBook Pro, both powered by a new M2 chip–one that takes M1s groundbreaking performance and capabilities further. With industry-leading energy efficiency, a unified memory architecture, and customized technologies, this new chip brings even more performance and capabilities to Apple's most popular Mac laptops: the MacBook Air and the 13-inch MacBook Pro. While it was not quite the big reveal as the MacBook Air M2, Apple has refreshed the 13-inch MacBook Pro lineup to incorporate a new CPU, too.
The 13″ MacBook Pro which comes integrated with the latest M2, promising 20 hours of battery time, maxing out at 24GB RAM and 2TB of storage, coming this month starting at $1,299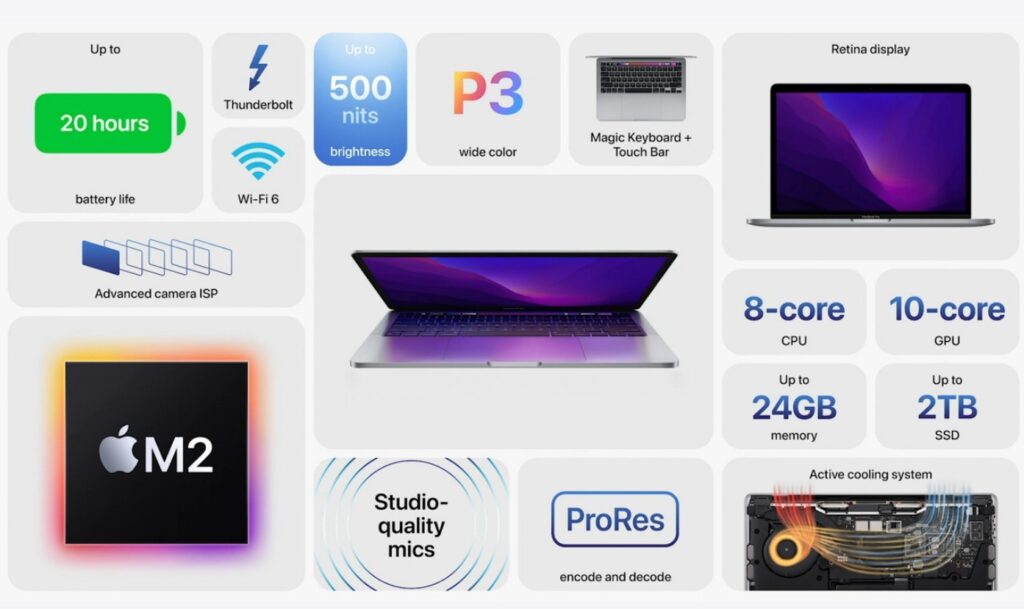 The new MacBook Air comes equipped with an all-new M2 chip, Apple's latest iteration of the silicon, which is an upgrade over the capabilities found in the M1 chip, boasts a thinner 11.3mm body, non-wedge design in four colors, silver, space grey, midnight and starlight, 13.6″ 13.6" Liquid Retina display, 500 nits with a notch, MagSafe and fast charging power, alongside a 1080p camera on the top. This one comes later this month starting at $1,199.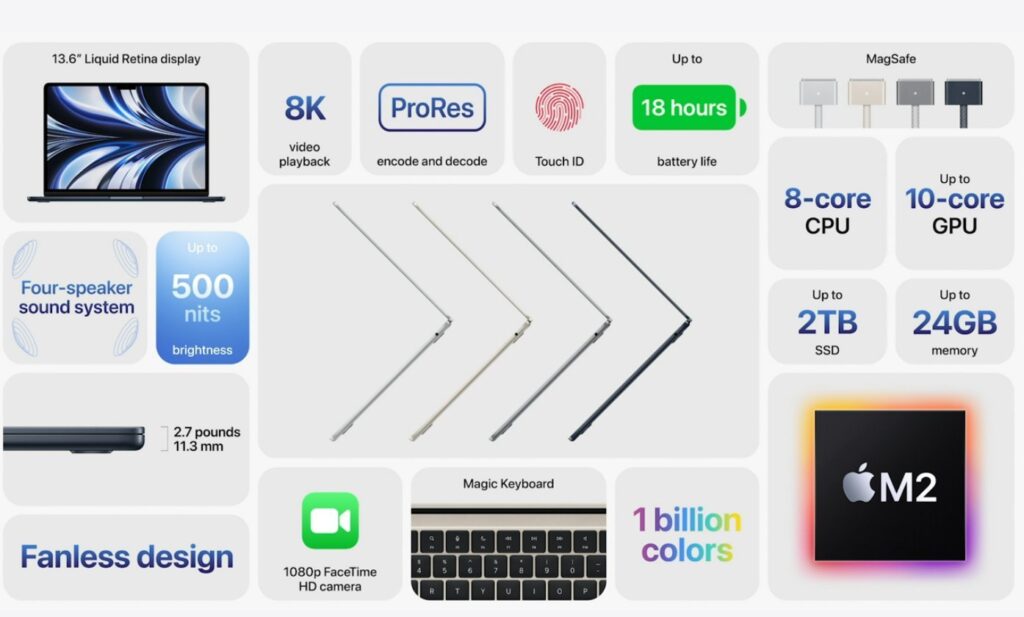 Apple also announced iPadOS 16, which features all of the updates that are coming with iOS 16, a new Weather app, and powerful multitasking capabilities for desktop. Like iOS 16 and iPadOS 15, all of iOS 16s new features are coming to iPads running WatchOS. Like iOS 16, watchOS 9 will bring with it a new Siri homescreen–a glowing sphere at the bottom–and notifications receive a sleek new revamp.
With the next watchOS update to macOS, you will get all sorts of new watch faces, such as a moon cycle, a religious calendar, and a new animated wallpaper. Key features in watchOS 9 are four new watch faces, new fitness features, more extensive sleep tracking, AFib history, and a new medicine app coming to both the iPhone and the Apple Watch.