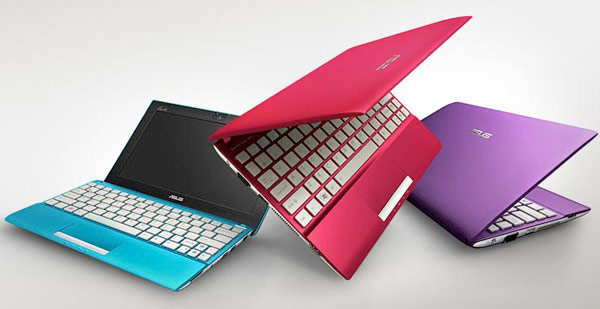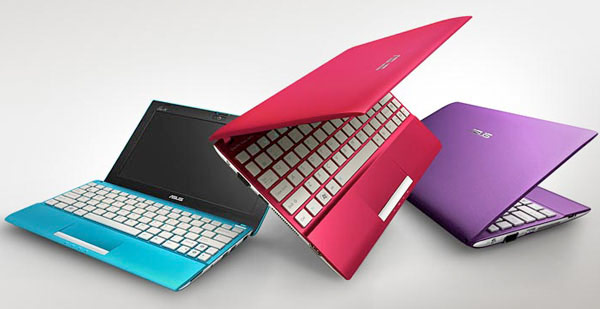 While most of us have already forgotten about netbooks, Asus is said to launch a new line of ultra-mini laptops a few moments ahead of CES 2012. Now, whether it will be at hit is another question, but in the meantime, we're talking about the next generation of netbook devices, dubbed Eee PC Flare, which boasts some nice and vivid seashell covers that hide underneath the new N2600 and N2800 Atom CPUs, 12-inch displays, powered by AMD's Fusion APU lineup and those fancy chiclet keyboards. For now, the Taiwanese corp is planning to launch two models in that size: The 1225B AMD Fusion and 1225C with Cedar Trail, but if rumors are correct, we should expect some 10-incher flavors in the long term, as well (with the 1025C and 1025CE versions). Stay tuned for much more to come.
Update: As promised, we have some more details about the new collection of netbooks from Asus, called Eee PC Flare. Basically, there are four major models included: At 10-inch, there's the 1025C that comes with a 1.6GHz Atom N2600 dual-core GPU, 1GB of DDR3-1333 memory, an integrated Intel UMA graphics, built-in Altec Lansing stereo speakers, three USB 2.0 ports,  802.11b/g/n WiFi connectivity, 2-in-1 media card reader, VGA / HDMI outputs, a six-cell battery, and 0.3 megapixel webcam up front. It will be offered for $299 with one of the following flavors: Red, Blue, Gray, Pink, and last but not least, there's a Windows 7 for the OS running on board. The Eee Pc Flare 1025CE is pretty much the same, only with a 1.86GHz Atom N2800 dual-core processor and a few more bucks ($319) to cover the cost.
On to the 12.1-inch models, the 1225B includes a 1.6GHz AMD E-450 dual-core CPU, a a 1,366 x 768 screen resolution, 2GB of DDR3-1333 memory, integrated Intel graphics, WiFi, Bluetooth 3.0, a 2-in-1 media card reader, a six-cell battery, and a  a 0.3 megapixel webcam on top. It comes with a Windows 7 Home Premium and ships next month in black, red and white colors. The last one in that group is the Eee PC X101CH version that is aimed at entry-level users, with a 10.1-inch 1,024 x 600 display, 1GB of RAM, integrated graphics, WiFi, Bluetooth, USB and VGA ports. It'll only set you back $269 and not a penny more.
[via Notebook Italia]